These Hocus Pocus Halloween Costumes Will Take Thee Away Into a Land of Enchantment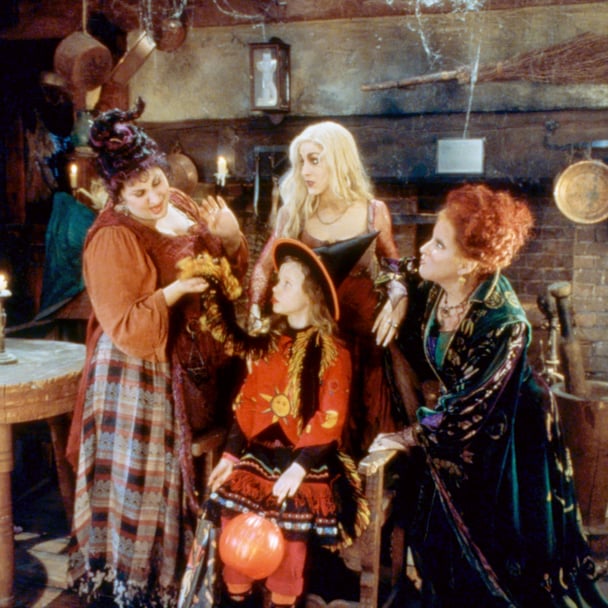 "Hocus Pocus" is the best Halloween movie of all time. That's right, I said it. It's a classic that should be enjoyed each year as a reminder of what a truly well-rounded Halloween movie is. It's hilarious with just a hint of darkness, and it never takes itself too seriously. If you have ever seen a black cat and wondered if it was really Thackery Binx, then you know exactly what I'm talking about when I say that "Hocus Pocus" is a timeless film. Plus, the cast is iconic, with Bette Midler, Sarah Jessica Parker and Kathy Najimy portraying the trio of witches that awakens after hundreds of years to wreak witchy chaos on the town of Salem, Massachusetts.
The movie also gives us a ton of Halloween costume inspiration each year, and fans of the characters (including pups!) go all out to show their love. We rounded up amazing interpretations of the Sanderson sisters, Billy Butcherson, Dani and Max Dennison, Thackery Binx in both cat and human form, and more. Whether you're looking for a couple's costume, a group costume, a solo look, or of course, the perfect look for a trio, read on to get some ideas for this year's costume!
— Additional reporting by Lauren Harano
01
"Hocus Pocus" Costumes: Winifred "Winnie" Sanderson
02
"Hocus Pocus" Costumes: Winifred Sanderson
03
"Hocus Pocus" Costumes: Winifred Sanderson
04
"Hocus Pocus" Costumes: Winnie's Spell Book
05
"Hocus Pocus" Costumes: Sarah Sanderson
06
"Hocus Pocus" Costumes: Sarah Sanderson
07
"Hocus Pocus" Costumes: Sarah Sanderson
08
"Hocus Pocus" Costumes: Sarah Sanderson
09
"Hocus Pocus" Costumes: Sarah Sanderson
10
"Hocus Pocus" Costumes: Mary Sanderson
11
"Hocus Pocus" Costumes: Mary Sanderson
12
"Hocus Pocus" Costumes: Mary Sanderson
13
"Hocus Pocus" Costumes: Mary Sanderson
14
"Hocus Pocus" Costumes: Billy Butcherson
15
"Hocus Pocus" Costumes: Billy Butcherson
16
"Hocus Pocus" Costumes: Billy Butcherson
17
"Hocus Pocus" Costumes: Billy Butcherson
18
"Hocus Pocus" Costumes: Billy Butcherson and Winifred Sanderson
19
"Hocus Pocus" Costumes: Dani Dennison
20
"Hocus Pocus" Costumes: Dani Dennison
21
"Hocus Pocus" Costumes: Dani Dennison
22
"Hocus Pocus" Costumes: Dani Dennison
23
"Hocus Pocus" Costumes: Dani Dennison
24
"Hocus Pocus" Costumes: Max Dennison
25
"Hocus Pocus" Costumes: Max Dennison
26
"Hocus Pocus" Costumes: Sarah Sanderson and Max Dennison
27
"Hocus Pocus" Costumes: Dani and Max Dennison
28
"Hocus Pocus" Costumes: Dani and Max Dennison
29
"Hocus Pocus" Costumes: Thackery Binx (Cat and Human Version)
30
"Hocus Pocus" Costumes: Thackery Binx (Cat Version)
31
"Hocus Pocus" Costumes: Dave and Jenny Dennison
32
"Hocus Pocus" Costumes: Jay and Ice
33
"Hocus Pocus" Costumes: The Sanderson Sisters
34
"Hocus Pocus" Costumes: The Sanderson Sisters
35
"Hocus Pocus" Costumes: The Sanderson Sisters
36
"Hocus Pocus" Costumes: The Sanderson Sisters
37
"Hocus Pocus" Costumes: The Sanderson Sisters