Hustlers Movie Review
Hustlers Is a Love Story Hiding in a Sordid Tale of Schemes and Ambition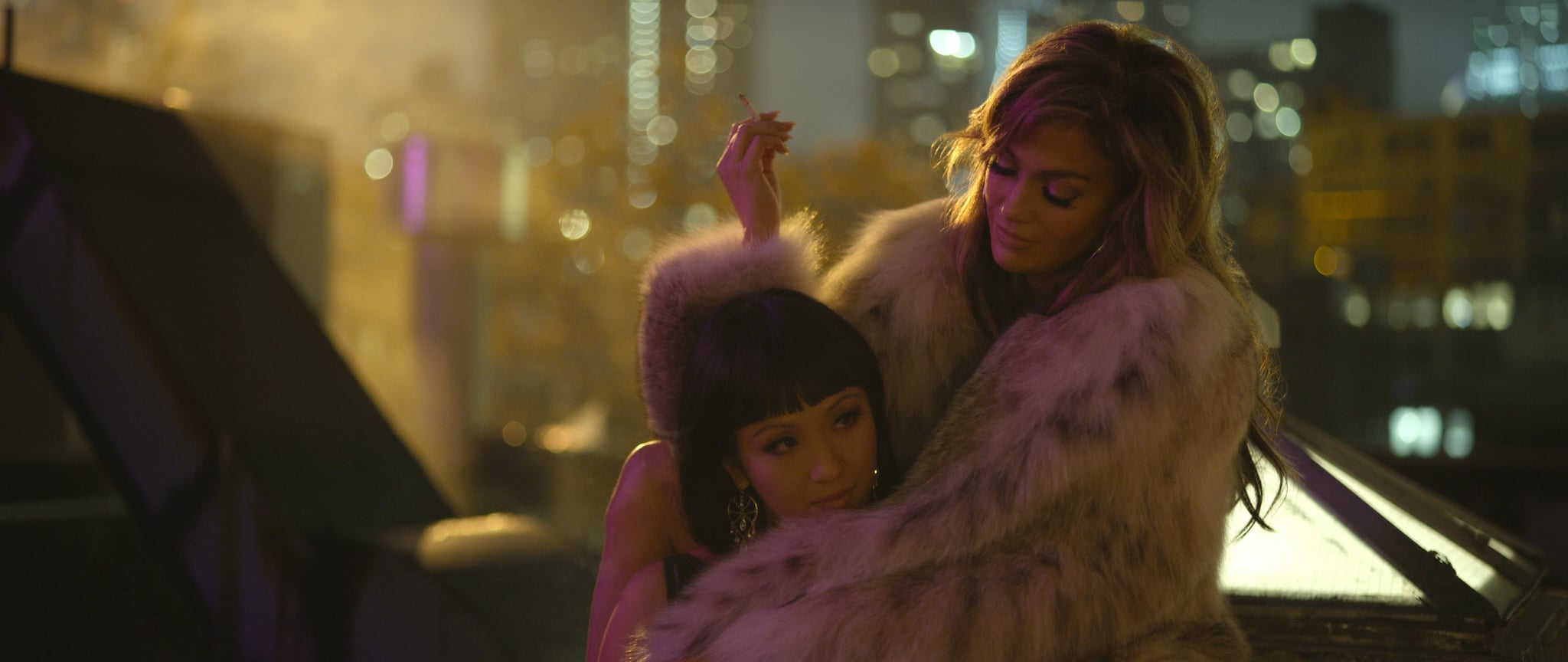 In one of the very last scenes of Hustlers, Jennifer Lopez's Ramona sits across from a journalist, Elizabeth (Julia Stiles), explaining her part in the scam that effectively ended her stripping career. Ramona calls herself a people person and it's obviously true from the way she candidly shares her story with the other woman, pulling out the contents of her purse to show her the valuable trinkets she keeps with her at all times. She affectionately shows Elizabeth a baby photo of her former accomplice Destiny (Constance Wu), cooing over how precious she looks as a baby and wondering how anyone could ever abandon her. "I keep this so I always have her with me," she says, smiling down at the photo. And that, folks, is Hustlers.
Don't get me wrong — a whole lot of other stuff happens before and after that scene. (The film would be awfully short if it was just Lopez fawning over a baby photo.) The Lorene Scafaria-directed heist film, inspired by Jessica Pressler's 2015 article published in New York Magazine, "The Hustlers at Scores," chronicles the story of a group of strippers who begin conning their rich Wall Street clients in the aftermath of the 2008 financial crisis. We learn the sordid tale from the perspective of Destiny during an interview with Elizabeth in 2014, seven years after she first meets Ramona, her future mentor and coringleader.
Destiny, like the rest of the club (and anyone with eyes), is instantly mesmerized by Ramona's Fiona Apple-backed film entrance. A seasoned dancer, the older woman takes the stage in a glittering one-piece and commands the room with a swish of her hips and a toss of her hair. A new addition to the Midtown Manhattan strip club, Destiny leaps at the chance to get some guidance, a prospect that Ramona surprisingly accepts in the most grandiose way possible: she offers to share the warmth of her extravagant fur coat, cuddling Destiny into her side like she's swallowing her whole. Looking back, she basically was.
Though Destiny explains to Elizabeth that Ramona never meant to make friends, that's exactly what the two find themselves becoming. Through the glamorous haze of designer clothing, celebrity apperances at the club, penthouse apartments, and the financial independence that Destiny has been hungering for, the two women become each others' best friend, confidante, and worst enemy. Everything sisters are supposed to be to each other. Regardless of where the rest of the film goes, this is the foundation of every action and reaction; the immense love that grows between Destiny and Ramona, and builds a family and an empire.
This story isn't about a Robin Hood scheme gone wrong; it's about the women behind the con. Their motivations, their stories, and their connection.
After Destiny and Ramona have kick-started their con along with Mercedes (Keke Palmer) and Annabelle (Lili Reinhart), there's a scene of a Christmas party being held at Ramona's new apartment. The women bring their families together to celebrate the holiday and exchange gifts (Ramona gives Destiny her very own fur), and it's idyllic. There's music, laughter, and love flowing throughout. The entire scene almost seems out of place when you sit back and think, "Isn't this a stripper-heist flick?" But it also perfectly suits Scafaria's purpose, making the viewer realize this story isn't about a Robin Hood scheme gone wrong; it's about the women behind the con. Their motivations, their stories, and their connection.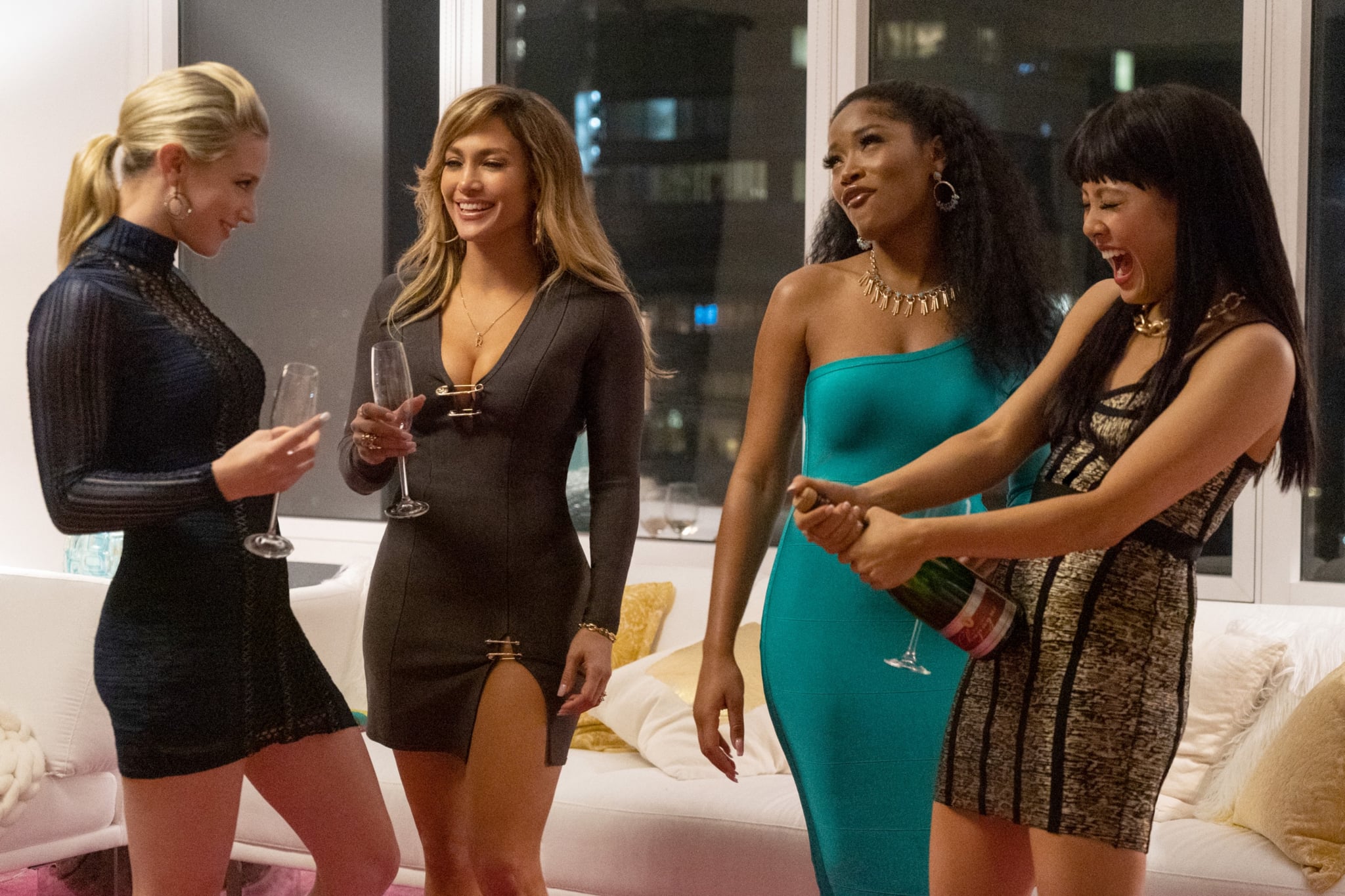 The cast's chemistry is such an integral part of the film that I honestly believe it would have fallen apart if that kinship didn't feel so authentic. Lopez and Wu are a truly dynamic duo, deftly sidestepping the stereotypical depiction that turns ambitious women into cold-hearted shrews constantly at each others' throats. Though Destiny and Ramona butt heads, their every interaction is underscored with ferocious love and loyalty for one another. Even at their most fraught moments, when Destiny feels betrayed by Ramona and vice versa, the two can't help but hold each other close.
Toward the end of the film, Destiny vows to never speak to Ramona again after being left to clean up after a drunken client, but later finds herself crumbling into the other woman's arms when Ramona arrives at her grandmother's funeral. Later, Destiny confesses to taking the plea deal after they've been arrested by the cops, and Ramona's fury is palpable. But more importantly, so is her anguish. This has ended them and she knows it, but she still pulls Destiny into an embrace, still clenches her tight because she doesn't want to let go of this bit of family that they've created. By the end of it all, when a desperate Destiny phones Elizabeth to ask what Ramona said about Destiny in her own interview with the journalist, I couldn't help but whisper to myself, "Just call her."
Hustlers hits every note that it's meant to hit: it's fun, full of the hedonistic vices that the previews promise, and it has an amazing soundtrack to go along with it. But most importantly, it's a story that goes beyond the optics of being a "stripper movie." It's not a film meant to entice the male gaze, and can't be classified as a simple con movie. It's a film about women who do the work, who have real thoughts, feelings, and desires. It doesn't skirt over the realities of the job and it doesn't shy away from the gratification that women can get from it. It doesn't vilify their crimes or paint them as martyrs. There are no heroes in this film, because at the end of the day, it's all seedy. But there is humanity behind the actions. There's perspective. That's what keeps us in our seats.
"The game is rigged," Ramona explains to Elizabeth in her final moments onscreen, the very picture of a woman who was tired of constantly losing and decided to make her own road to winning. "This city, this whole country, is a strip club. You've got people tossing the money, and people doing the dance."
Hustlers is now out in theaters.