The Shrink Next Door May Be a Dark Comedy, but the True Story Behind It Is Just Dark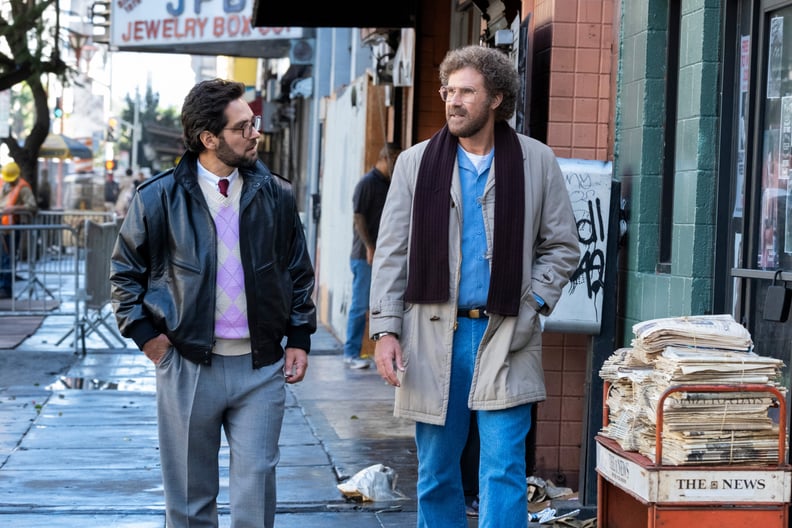 Apple TV+
Apple TV+
While finding the right therapist can be wonderfully beneficial, the wrong one can be detrimental beyond measure, as is evidenced by the upcoming Apple TV+ miniseries The Shrink Next Door. Based on the viral podcast of the same name, the story follows the unprecedented, downhill journey of a manipulative relationship between a charismatic psychiatrist and his long-time patient as the latter finally realizes the extent of his nearly three-decades-long predicament. So how much of the series is rooted in reality? Here's everything you need to know about the true story that inspired the podcast and the onscreen adaptation of The Shrink Next Door starring Paul Rudd and Will Ferrell, which debuts on Apple TV+ on Nov. 12.
What Is Apple TV+'s The Shrink Next Door About?
Set in 1981, Ferrell's Martin "Marty" Markowitz begins having existential depressive episodes after his parents die and his fiancée breaks up with him in the same year. On his Rabbi Shlomo Riskin's recommendation, he agrees to consult a renowned therapist named Dr. Isaac "Ike" Herschkopf (Rudd), who'd previously had celebrity patients like Gwenyth Paltrow and Courtney Love. While, at first, Marty feels he's turning a corner under Dr. Ike's care, things soon take a turn. His charming therapist slowly begins to manipulate him, assuming control of his life not just inside the four walls of his office, but in every single aspect of his life — professional, personal, and social. While the show employs dark comedy to inject some semblance of lightness into the subject matter, the real-life events that inspired the story are bizarrely dark.
What Was the Inspiration For Apple TV+'s The Shrink Next Door?
The new Apple TV+ series is based on the eponymous six-episode podcast released in May 2019 that captivated millions of listeners. Backed by the podcast network Wondery — home to behemoth podcasts such as Dirty John and Dr. Death — and Bloomberg, the podcast was written and hosted by the former New York Times journalist, Joe Nocera, who also serves as co-executive producer of the TV series.
What Is the True Story Behind The Shrink Next Door?
While the podcast premiered in 2019, it was a long time coming — nine years, to be precise. When Nocera and his wife moved into a home in the Hamptons in 2010, they had no idea they were next-door neighbors with Markowitz. One day, Markowitz came over to invite them to a house party, and at the time, they assumed him to be the gardener of the property. But Herschkopf actually hosted the party, and it was just a ploy to promote himself. He openly plugged his practice, displaying a plethora of photos of himself with celebs such as Brooke Shields, Gwyneth Paltrow, and O.J. Simpson. When Nocera's other neighbors informed him the following summer that Markowitz was, in fact, the owner of the house, not Herschkopf, he realized there was a story he needed to uncover.
According to an interview with JTA, Markowitz began to realize he was being manipulated when he underwent hernia surgery in 2010, and Herschkopf didn't even check in on him, leaving Markowitz devastated and questioning their friendship. That's when Markowitz kicked Herschkopf out of his house and reconnected with his estranged sister Philly (played by Kathryn Hahn), with whom he had cut ties at the insistence of Herschkopf 27 years earlier. From then on, Markowitz cooperated with Nocera on telling his story to the world as he pursued justice for the years of manipulation Herschkopf put him through.
Where Are Isaac Herschopf and Martin Markowitz Now?
In April 2021, following an investigation, Herschkopf's medical license was revoked. The inquiry resulted in sixteen charges of professional misconduct for exploiting his psychotherapeutic relationship with his patients. According to the state committee of the Department of Health, Herschkopf was found "guilty of all counts of professional lapses alleged by the state including gross negligence, incompetence, exercising undue influence, fraudulent practice and more unfitness."
While Markowitz first filed a complaint against Herschkopf in 2012, it took the department seven years to examine the claims. Nevertheless, he expressed his relief over having received much-awaited justice following nearly 30 years of exploitation at the hands of his therapist. "It's my 40-year ordeal. It was 29 years under his power and 11 years seeking justice. I finally got it," he said in an interview with The Forward following the hearing. "I got justice. That's what I wanted."
Now 79-years-old, Markowitz is ready to enjoy retirement as he closes the fabrics business started by his father in 1928. He plans on enjoying some quiet time with his girlfriend in Thailand, where he met her.