Jennifer Lopez MTV Movie & TV Awards 2022 Generation Award
Jennifer Lopez Tearfully Accepts the Generation Award at the MTV Movie & TV Awards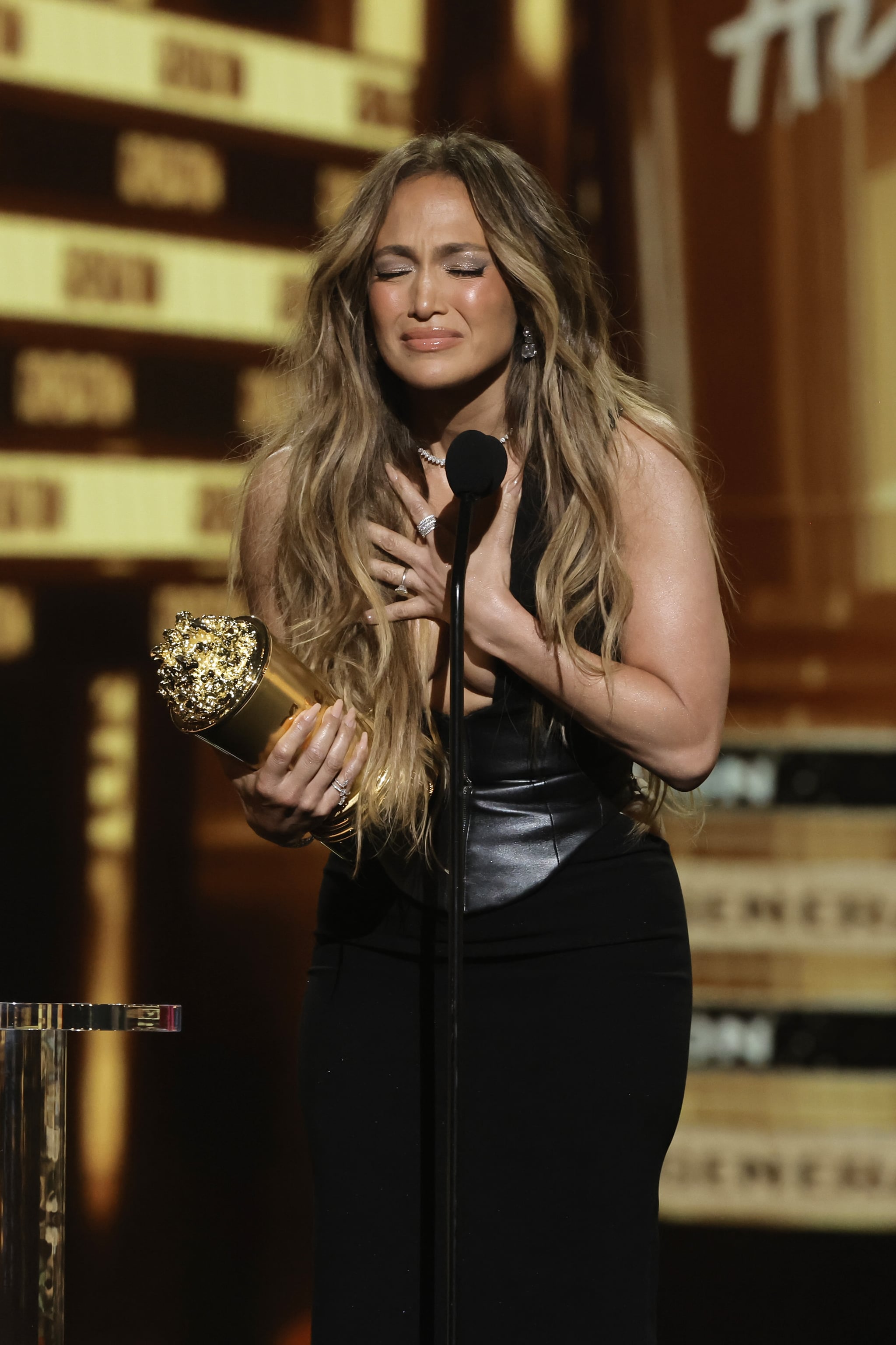 Jennifer Lopez received the generation award at the 2022 MTV Movie & TV Awards on Sunday, June 5. The multihyphenate teared up as she thanked her fans, her manager, and everyone who inspired her film performances over the years.
Lopez said in her acceptance speech, "I look at those movies, and I see all the wonderful people that I've been blessed to know and to work with. You're only as good as the people you work with, and if you're lucky, they make you better. And I have been very lucky in that regard." Lopez said that while she's none of her characters, all her roles have a part of her in them.
"There were times so low, I think I kept going more for you than for myself."
"Since you cannot create truth unless you've really lived it, I have a different kind of list of thank-yous tonight," she said. "I want to thank all the people who gave me this life. I want to thank the people who gave me joy and the ones who broke my heart. The ones who were true and the ones who lied to me. I want to thank true love, and I want to thank the way that I lied to myself, because that's how I knew that I had to grow."
"I want to thank disappointment and failure for teaching me to be strong," she continued. "And my children for teaching me to love." Lopez teared up and continued, "I want to thank all the people who told me — to my face or when I wasn't in the room — that I couldn't do this. I really don't think I could have done it without you."
"And I know I couldn't have done it without the fans who saw the movies," she added, to big cheers from the crowd. She pointed to the fans and said, "You are the reason that I am here and I have been here, and I love you."
Lopez also explicitly thanked her manager, Benny Medina. She said in part, "If there's one person who believed in me from the beginning, from the first time I played him a raggedy little demo of a song that I had wrote that day, he never let me stop believing in myself. It was him."
"There were times so low, I think I kept going more for you than for myself," she said to Medina. "You are the true meaning of ride or die."
At the end of her speech, she called out her fiancé, Ben Affleck, who wasn't with her at the event. "And Ben and everybody at home, wait for me to have dinner, I'll be home at 7," she said before walking off.
Lopez got her first break on the sketch-comedy show "In Living Color," appearing as one of the Fly Girls. In 1997, she starred in "Selena," portraying the late Selena Quintanilla Pérez. J Lo went on to cement herself as a movie star, appearing in movies including "Anaconda" and "Out of Sight." She starred in classic rom-coms like "The Wedding Planner," "Maid in Manhattan," and "Shall We Dance?" In the 2000s, Lopez appeared in two movies with Affleck, "Gigli" and "Jersey Girl." Her other hits include "Monster-in-Law," "The Boy Next Door," and "Second Act." In 2019, she starred in "Hustlers," which received considerable critical acclaim, and earlier this year, she released another rom-com, "Marry Me" with Owen Wilson. And she's shown no sign of slowing down. Right now, she's gearing up for the release of her Netflix documentary, "Halftime." She'll also appear in "Shotgun Wedding" and "The Mother" later this year.
Previous winners of the generation award include Scarlett Johansson, Chris Pratt, Will Smith, Reese Witherspoon, Robert Downey Jr., Sandra Bullock, Tom Cruise, and Adam Sandler.
Earlier in the evening, Lopez also received the award for best song for "On My Way (Marry Me)," featured in "Marry Me."