Why John Legend and Jesus Christ Superstar Are a Match Made in Heaven
John Legend is getting ready to take on the role of a lifetime. This Easter Sunday, the singer is set to play Jesus in NBC's production of Jesus Christ Superstar Live alongside Sara Bareilles (Mary Magdalene), Alice Cooper (King Herod), and Hamilton star Brandon Victor Dixon (Judas). While he certainly has the pipes (and "superstar" quality) for the role, he isn't taking on the responsibility lightly. Even though he's currently busy touring and getting ready to welcome a second child with wife Chrissy Teigen, he's been putting his heart and soul into the project.
"I've had to make everything else my side project, honestly, because I've been here every day for six to eight hours, and we've been focused on it," Legend told POPSUGAR. "It's been an immersion into the material, just learning all the lyrics and musical cues. And then just starting to inhabit the character and let it become a part of me. It's been fun, but it's taken over my brain. So, even when I'm at home, I'm humming the songs and rehearsing my lines in my head."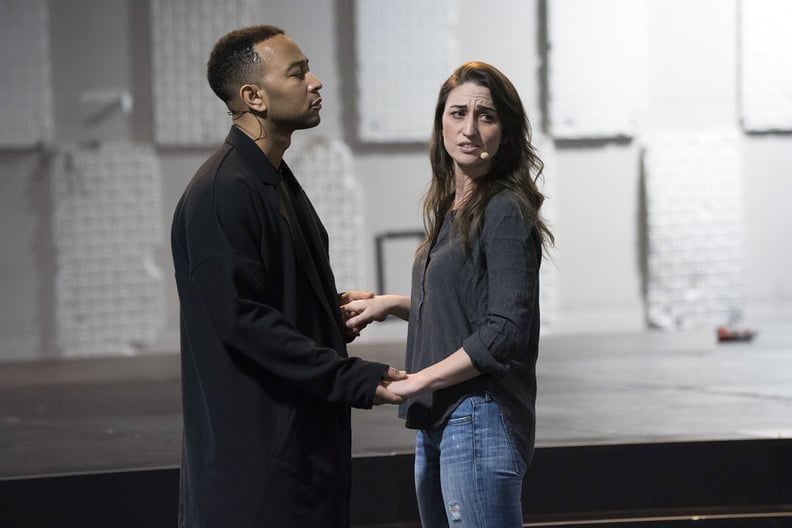 Of course, part of the reason he's been diving so deep into the material is because he wants to live up to fans' expectations. "It's an iconic show," he said about the 1970 rock musical. "It's meant a lot to a lot of people for a long time, and you want people that are fans of it to be excited by our rendition. Then, we want to attract new people to the show, too, that may have never seen it."
"There's pressure, but it's a good pressure."
Not to mention, taking on the role of Jesus Christ is a huge responsibility in and of itself. "I grew up learning about him," Legend added. "I grew up in a Christian home with ministers all through my family, so I've been hearing about Jesus my whole life, and the chance to portray him, I couldn't turn it down. It's huge, it's iconic, it's special, and I felt like it was a challenge that I was ready to take on. There's pressure, but it's a good pressure."
As if starring in the project wasn't enough, Legend is also a producer. However, this isn't his first time working behind the scenes of a big musical production. Last year, he won a Tony for coproducing the revival of August Wilson's play Jitney. In fact, NBC's live production of Jesus Christ Superstar could set him up for an Emmy, thus completing his EGOT. While he's certainly aware of the gap in his EGOT, he isn't putting too much focus on it either.
"I have no presumptions about that," he said about possibility of winning an Emmy. "I'd be considered an award-winning actor in my second role as an actor." He previously played Ryan Gosling's onscreen bandmate Keith in the Oscar-winning film La La Land. "My only job as a performer in this show is to do the best work I can possibly do." We have full faith that he will.