Katherine Langford's Character in Netflix's Cursed Couldn't Be Further From Hannah Baker
If you're a fan of 13 Reasons Why, Knives Out, or teen rom-coms like Love, Simon, then you're probably familiar with the name Katherine Langford. When she debuted as Hannah Baker in the 2017 premiere of Netflix's breakout drama 13 Reasons Why, Langford immediately cemented her place in the entertainment industry, and she hasn't slowed down since.
Now, she's stepping outside the Hannah Baker-shaped box and taking on a new challenge in Netflix's latest YA fantasy series, Cursed. Based on Arthurian legend, Langford plays Nimue, a teenager with a mysterious and magical gift and who's destined to become the Lady of the Lake. The series picks up when the Red Paladins invade her village, killing everyone she's ever known, including her mother. But before her mother dies, she tasks Nimue with delivering an ancient sword to Merlin, and along the way, she meets the young mercenary Arthur (Devon Terrell). Needless to say, this is just the beginning of a pretty spectacular (and heroic) adventure.
When I sat down with Langford back in 2019 on the London set of Cursed, her quiet confidence and passion for her character made it easy to see why she was chosen for the role. Creators Tom Wheeler (Puss in Boots and Empire) and Frank Miller (Sin City) explained that she signed on early, and although they knew she had "great acting chops," they didn't realize she was such a badass until she stepped fully into Nimue's boots. "Every time we see her she's covered in blood," Wheeler told POPSUGAR. "Throw her in the mud for three days in this mosquito and leech-infested swamp to kill all the [bad guys] and she's still so polite. It's just great to feel, even early on, that she marries beautifully to Frank's world — she fits in well with this collection of characters as a powerful women."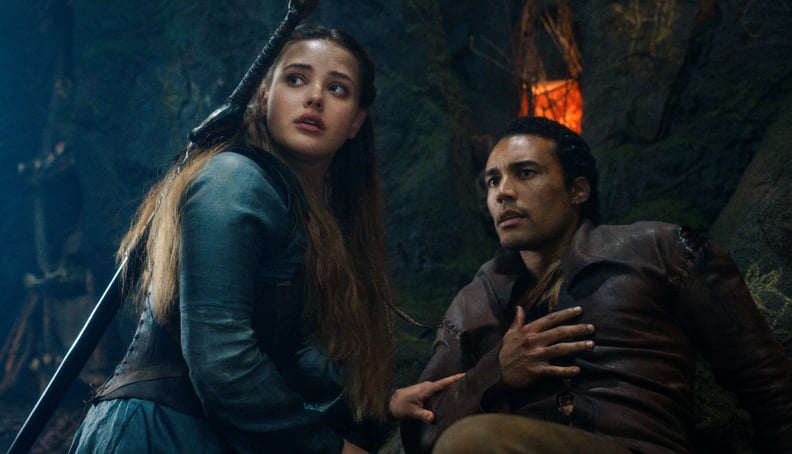 POPSUGAR: What you can tell us about Nimue and how she fits into the story of Cursed?
Katherine Langford: Nimue has a really epic journey. On one hand, she's going through this journey of great personal loss, of personal growth, and then also the greater challenge of overcoming adversity. One of the greatest things I realized through Nimue is, for me, in this series and the story, she represents courage. She's a really hopeful beacon and also an interesting heroine, both in this world of Arthurian legend but also, presently it's quite timely and interesting to see a heroine's journey as opposed to seeing a hero's journey — and how that differs, and how it's similar, along with the challenges she faces.
PS: How familiar were you with Nimue beforehand and when you first got the script?
KL: It's funny, I've always been a kind of secret lover of fantasy, and sci-fi, and also Frank Miller. So when I read the manuscript initially from Tom Wheeler, it was something that I gravitated towards just as a reader — it was really unique. Unique in the way it was written and also from the eyes through which this story is being told because you've heard the story 100 times, these Arthurian legends with different elements of the tale [each time]. But the female characters and roles within those Arthurian legends are often glazed over, or not really spoken about. Then, when I went to look up Nimue, I'd heard of the Lady of the Lake and I'd seen beautiful artwork of the Lady of the Lake but the character herself, I knew very little about. There wasn't an awful lot of information out there about her.
PS: How do you think it enhances the story to be told from the female perspective rather than the male perspective, which it has traditionally been told from?
As a woman, and as a girl, you grow up never believing, or never even thinking, that you could be in a position of power. That you could be a king.
KL: That's a really good question. I think it was one of the first conversations I had with the Zetna Fuentes who executive produces, and also directs the first two episodes (she's previously directed episodes of Grey's Anatomy and Pretty Little Liars). We had a discussion about Nimue as a person, but also in the role as a heroine. These hero stories are usually told from the male perspective — or from a boy or a man's point of view. What was interesting was crafting that story and looking at it as a woman who's being portrayed as a heroine. What makes it modern and applicable to now, is that you're getting to see the challenges that she specifically would face as a woman. As opposed to simply inserting a woman into a hero story. We asked ourselves 'What's her own personal journey?' 'What are the adversities that she faces?' 'What are the things that get her down?' and 'What are the things that she can use?'
One of the things that we have recently been shooting is her idea that as a woman, and as a girl, you grow up never believing, or never even thinking, that you could be in a position of power. You never think you could be a king. So, when Nimue first receives the sword, it doesn't cross her mind. One interesting thing — and I think it's a credit to Tom Wheeler — is that within this series, all the men seek power, but often when they're given it, they destroy or misuse it. Whereas all the women in the series, they don't seek power, yet they somehow are given that power and that responsibility. I think it's because they don't seek it, they come to power because they're natural leaders, and have pure intentions.
PS: We've seen photos of you holding up the sword as Nimue. How was it to portray this character in a new light, and then finally seeing her hold the sword?
KL: It felt really good. I'm glad you asked, because it was interesting. I grew up watching people like Angelina Jolie in Tomb Raider, Jennifer Lawrence in The Hunger Games, and those kind of role models and characters were so inspiring to me. To be able to see this genre (and this particular story) told through the eyes of someone that I can relate to, or other women or girls can relate to, is really special.
I arrived three weeks before we started filming to learn how to ride horses and sword fight. And as we were choosing the sword, they were passing me different swords to see how they would fit. They'd say "this is Russell Crowe's from Gladiator," "this is Timothée Chalamet's [from The King]," '"his is Chris Pine's [from Outlaw King]," so then to be able to have a sword and be like, "this one's Katherine Langford's" — it's like, here are all these amazing actors who played these incredibly powerful roles, and to be able to hold a sword and know that there's now a woman who's in this same universe, that now there's a female presence within this world that people are going to be able to watch, it's very inspiring, it means a lot to me.
PS: We got the impression from talking to Frank and Tom that you're covered in blood or mud for most of the series. You're in swamps, covered in vines, and wielding a sword to boot. It sounds like the process of shooting Nimue is quite physical, as well as emotional.
KL: This is the first time I have ever shot something set in a period, or in the Middle Ages. Then, it's also the first role I've ever had that's required physical components: stunts, horse riding, sword fighting, running through things as they're being set on fire. It's been really challenging, but also very exciting. That was something I talked about with Frank and Tom before the series started. We have an incredible stunt team with Steve Dent — they just do incredible work — but I really wanted to make sure that, to the best of my ability, I was able to do everything Nimue was being asked to do.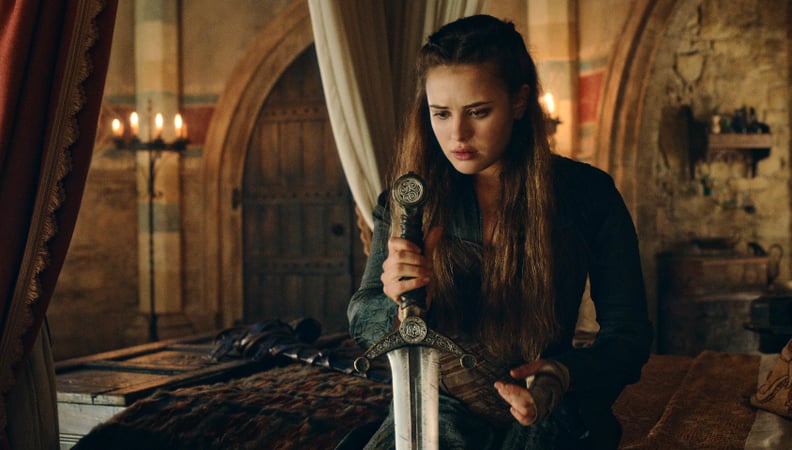 PS: Is there any part of Nimue that you could relate to personally, or you think that other young women will relate to?
KL: Short answer: yes. I think the incredible thing about Nimue is that you talk about superheroes, role models, and heroines, and people in action films — but at the end of the day, for me, the most amazing thing about her is that fact that she just very human. I'm saying that without trying to be cliché, but Nimue overcomes so much adversity while still having heart and without being a superhuman. She's just like any one of us having to deal with so much personal loss at the beginning of the series but then literally carrying the weight of the world on her shoulders toward the end of it.
At the beginning, what you see is a girl who feels restless. I identify with that . . . She also doesn't know quite where she belongs.
At the beginning, what you see is a girl who feels restless. I identify with that. I moved 39 times last year, and I've been kind of living on the road for three years. She also doesn't know quite where she belongs. It's feeling like there is something within her that she hasn't found yet — but she knows is there, she's seeking it. In essence, the series is definitely a journey that I think a lot of us can empathize with, and I would like to say that I'm as brave as her, but I think playing her has made me a little more brave and assertive.
PS: We've been told that a lot of themes in Cursed are relevant to 2020, whether that's the political system or climate issues. Can you talk about some of the messages that run through Cursed and how you have interpreted the real world in a different way because of that.
KL: The cool thing about Cursed is that you have that mix of fantasy, and it has elements of the ethereal, but then it's also grounded in humanity, which is what makes it applicable and relatable to audiences now.
A lot of the issues and adversities the characters go through in this series, like, religious oppression, oppression of minorities, wreaking havoc on the environment, they are all things that we can associate with. Being able to watch that through Cursed you kind of realize that they're dealing with very similar things to what we are now. I think that's perhaps what's going to resonate with audiences. Yes, this is an old story, yes it may be fantasy, but it's also so grounded in humanity that it still feels human, and current, and relevant.