Kelly Rowland, Marsai Martin Talk Fantasy Football Movie
Kelly Rowland and Marsai Martin Trade Advice on Being Young, Gifted, and Black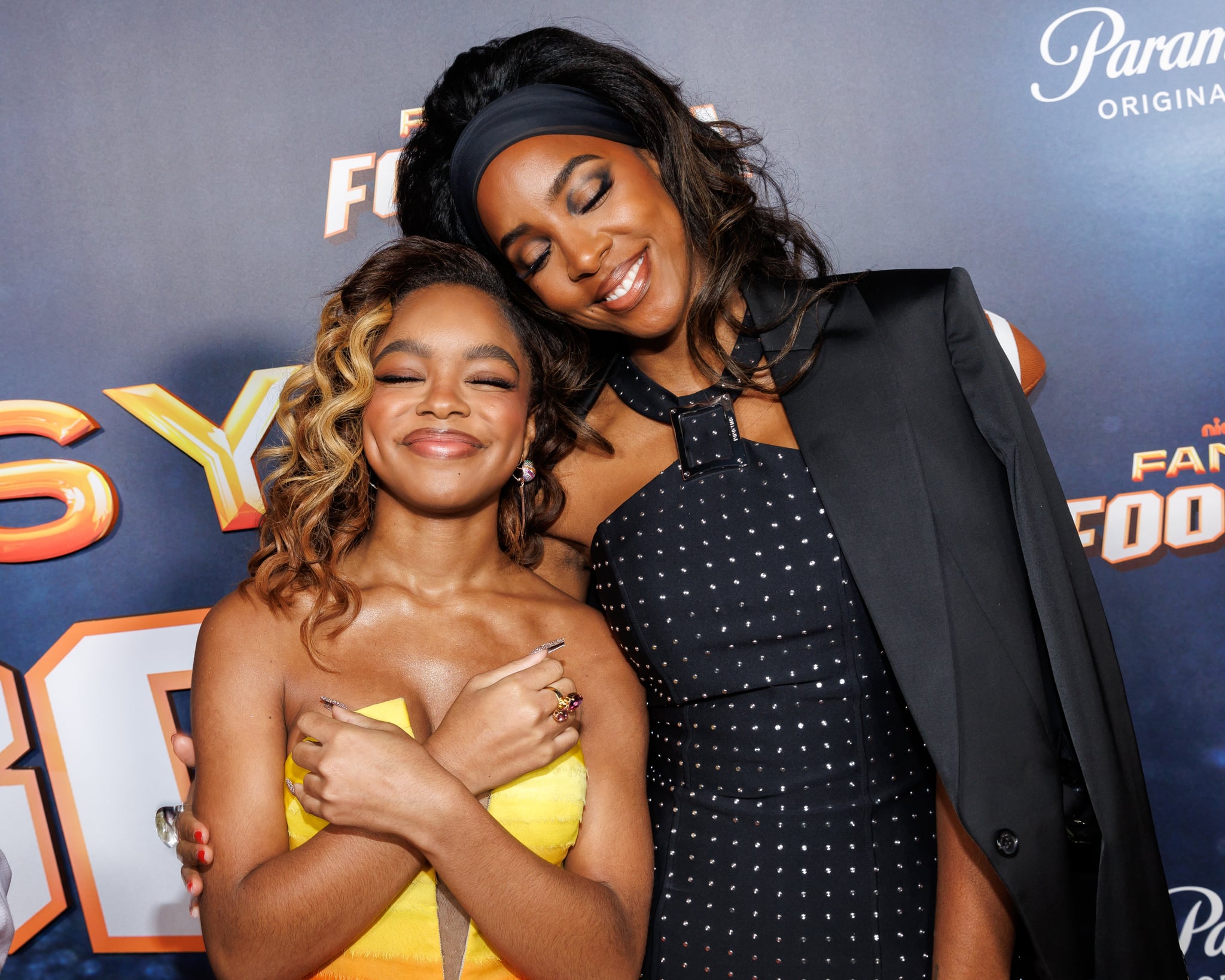 Image Source: Getty / Rich Polk
Marsai Martin and Kelly Rowland may be separated in age by over two decades, but the gifted stars have a lot in common — including their new Paramount+ movie "Fantasy Football." The industry peers formed a friendship years ago and reunited for their heartwarming sports comedy after Martin — who produced the film — sought out the former Destiny's Child singer to play her onscreen mom.
The "Black-ish" alum stars in "Fantasy Football" as Callie A. Coleman, a teenager who discovers she can magically control her father's performance on the football field through her Madden NFL 23 video game. The benched NFL player (played by Omari Hardwick) then attempts to revive his career to prove to his tech-wiz daughter and wife Keisha (Rowland) that he can be a superstar.
The movie's lighthearted plot is what attracted Martin, 18, and Rowland, 41, to the project — they consider it "incredibly necessary" to bolster the representation of Black girls in this comedic space (similar to the lane Lindsay Lohan carved with movies like "The Parent Trap" and "Freaky Friday"). Their shared passion for these stories is part of what brought them closer during filming, too. Between recording their viral TikTok videos and acting together onscreen, the two icons have cultivated a very special bond — and their joyous energy together is infectious.
Ahead of "Fantasy Football"'s Nov. 25 release, POPSUGAR got to listen to Martin and Rowland have a spirited phone conversation about everything from their first impressions of each other to the challenges that come with being young Black entertainers. Read ahead to see what they dished about.
On How They First Met
Marsai Martin: We met a while back when you came to my birthday — I was 14. I was surprised because it was a surprise that you were coming, right?
Kelly Rowland: That's right.
MM: It was a birthday dinner at Morton's Steakhouse, and all my friends were there. My aunts and uncles were there. And then you pulled up, and I was like, "Wait, what?" [laughs]

KR: "Where'd she come from?"
MM: It was very surprising, but for me, it just kind of felt like you fit in so well. Immediately, I felt so comfortable with you. I think nerves were happening when I first met you because I'm just nervous around new people, but they immediately went away because of how sweet and down-to-earth you are.
KR: Aww, thank you for saying that.
MM: I knew from the very beginning I wanted to work with you because I knew your energy was something that I have never really experienced before with being so comfortable with somebody.
KR: I remember [you] feeling very warm and wise beyond [your] years. And in this particular project, [you don't] know but I watched [you]. I find [you] very fascinating as [you're] looking at things in the way they're working. I'm thinking about the "Fantasy Football" space and how incredibly observant and creative you are. I feel like we need [you]. [You are] necessary for us, for our community, for the world to see true Black girl magic at its finest: creative and confident and bold.
On Reuniting For "Fantasy Football"
MM: I knew I wanted a family that felt real, that felt like they could just exist in the world. And when it comes to chemistry, that's the biggest thing for me as well. With Kelly, I think it was actually hilarious because we had Omari, of course, and then we knew we wanted a mom to bring everybody together for sure. Keisha, she's the main piece for everything to be as well as it was in the film. We auditioned a couple of people, but we knew from the very beginning we wanted Kelly for sure . . . So when the offer came up that you wanted to do it, I was just bouncing up and down. I was so, so excited.
KR: I was, too.
MM: That was our experience on our end, but how was it for you, honestly?
KR: I mean, I loved every moment of it because it was me playing a mom. I was excited [about] how I would be with a daughter. Because I have two boys, it was like, "Oh, how is this dynamic going to be?" I kind of rolled off of our energy and went from there . . . Everything kind of felt like this warm space, to be honest, for everybody to thrive and be the most amazing version of ourselves with these characters. That process was fun.
On Starting Their Acting Careers
KR: For me to go from singing to acting, I've always loved acting. I've always loved movies, always sat there, watched, and wanted to know the whole dialogue of a movie — just like I heard you do the same thing. That was a long time ago when I got the opportunity to do it — I think it was a Jet Jackson movie with Destiny's Child; I'll never forget. I was like, "This is fun, [I] could do this all day." Whenever the opportunity [to act] presents itself, I want to jump and try it.
MM: For me, I started when I was 5, so I can't even really remember or tell you the whole story, but I know for a fact it came naturally and I stumbled upon it, believe it or not — which is a crazy story because back in the day, I used to mimic all of these movies from the back of my head, so I knew this was destined for me . . . [I remember] I went into a photo shoot space in a mall down in Dallas and took holiday photos just for my grandparents to have for the holidays. And then next thing you know, the photographer was like, "She takes direction really well. I'll give you a discount if you go to this acting class." And then the rest was history.
KR: Wow. Have you gone back to see that photographer?
MM: No, I don't know where he's at. But thank you!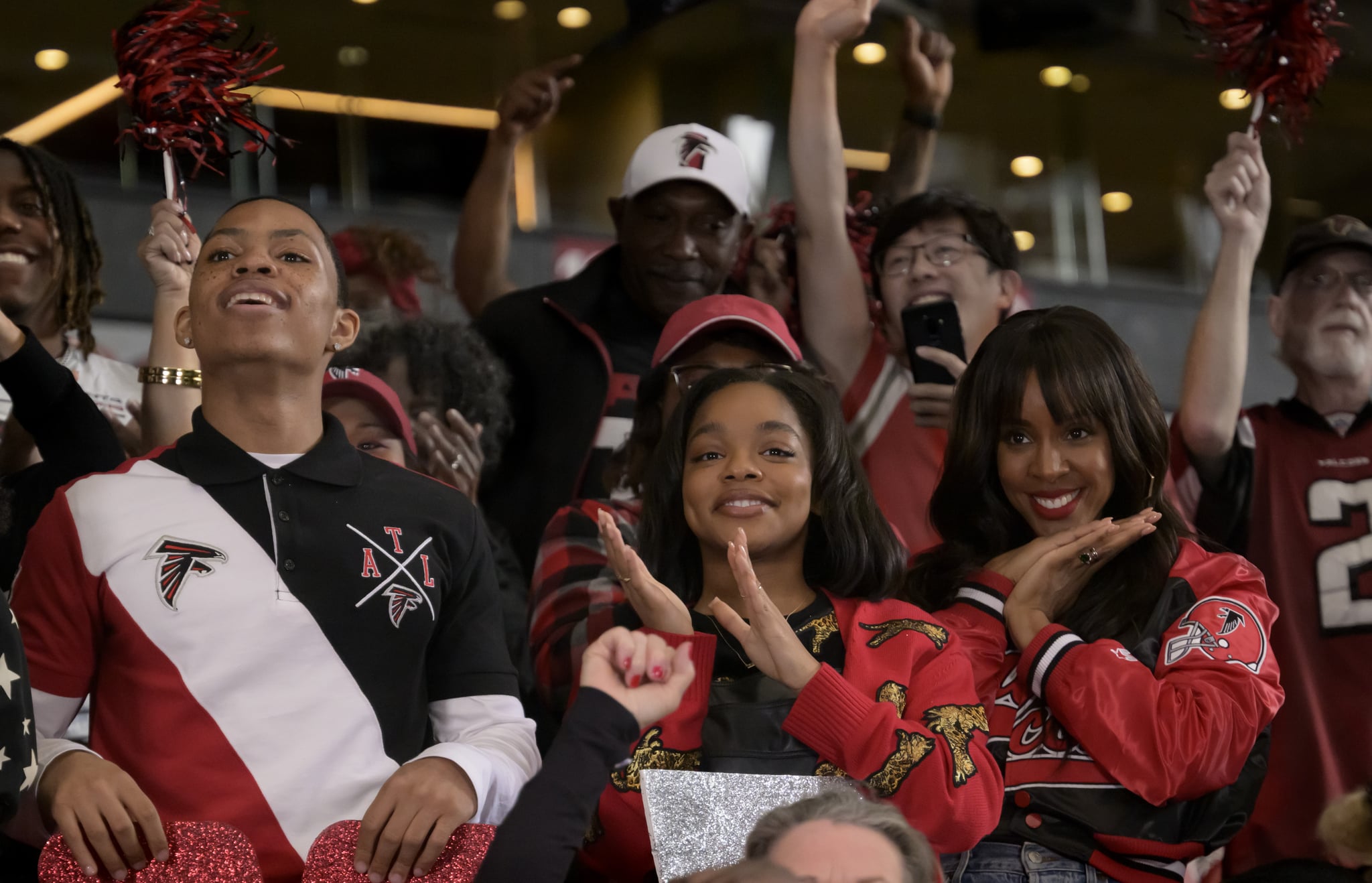 Image Source: Paramount+
On Transitioning From Child Stars to Adult Actors
KR: I think that when people grow up with you, they feel like, with all due respect, they have an opinion. I think that it's important to be very cognizant [of how] you're looking at someone. It's a specific lens . . . I think that it's important to remember how old you are at that age. You don't know what the dynamics are as you are growing and stepping into this entertainment space where everybody's looking at you — allowing people to have these moments where they are human — because the truth is, I remember being 17 and somebody's like, "You can't do this, you can't do that, you can't do this. You have to always do such and such." It's like, "Oh, so you're never supposed to do anything wrong? That's realistic" [laughs]. I'm grateful that I had great people around me who were pouring into me as far as morals were concerned, being a lady, doing everything with grace, being grateful for where you are in the moment, always being goodhearted, and having joy and zeal for what it is that you do. I think that grace got me through for sure.
MM: I agree. I'm going through this right now, so I [don't have] no advice or [anything], but I think it is important to let people exist and find their own ups and downs and their own mistakes. It's a little bit harder for us as well because we are in the public eye, and people are watching us while doing it, so it does feel like there's pressure coming into that.
KR: There is, yeah.
MM: My parents, my sister, my grandma, and my great-grandparents — they're all around me always. And I feel like as long as I have that support system, I'll be OK. I feel like people do think they have a sense of say and need to protect you, and with the world of social media, it's not getting any better. People just have to accept that people grow up and girls grow up, and you've got to accept that and let them do what they do.

On Peer Support in the Entertainment Industry
KR: It depends on what you're comfortable with. If you want to be around your family and that's your grounding and safe space, that's where you're supposed to be. If you meet other women or young women along the way and you bond, you click, that's great. That's actually what happened with me and Serena [Williams] or me and Ciara — we became friends and mothers. Outside, of course, of Bey and Michelle for me. I was like, "Oh, these [women] just came along the way." But I was very much so happy with my family and it being just us. It felt good. I was safe, I was protected.
MM: With me, I like my family, I like my friends. My [two best] friends are not in the industry whatsoever, so they don't really care nothing about [my] work. They just want me to have fun and play with them, which is cool. But I think it's important to find people who have been through the same things as you or somebody you can relate to within this space, like [you], Kelly. But I do think it's an energy thing. I'm big on energy and trying to connect with people in that way. So I feel like whatever happens, happens. I think you can feel your way through the BS and all the other things around that. It's easy to find your way if you just stick to your ground and what you care about.
On the Secret to a Long-Lasting Career
KR: Being humble — constantly stretching yourself and not being afraid to try new things creatively. It's also being able to connect with great people as well, for projects like ["Fantasy Football"]. You still have to have fun. [Work] is still fun to me. Here I am years later, and I'm just really grateful to still be having fun. That's the secret of it all to me.
MM: I think in my world, there are a lot of hardships when it comes to doing things that you're passionate about and the ups and downs with that. But what my dad always says is, "The hardest thing that's ever going to knock you down is life, and everyone got to go through that." So I feel like as long as you keep everything lighthearted, fun, and exciting — to where you are looking forward to the next chapter in your life — that's very important. Because everybody around the world feels like they have some sort of pressure on themselves to be something, especially being a young Black girl. So I think [the secret is] keep bringing yourself first. Self-care is everything. Mental health is everything.
"Fantasy Football" is now streaming on Paramount+.