Latto and Cardi B "Put It on Da Floor Again" in Their Remix's Iced-Out Video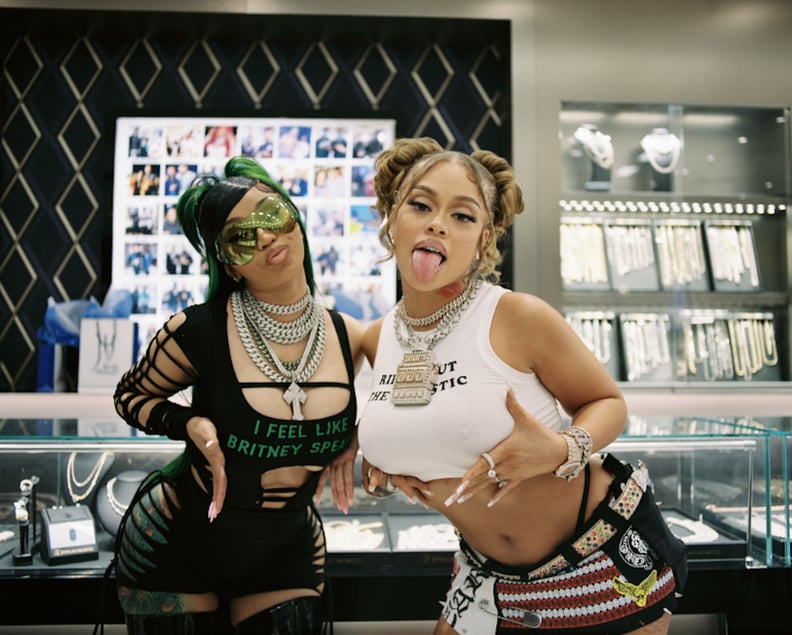 Shamaal Bloodman
Shamaal Bloodman
If you've opened up TikTok (or, really, any social media platform) within the last month, chances are you've heard Latto's infectious "Put It on Da Floor" bop. The "Big Energy" rapper is responsible for the latest sound bite taking over the platform, with its catchy "rip me out the plastic / I've been acting brand new" lyrics serving as the soundtrack for reveals of everything from glamorous prom outfits and nail sets to sleek hairdos. People are literally ripping themselves out of plastic — it's a sight to behold.
Following the release of Latto's single on April 21, it's been nearly impossible to escape the song's opening line on social media. And the rapper has been steadily promoting it on her own pages with hilarious videos of her friends rapping along to the lyrics, too. But Latto and TikTok users aren't the only ones getting in on the fun — Cardi B officially hopped on the viral trend, too, and in an exciting way.
On May 31, Latto teased a "Put It on da Floor" remix, formally titled "Put It on Da Floor Again," featuring Cardi B. And, of course, the pair announced their collaboration by taking part in the TikTok trend. "'Put It on Da Floor,' now I'm bout to 'Put It on Da Floor Again.' Remix this Friday," Latto shares in a clip across her social media pages. She then motions to someone hiding under a black plastic bag and adds, "Rip her out the plastic she been acting brand new," before a glammed-up Cardi B appears.
As promised, the pair's remix dropped on June 2 with an iced-out music video to go along with it. The visual — which also features surprise cameos from Cardi B's husband, Offset, and LSU women's basketball star Angel Reese — opens with Latto ripping herself out of a plastic-wrapped package, and it's not long before she's joined by Cardi B and the Grammy-winning rapper's explosive verse. "Put a ribbon on me, I been actin' brand new / I ain't smokin' on no za', lil' b*tch, I'm smokin' on you / Put your bestie in a pack and now I'm smokin' her too / I been ballin' so damn hard, could've went to LSU," Cardi B raps.
Latto's viral TikTok moment and remix come on the heels of a successful year for her so far. After dropping her sophomore album, "777," early in 2022, she kicked off 2023 with her single "Lottery," featuring Lu Kala, and released buzzy collaborations with up-and-coming artists like Mello Buckzz ("Boom Pt. 2"), Lola Brooke ("Don't Play With It" Remix), and TiaCorine ("FreakyT" Remix).
She's also currently on the second leg of Lizzo's "The Special 2our" and racked up two Grammy nominations this year for best new artist and best melodic rap performance. A press release for Latto's "Put It On Da Floor Again" teased that "the next chapter of Latto's career begins with more new music, more vibrant visuals, and more big energy from The Biggest."
Check out Latto and Cardi B's energetic music video ahead.
Latto and Cardi B's "Put It on Da Floor Again" Music Video
Latto's "Put It on Da Floor" Music Video