Brittany O'Grady Reveals How Sara Bareilles's Story Inspired Her Character on Little Voice
If you don't know Brittany O'Grady's name, you will very soon. The 24-year-old actress stars on Apple TV+'s new series Little Voice, and if she doesn't steal your heart with her acting chops, her beautiful singing voice will. The show, which was executive produced by Sara Bareilles, Jessie Nelson, and J. J. Abrams, follows a young songwriter named Bess (O'Grady) as she navigates love, family, and friendships in NYC and tries to find her voice in the process.
Just like her character, music has been a big part of O'Grady's life. In addition to starring on the Fox musical series Star, she has been playing music and singing since she was young. "My dad was playing instruments and playing in bands his whole life, so music was always something that was in my life," the Virginia native told POPSUGAR. "We used to watch musicals together as a family and go see musicals at the Kennedy Center. I grew up playing piano and saxophone and I did musicals growing up in the DC area. It wasn't until I got older when I realized I really wanted to pursue acting professionally, and I knew that singing would be an instrument to help me get there. I never expected the roles I would play to involve music so heavily, but I'm really, really grateful for that, because I think it's opened so many doors and I really love music and love to sing."
Aside from the singing aspect, O'Grady said that she resonated with Bess on a personal level. "I just fell in love with the character because she was just so relatable," she said. "I felt like I could connect to her in so many ways. She is a person that wears her heart on her sleeve and she's very authentic to who she is. When you wear your heart on your sleeve, rejection and all these different experiences that you have expressing yourself can be really painful. I think that I feel very similar in ways where I wear my heart on my sleeve and love to do what I do and I try to do it as honest as I can."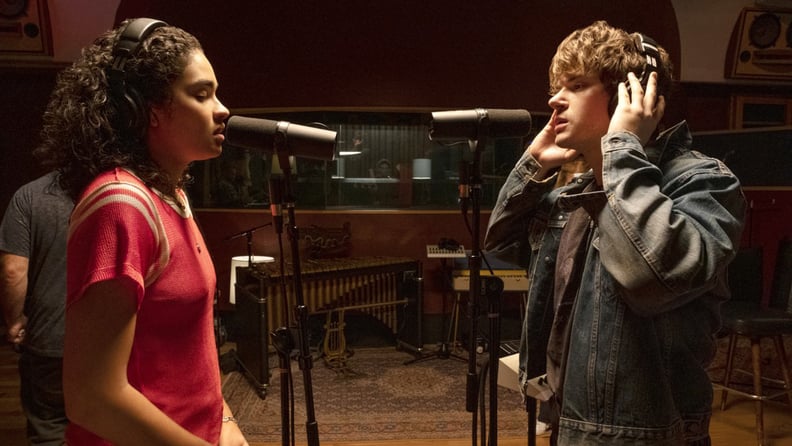 As she tried to shape Bess's character, O'Grady really leaned on Nelson and Bareilles. "We were connected so fast and I think that we really all understood each other and collaborated really well in creating this character," she said. "And the writing is just so good. I just wanted to know more about her. She was so much fun to play." She added that Bareilles was especially helpful with the musical scenes, having written the songs for the show. "She was really gentle with me," she said. "I've had experiences recording music and people weren't patient or didn't validate me as a singer and that was really hard to go through. Sara was just super, super kind and gave so much encouragement and direction and made it a lot more simple. She's like, 'Just come from an honest place when you sing and connect to the lyrics and don't worry about how you sound.' It came from a very soulful place and she allowed me to really tap into that."
In fact, some of Bess's story was inspired by Bareilles's. Not only is the title of the series named after the singer's breakout 2007 album Little Voice, but her personal struggles as a rising artist are also highlighted on the show as Bess tries to get a record deal. "When she was auditioning for labels, I think she got rejected by almost all of them and they told her, 'You have a beautiful voice, you're a great writer, but we don't know what to do, how to promote you,'" O'Grady explained. "A lot of the commentary in the seventh episode, where Bess is auditioning for all these labels, is [the commentary that] Sara Bareilles has got since the beginning of her career."
"I hope that people feel validated or find that it's not a straight pathway to finding your voice.
Just like Bareilles did with her own career, Bess eventually finds her inner confidence and is able to navigate who she is as an artist in the first season. As the story progresses, O'Grady hopes her character will inspire fans to use their own little voice in their everyday life. "I hope that people feel validated or find that it's not a straight pathway to finding your voice," she said. "People go through a lot of rejection, they go through a lot of self doubt, they'll kick a bathroom door and get hit in the face and embarrass themselves. That is normal. It's normal to have these embarrassing moments and feel so low and it doesn't have to define you. I hope that that's something that people can identify with and feel OK with that journey of finding your true self, whether it's in your family life, the arts, [or] in corporate America."