Miley Cyrus and Lil Nas X Re-Created a Hannah Montana Scene, and Their Acting Is on Point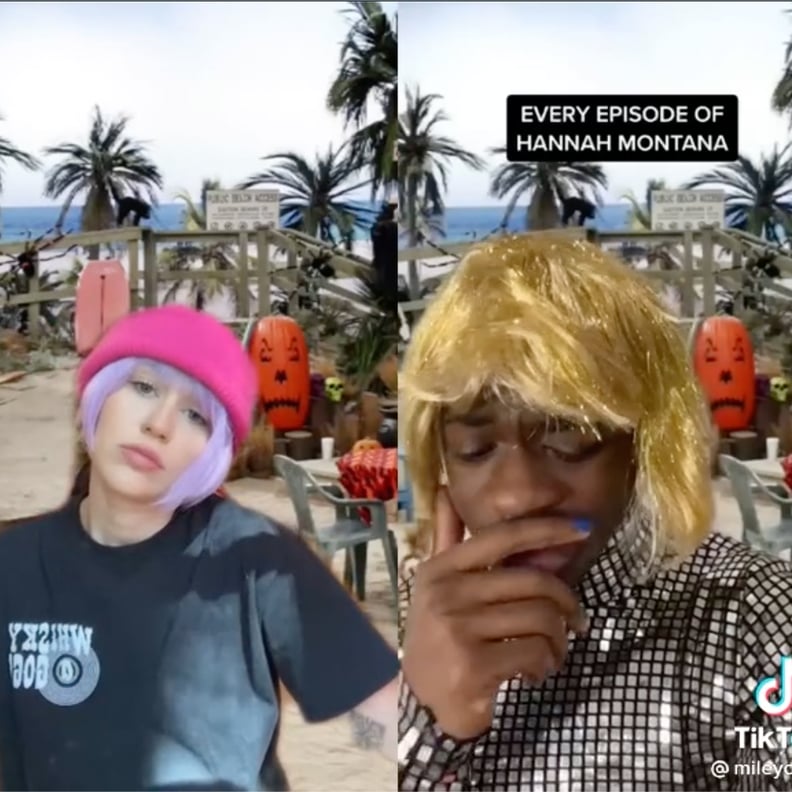 It may have been a full decade since the last episode aired, but Hannah Montana will always be an important part of my teenhood, and apparently, that's also the case for Lil Nas X. The rapper recently parodied the Disney Channel classic on his TikTok in a reenactment he refers to as "every episode of Hannah Montana." Playing Hannah/Miley Stewart in his own blonde wig, Lil Nas X dramatically revealed his identity as the pop star, which admittedly happened quite a few times throughout the series, considering Hannah is supposed to be living a top-secret double life.
"I can't keep doing this, Lilly, I can't keep living this lie. Stop! Stop the music!" he said. He then ripped off his wig and claimed, "I'm Hannah Montana," which cued a string of shocked reactions from voices in the background. But the best part of his parody is that Lil Nas X re-created the familiar transition with his own voice. "I hope Miley don't block me for this," he captioned his hilarious TikTok video.
Of course, Cyrus didn't block him. Instead, she duetted his video and portrayed Hannah's best friend Lilly, or should we say Lola Luftnagle, who was originally played by Emily Osment, in an iconic role reversal. "What Lilly is really thinking when Miley presses send on ANOTHER Hannah reveal," Cyrus captioned her reaction. Rocking Lola's signature purple bob, the singer rolled her eyes and sighed throughout Lil Nas X's performance until the big reveal. "Again? The old Hannah reveal is losing its shock value. You do this every f*cking week, Miley," Cyrus jokingly said. We love a good roast! Well, this may not be the reunion fans had in mind, but I'm very much here for a TikTok parody series with both Cyrus and Lil Nas X. Check out the duo's TikToks ahead.
Lil Nas X's Hannah Montana Parody
Miley Cyrus's Response to Lil Nas X's Hannah Montana Parody