Music Mood Board: All Things Beyoncé, Because Black Is King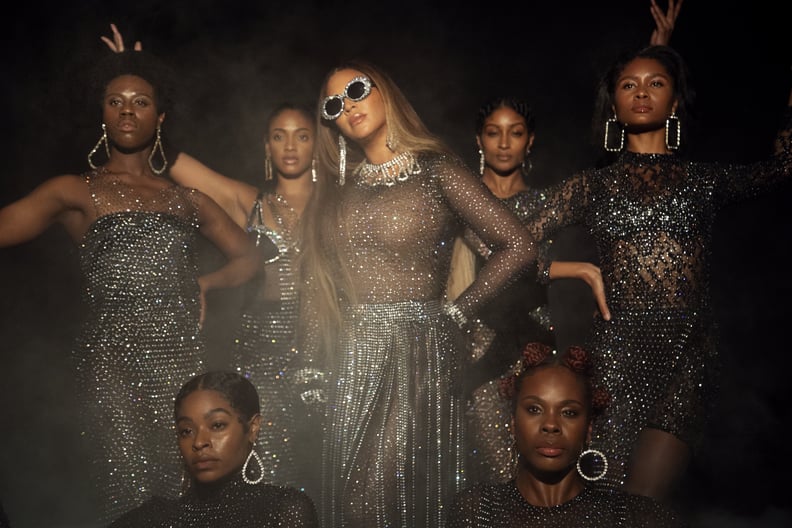 Disney+
01
"Nile" by Beyoncé and Kendrick Lamar
Lamar is one of my all-time favorite rappers, so you can imagine how hyped I was when this collaboration first came out last year. I was hoping he'd make an appearance in Black Is King, but, in true K-Dot fashion, he remained out of the spotlight. I guess he really is an antisocial extrovert. Still, the part of the film that features this song perfectly matches the track's entrancing sound.
02
"Mood 4 Eva" by Beyoncé, JAY-Z, Childish Gambino, and Oumou Sangaré
The amount of swag that emanates from "Mood 4 Eva" is almost overwhelming, especially after you watch Black Is King and see Beyoncé singing this song in a luxurious mansion. My living room couch that my roommate and I took from the side of a street isn't exactly lavish, but I'll pretend it is while belting "I'm so unbothered!" at the top of my lungs.
(Quick footnote: We took the couch from the sidewalk before the pandemic hit, I promise. This is relatively normal in New York, OK?)
03
"Brown Skin Girl" by Beyoncé, Blue Ivy Carter, Saint Jhn, Wizkid
04
"Already" by Beyoncé, Shatta Wale, and Major Lazer
Whew, this beat and this video . . . *a million chef's kisses.* That's all I have to say about this, TBH.
05
"My Power" by Beyoncé, Nija, Busiswa, Yemi Alade, Tierra Whack, Moonchild Sanelly, and DJ Lag
If you look up the word "dynamic" in the dictionary, you'll see a screenshot of the "My Power" scene in Black Is King. Between the choreography and cameos of the featured artists, it's one of the most energetic, chill-inducing sequences in the film, and it's my absolute favorite part.
06
"Scar" by 070 Shake and Jessie Reyez
Did I squeal when I saw my girl Jessie Reyez appear in Black Is King? Yes. Did I rap every single word from her verse because it's just that good? Also yes. This is probably one of the more underrated songs on The Lion King: The Gift, but, hopefully, it'll get a little more recognition now.
07
"Black Parade (Extended Version)" by Beyoncé
Here I was thinking "Black Parade" couldn't get any better than the original or the a cappella version — silly me. I should've known Beyoncé would give this Juneteenth jam a zesty marching-band-style twist. She knows what the people want!