Rachel Lindsay Details Parting Ways From Bachelor Franchise in Powerful Op-Ed
Rachel Lindsay is officially done with Bachelor Nation. In an op-ed for New York Magazine published on Monday, the former Bachelorette star recounted her history with the problematic franchise and her decision to speak out against the show for its lack of diversity and commitment to representation on screen. As the first Black Bachelorette, Rachel noted how tiring it has been "defending [herself] against a toxic fandom," especially within the past year as the show has received criticism from fans and critics alike. She has always been vocal about the franchise holding itself accountable, but following her Extra interview with Chris Harrison in February, she knew she'd had enough. "I thought I could change The Bachelor franchise from within. Until I realized I was their token," she noted. Read ahead for some of her biggest revelations about the franchise.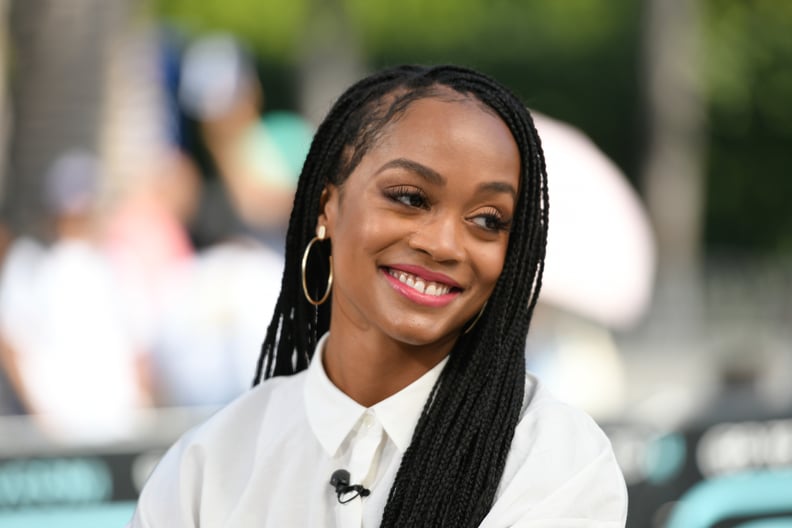 Rachel knew her relationship with Bachelor Nation was over after her Chris Harrison interview. Rachel opened her letter by recounting her Extra interview with Chris in February, adding that she knew she would be cutting ties with the franchise when "the host and face of the franchise, showed his true self on national television."
Rachel saw Chris as her "fairy godfather" before the interview. Rachel added that she turned to Chris for a lot of advice during her run as the Bachelorette. "I wouldn't say Chris and I were friends, exactly," she said. "When you're the Bachelorette, you're traveling with him, sitting in hotels and airports. There's a lot of hurrying up and waiting, and he's the one you do it with. During my season and after, he became someone who gave me advice on how to navigate the show and the celebrity of it. I called him my fairy godfather. We'd had our highs and lows, but there had been mutual respect until this interview. I felt disrespected, but I maintained my composure because I had to."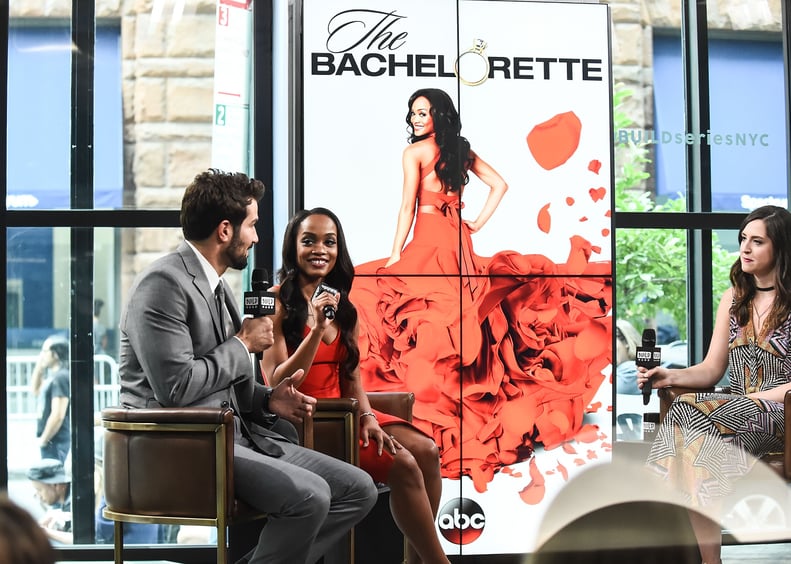 She was upfront with producers about the lack of diversity on The Bachelor early on. In her op-ed, Rachel recounted her auditioning process for the show. She noted that as she walked into a room, there was a "sea of people," but "nobody was Black." As she talked with executive producers, she expressed that she didn't watch the show because she didn't feel represented on screen. "What I was saying didn't scare them," she added. "'You should tell your job about the show,' they said. They were telling me I was going to be cast."
She almost backed out of the show. As Rachel familiarized herself with the show, she decided to watch Ben Higgins's season, and it almost made her back out. "Watching it, I started crying," she said. "I thought, I don't like the dates. This is cheesy. My friends are going to laugh at me. I'm not going to have any respect in the legal field. I almost pulled out." Days before going on the show, she revealed that she called up her ex, hoping he would convince her not to do it. Instead, the opposite happened. "He said, 'Well, don't say my name.' I thought, Oh my gosh, this man wants nothing to do with me. And I'm still looking for anything from him. Maybe 24 hours later, he texted me, 'You don't honor the sanctity of marriage. You're not who I thought you were.' He was trying to shame me into not doing it. It was just what I needed to hear to motivate me going in."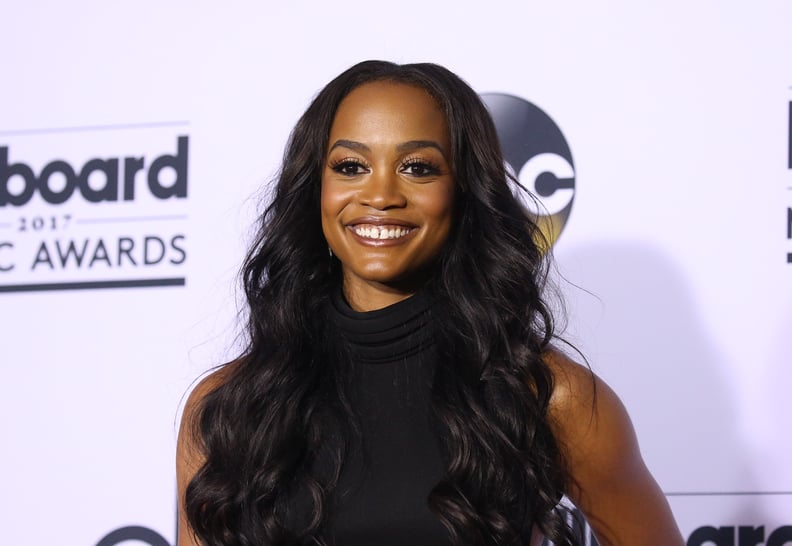 ABC was reportedly eyeing Rachel as the first Black Bachelorette during her audition. "An insider later told me they had been thinking of me as the first Black Bachelorette way back during my audition," she said. "At the time, there had been a shift in leadership at ABC. Channing Dungey, who is a Black woman, had just taken over as president. At the TV upfronts, she said, 'There will be a lead of color while I'm here. I'm making it my priority.' They didn't say this part, but it couldn't be a man. A Black man going into the homes of white women and sleeping with their daughters is a narrative the audience still can't accept. They're protecting them from that, as we saw with the Matt James season — they didn't even show him waking up with Rachael after their fantasy-suite episode, during which the lead spends the night with a finalist. So it had to be a Black woman."
She felt "exploited" during her hometown date with Peter Kraus. Though producers don't like for people to meet the contestant's friends, Rachel noted that they made an exception for her hometown date with Peter. "I walked in and saw two Black men and two white women sitting at a table," she said. "I turned to my producer and gave her a look. I wish they had caught my face on-camera — the way I turned and stared at her, like, 'Really, b*tch?'" She noted that her entire conversation with Peter's friends ended up being about "having 'mixed babies' and what it was like to be an interracial couple." "I couldn't believe it," she said. "I'm Black. I have interracial couples in my family. I'm old enough to understand what I'm entering into and the difficulties that come with it. I felt exploited. If anything, that situation turned me off of Peter because I couldn't see myself hanging out with them. They were nice, but it was so contrived. The producers really thought, 'How great!' All these mixed couples can come together. They were only looking at the optics of the situation."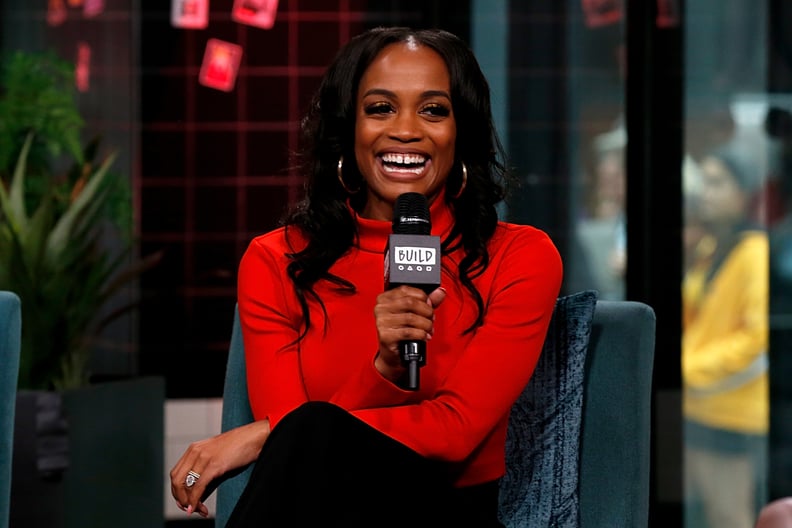 Bryan Abasolo felt like the Bachelor producers edited him to be "more Latino." During her op-ed, Rachel noted how the producers played a large role in how Peter and Bryan were portrayed on the show. "Bryan was so charming, but viewers saw him as cheesy," she said. "He was from Miami; he was portrayed as a playboy. He told me he never felt more Latino than when he was on the show because of the way producers edited him and what they wanted him to talk about. Practically every time he walked in, they played Latino music. Peter, meanwhile, was the audience favorite. But if you looked closely, he didn't offer anything other than being a fine physical specimen. He fit the prototype of a Bachelor Nation contestant. Because Bachelor Nation applauds mediocrity."
Peter Weber's season was a "breaking point" for Rachel. As Rachel waited for the show to cast another Black lead after her season, she noted that she was extremely frustrated when the franchise chose to cast Peter Weber as the Bachelor over fan favorite Mike Johnson. "I was livid," she said. "He is a veteran, and there's never been a veteran lead. He has got a million-dollar smile. He's handsome. He was a fan favorite. They chose someone with a pubescent haircut: Peter 'Make Sure You Know I'm Half-Latino' Weber. That was my breaking point. I was like, 'You know what? I'm going to use my platform to call out the show.'"