You Aren't the Only One Still Processing Your Tiger King Feelings — We're Right There With Ya
There's a whole lot to process from Netflix's docuseries Tiger King: Murder, Mayhem and Madness. The show centers on Oklahoma zookeeper Joseph Maldonado-Passage, better known as Joe Exotic, and his eventual downfall leading to his imprisonment for several crimes. As you can imagine (or just witness for yourself), Maldonado-Passage's journey from being the king of the exotic animal world to an inmate is a messy one that's hard to watch but even harder to look away from.
The in-between involves shady business dealings, a polygamist relationship, and an extremely contentious rivalry with Big Cat Rescue founder Carole Baskin. And when we say their enmity ran deep, we're not kidding. Maldonado-Passage is currently serving a 22-year sentence for his role in a 2017 murder-for-hire scheme to kill Baskin. Obviously, this series is wild and you need to stream it immediately. It has viewers chattering about a lot of things, but there are a few specific thoughts POPSUGAR editors are left grappling with. Let's dive in.
01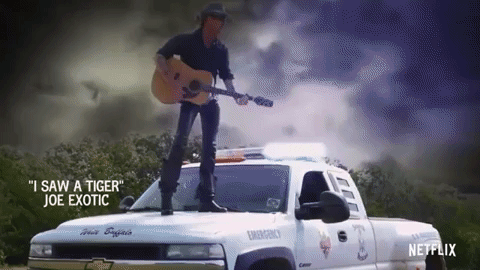 Joe Exotic's Music Videos Are a Lot . . . Like, *a Lot*
Just when we thought Tiger King couldn't get any more bizarre, we find out that Joe Exotic has a full-blown singing career and his music videos are . . . something else.
"My fiancé turned Tiger King on the other night while I was reading, and even though it's probably the hardest thing I've ever had to attempt to tune out, I was mostly fine until Joe Exotic started 'singing.' I just couldn't get past his dramatic music videos. Did he think he was radio-bound? Were the videos intended to be as serious as they looked? Do the real singers have regrets over recording these songs for him? Does he make royalties every time someone watches them on Netflix? I have so many questions." — Alessia Santoro, family editor

"Beyond literally every single thing about the entire series, the wildest part of Tiger King, to me, is the pattern of how quickly the seemingly silly details in the beginning turn really, unbelievably dark. The Joe Exotic music video collection captures that perfectly, because at first his videos just seem goofy, but the one with the Carole Baskin look-alike? Ugh. Yikes. It's all just too much. That could be the subtitle of the series — Tiger King: It's All Just Too Much." — Laura Meyers, content director
02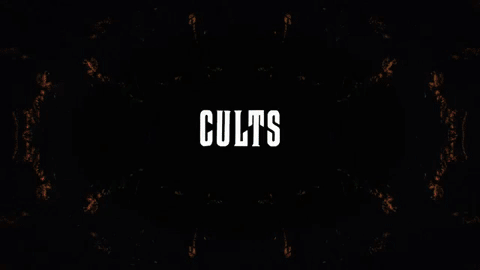 The Working Relationships at These Zoos Are, Uh, *Complicated*
According to the series, the dynamics at Bhagavan "Doc" Antle's wildlife preserve, The Institute for Greatly Endangered and Rare Species (T.I.G.E.R.S), are unique, to say the least. He supposedly has multiple wives and grooms women to be animal trainers. One woman who recounted her experience even admitted to feeling like she was in a cult, saying she felt pressured to change her looks and adhere to some odd rules.
Joe Exotic certainly seems to have a disturbing hold on his employees, as well. Throughout the series, he keeps digging his business deeper into a rut without much regard for how it affects his workers. Yet, he convinces them that they're all a "family" and will sink or swim together. Many staff members end up sticking with him until it's near impossible to stay by his side.
"I watched this show in one sitting and honestly can't stop thinking about it. It really got me interested in big cats! I think what shocked me the most was what a hold Joe had over his employees. It really was almost like a cult! Additionally, I was personally reeling from Carole's wedding photo . . . I just cannot with her husband on a leash." — Murphy Moroney, associate family editor
03
Rick Kirkham Deserved So Much Better
This one is still hard to come to terms with. Kirkham is a producer who just wanted to make a reality show about Joe Exotic. He didn't ask to become totally enwrapped in all the illegal behind-the-scenes madness, but that's exactly what happened. Unfortunately, all of Kirkham's hard work, which included incriminating evidence against Joe Exotic, literally went up in flames when the studio housing his footage was mysteriously set on fire.
"I felt so sad for Rick. Through the first few episodes, he was kind of like the everyman, pointing out the unbelievable scenarios from the inside. I had a feeling the reality show had never been released (we would have heard about it by now if it had, right?), but I was happy for him when I thought that Netflix would have had to pay him a lot of money for his reality-show footage. When the shed/studio was blown up, destroying all the footage in the process . . . I really felt that." — Angela Law, assistant editor

"They really didn't have to do Rick like that. It reminded me of when I was in school and lost a 15-page research paper after my laptop suddenly crashed and wiped out all of my files. Heartbreaking. From that point on, I used Google Docs and nothing else. It still hurts me. Anyway, justice for Rick!" — Brea Cubit, celebrity and entertainment assistant editor
04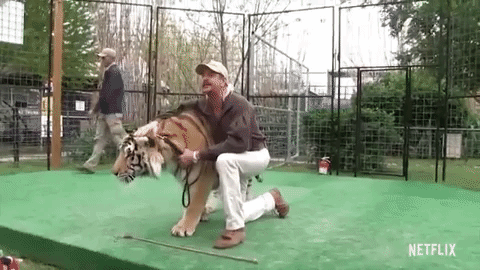 Nary a Single Person Seemed to Actually Care About the Animals
Over the course of seven episodes, the relationships and conflicts become so vitriolic, the animals' welfare takes a back seat. And there's certainly a case for why every zookeeper featured is hypocritical in their approach to "saving" big cats.
"The most ironic part about this docuseries is that hardly anyone seemed to actually care for the well-being of the animals impacted by their businesses. They pointed fingers at each other under the guise of wanting the best for their big cats. But everyone's greed and hunger for power kept them from seeing that they were all wrong for holding those animals captive and completely exploiting them to make money." — BC
05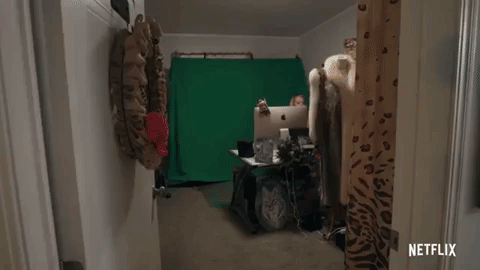 We Also Have to Address the Casual In-Home Green Screens
An underrated observation: Carole has a green screen in her house to record videos and add clips of big cats. All things considered, that's relatively tame. We really just wanted to bring that to your attention.
"As I watched the episodes, I became more and more obsessed with the fact that everyone has installed giant green screens in their houses, for the sole purpose of overlaying footage of big cats for online content. Carole and Joe especially — the dedication they have to creating retro content for their Facebook audiences is, frankly, admirable." — AL