Sara Ramírez and Karen Pittman Admit They Were Both Nervous to Join the Sex and the City Franchise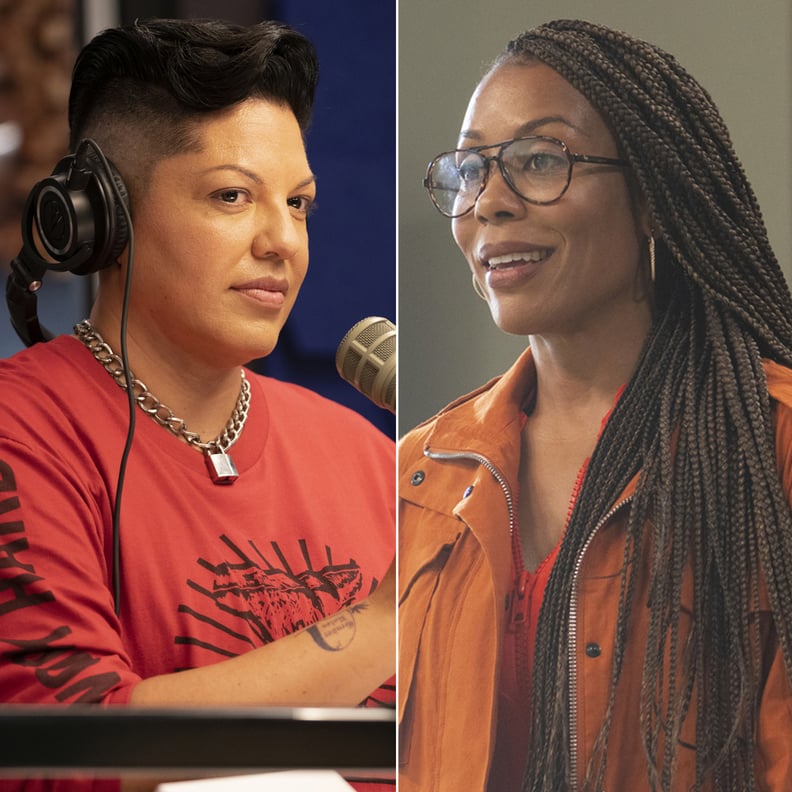 HBO Max
HBO Max
And Just Like That... made quite the splash with its premiere on Dec. 9. Not only did it kick off with Mr. Big's shocking death (still not over this, BTW), but it also introduced us to two of our new favorite characters: Dr. Nya Wallace and Che Diaz.
Played by Karen Pittman, Dr. Wallace is a professor at Columbia Law School. She teaches Miranda's (Cynthia Nixon) law class, and although their relationship starts off rocky, they eventually become friends. When we asked Pittman how she initially felt about joining the beloved franchise, she admitted to POPSUGAR that "there were nerves." She added, "There's nerves anytime you're going to work and you walk out the door and there's throngs of people with their cameras . . . I still didn't know what Nya Wallace was going to be. And part of the process of working with other people and vibing with writers and producers [is] just sort of discovering that as you go along in the process, as you shoot the episode."
However, once Pittman began filming, all that nervousness faded away. "You start to focus on the work, which is where I feel like I excel. I love to work hard. I love the challenge of pouring over a script, pulling out a character, and walking her around — and the city of New York is so evocative," Pittman said. "I had great actors to work with, including Cynthia Nixon and LeRoy McClain. We had such a great time helping each other and hoping to create an interesting story for the people who are coming back into it, but also for the new people who will encounter it. It actually was a great thrill."
Sara Ramírez was the first big-name addition to the sequel series cast. Ramírez plays Che, a nonbinary, queer comedian who hosts a podcast that Carrie (Sarah Jessica Parker) often makes appearances on. Like Pittman, Ramírez was "both excited and nervous" to join the franchise. "I've been a fan of Sarah Jessica Parker for a while. I've had a crush on her forever. I've been watching her since Square Pegs," Ramírez shared. "So when I met her on the first day of our first table read, I very much shared all of this with her. And I said, 'I'm so sorry. If I'm making you feel uncomfortable, I'm going to stop right now.' And she said, 'No, you're fine. You're fine.' So we shared a good laugh. She's so graceful and just an exquisite human being."
During the table read, Parker also asked Ramírez for their pronouns, which made them feel seen and supported right from the very beginning. "From the get-go, these folks made it clear that they're going to be intentional, that they're going to value my life in the room," Ramírez explained. "I just feel like there's been a combination of support from the cast and [director] Michael Patrick King, as well as the writers room. And then, we've had a lot of queer and trans people in front of [and] behind the camera as well. It's important to feel like you're not the only one. And in that sense, that also felt really affirming. And while we cannot create a safe space for everyone because inevitably somebody's going to feel left out, we can certainly make efforts to create safer spaces. And I felt like there was a lot of care and intentionality around creating that for a lot of different people."
And Just Like That... airs new episodes Thursdays on HBO Max.