"SNL" Reimagined the Oscars Slap From a Seat Filler's POV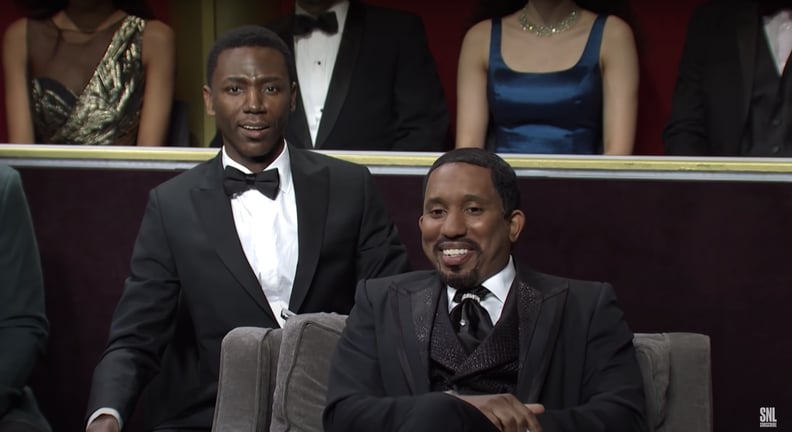 Image Source: YouTube user SNL
Everyone had something to say about the infamous slap at this year's Oscars, so it was no surprise that "Saturday Night Live" joined the conversation and addressed the week's biggest news during its April 2 episode. Comedian Jerrod Carmichael — who just released a new HBO comedy special, "Rothaniel" — hosted the show, first delivering a monologue poking fun at our own exhaustion with the Oscars incident. "I'm not gonna talk about it," he began his segment without even mentioning the Oscars, Will Smith, or Chris Rock.
But despite refusing to "talk about it," "SNL" weaved in mentions of the moment throughout its "Weekend Update" and even dedicated a sketch to Smith's slap. Offering a different perspective, the show reimagined the incident from the point of view of a seat filler, played by Carmichael. Alongside "SNL" cast member Chris Redd as Smith, Carmichael is excited to meet his hero. The two first exchange pleasantries and even start taking a selfie together — until Redd abruptly runs up on stage following an audio re-creating Rock's joke about Jada Pinkett Smith. Redd nonchalantly switches back and forth between friendly conversation with Carmichael and bouts of anger regarding the situation.
As the comedian addressed in his monologue, fans were undoubtedly tired of hearing about the slap, but many applauded "SNL" for approaching the skit from a unique angle. Ahead, watch how "SNL" handled the Oscars incident.
Watch Jerrod Carmichael's Monologue on "SNL"
Watch "SNL"'s "Weekend Update" on Will Smith and Chris Rock
Watch "SNL"'s "Seat Fillers" Sketch With Jerrod Carmichael and Chris Redd