With Grown-ish and New Music, Saweetie Is Already Confident That 2021 Is Her Year
Saweetie has been taking over the music industry this past year, and now she's poised to take over the acting world. In the midseason premiere of Grown-ish season three — which airs on Jan. 21 on Freeform — the 27-year-old rapper makes her professional acting debut as a singer named Indigo, who Saweetie said is her complete opposite. "She's very bossy, she's tough love, she's b*tchy, which made her unique for me because I really had to not be [who I am] in real life," she told POPSUGAR.
While the role marks her first official television gig, Saweetie is no stranger to acting. In fact, she briefly majored in theater for a semester in college. But even with that in her back pocket, she still made sure she was completely prepared for the role by getting one-on-one training. "I was not about to play with my acting debut," she said. "I had an acting coach, his name was James. So shout out to him. I definitely trained, prepared for the role, and rehearsed before I went to set."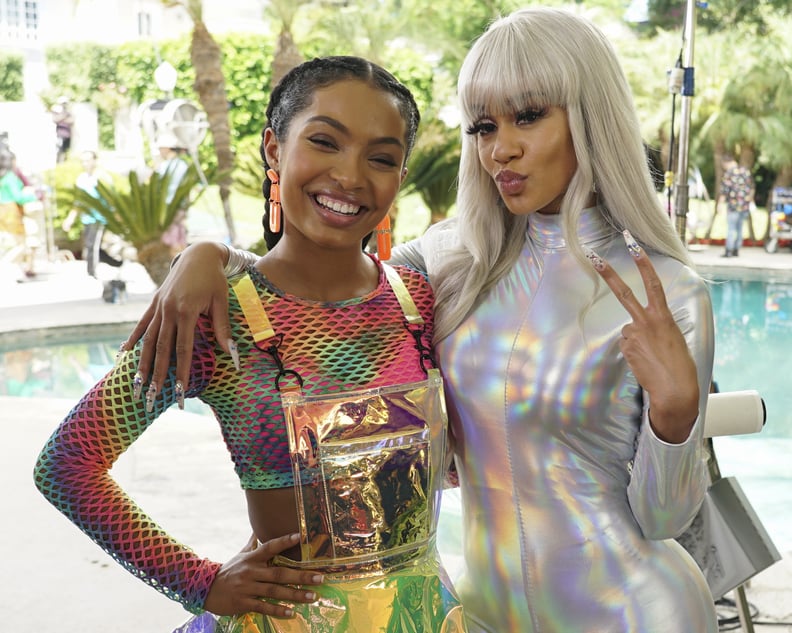 It also helped that her character works very closely with Yara Shahidi's character Zoey. "What made it even more of a joy is costarring with Yara," she added. "She was so helpful. She would help me even remember my line sometimes. But she was just really cool, great energy, and super helpful. Yara just felt like a little sister. She so lovable and just so cute and just intelligent. So the whole time, it was just fun. I thought I was on a set with a little sister, like a homegirl."
After putting her sole focus on music these past few years, Saweetie is super excited to get back to acting. "I always wanted to act, but when you focus on so many different things, you're not able to perfect the number one craft, which is music," she said. "I feel like this is only the beginning, and I'm so thankful for Grown-ish for allowing me to live on there for three episodes, because I feel like it'll only open more doors."
As for which roles she'd love to take on next, Saweetie added that she really wants to play a supervillain like her Halloween inspiration, X-Men's Mystique. "She does bad things for the greater good, so she has an edge to her," she said. "She's one of my favorite X-Men. An action film is definitely up my lane. I'd love to do my own stunts, and I'm a very adventurous person."
"I feel like this is the year where the seeds I've planted will finally begin to bloom."
In addition to her acting debut, Saweetie is also eager to release more new music. Her debut album, Pretty Bitch Music, is expected to be released sometime later this year. "I definitely feel like this is the year of Saweetie, the artist," she said. "I've done a lot of development in these past years, a lot of foundation work, and I feel like this is the year where the seeds I've planted will finally begin to bloom. I feel like acting is just the extra layer on top, the icing on the cake. I'm just so grateful for the opportunity because it definitely expands the Icy brand."