Raise a Glass of Fruit Wine, 'Cause Schitt's Creek Just Nabbed 15 Emmy Nominations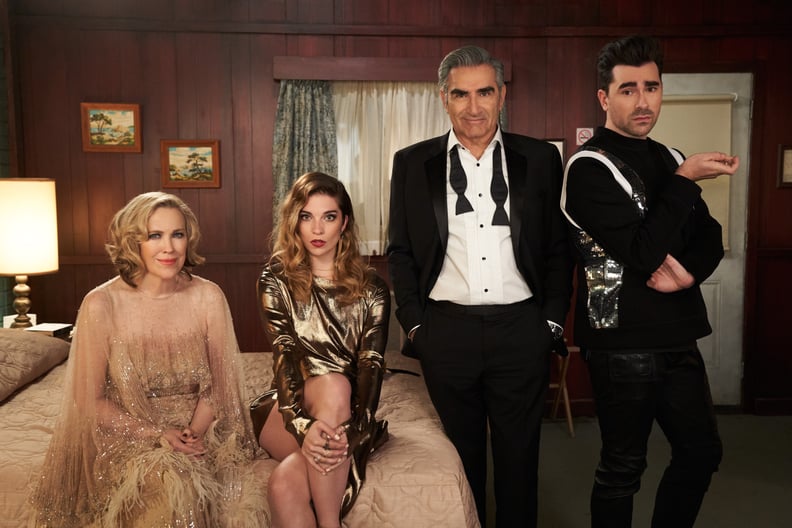 Pop TV
Pop TV
The 2020 Emmy nominees have been announced, and Schitt's Creek is finally getting the love it deserves. The Canadian sitcom nabbed a total of 15 (!) nominations for its sixth and final season, with Catherine O'Hara, Annie Murphy, Dan Levy, and Eugene Levy each earning nods for their Rose family roles. We'll raise a glass of Herb Ertlinger fruit wine to that — but no guarantee we'll actually be gagging down all of said glass.
The hilarious and heartwarming Pop TV series scored its first four Emmy nominations last year, although it didn't wind up taking home any golden trophies during the show — and this year marks its last chance to secure one. Moira Rose did say her favorite season is award season, so here's to hoping that helps O'Hara finally get the win she's undoubtedly earned for portraying the beloved Jazzagal with a profound vocabulary and puzzling accent.
Following the Emmy nominations announcement, Schitt's Creek producer and star Dan Levy couldn't help but express his excitement on social media. On Twitter, he retweeted a message about the nominations, adding, "For once I am speechless," and on Instagram, he captioned a post, "Well. This morning has been the most incredible surprise. We are overwhelmed and filled with gratitude for this recognition. Unfathomably proud of our little show."
Ahead, check out the full list of Emmy awards Schitt's Creek is nominated for this year, and join us in jamming out to "A Little Bit Alexis" on repeat all day to celebrate.
Outstanding comedy series
Outstanding writing for a comedy series: "Happy Ending," written by Dan Levy
Outstanding writing for a comedy series: "The Presidential Suite," written by David West Read
Outstanding lead actor in a comedy series: Eugene Levy
Outstanding lead actress in a comedy series: Catherine O'Hara
Outstanding supporting actor in a comedy series: Dan Levy
Outstanding supporting actress in a comedy series: Annie Murphy
Outstanding directing for a comedy series: Dan Levy and Andrew Cividino ("Happy Ending")
Outstanding casting for a comedy series: Jon Comerford and Lisa Parasyn
Outstanding contemporary costumes: Debra Hanson and Darci Cheyne
Outstanding contemporary hairstyling: Ana Sorys and Annastasia Cucullo
Outstanding contemporary makeup (nonprosthetic): Candice Ornstein and Lucky Bromhead
Outstanding single camera picture editing for a comedy series: "Happy Ending" by Trevor Ambrose
Outstanding single camera picture editing for a comedy series: "Start Spreading the News" by Paul Winestock
Outstanding sound mixing for a comedy or drama series (half-hour) and animation: Bryan Day and Martin Lee