Shenseea Discusses Alpha Debut Album
Shenseea Is Ready to Conquer the World With Her "ALPHA" Debut Album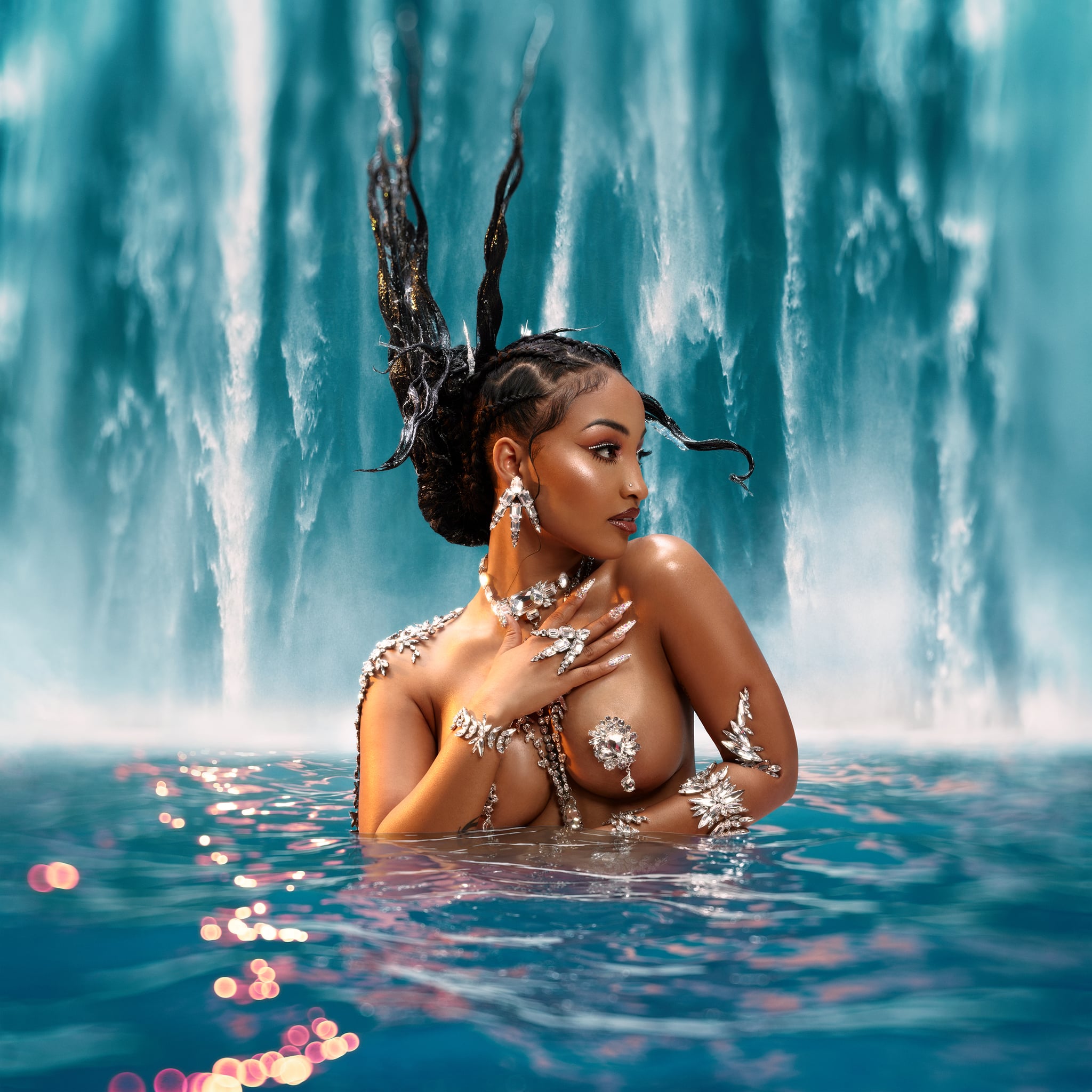 Shenseea continues to break records; she is the first female dancehall artist to hit Billboard's Hot 100 in 17 years and the first female Jamaican artist to perform on the Rolling Loud stage in both Miami and New York. On top of that, she is also the sole female rapper featured on Kanye West's Grammy-nominated album, "DONDA," with songs "Pure Souls" and "Ok Ok Pt. 2." With that, it is only fitting that her debut album is titled "ALPHA."
Alpha not only means "first," but it is also symbolic of Shenseea's self-proclaimed identity. "I always called myself an alpha because of my mindset," she tells POPSUGAR. "Everything that resonates with the word resonates with me." The 14-song project is a sonic blend of dancehall, pop, and hip-hop. It features big-name artists, such as Megan Thee Stallion, Tyga, and Offset, and dancehall legends Sean Paul and Beenie Man. Shenseea's first single from the album was "Lick" featuring Megan Thee Stallion. The track was produced by Murda Beatz and is accompanied by an official music video directed by James Larese. She has since followed it up with "R U That" featuring 21 Savage and "Deserve It."
"ALPHA" was originally scheduled to release last summer, but was put on hold due to the COVID-19 pandemic. "I wanted people to be outside enjoying the songs," Shenseea explains. "It was a stressful time where there was a pause on entertainment." However, the Jamaican singer and songwriter was still able to give fans a taste of what to expect with her Rolling Loud festival performances last year. As the first Jamaican female artist to perform at the popular event, she recalls her experience, telling us, "I enjoyed that performance so much. The feedback was amazing. The audience was so engaged with me — I felt like they were fans even if they didn't know who I was at the time."
Shenseea emerged into the music industry with her 2016 breakout hit "Loodi" featuring Jamaican reggae and dancehall legend Vybz Kartel. Three years later, she signed with Rich Immigrants/Interscope Records, and shortly after that, she released her debut label single "Blessed" featuring Tyga. "There is nothing I would change about my journey. Everything that I've done and every decision that I've made has led me right here," she says. "If I tried to change something back then I wouldn't have the same insight that I have now." This insight led to standout features on three Grammy-nominated projects this year: "DONDA" by Kanye West, "Studying Abroad: Extended Stay" by Masego, and "Music Is the Weapon (Reloaded)" by Major Lazer.
Clearly, the 25-year-old Jamaican singer and songwriter is booked and busy! Even when Shenseea returns to her home country, there is no time for rest. "When I go there now, it's mostly to catch up on the culture and see where they are at or see what I need to do to spice up the dancehall you hear down there," she explains. "There's a disconnect between the Caribbean islands and the rest of the world. I like to go back to see where they are at and what I can do to make a better bridge. I have to stay connected to my culture to do what I'm about to do."
And what exactly is it that she is trying to do? "Right now, I am trying to conquer the world," she states. Shenseea is scheduled to perform at London's Wireless Festival in July. She also hopes to bring her debut album to life with a tour this year.
Stream "ALPHA" here and check out the music video for hit single "Lick" featuring Megan Thee Stallion ahead.