Yes, I'm a Grown Man and I Cry While Watching This Is Us
I should preface this by saying that I don't ever cry. OK, maybe once or twice out of an entire year, but that's the maximum. The point is, it's very rare for my tear ducts to produce tears. Growing up, I went through a lot of rough sh*t, but crying isn't something that I use as a coping mechanism whenever I'm sad or hurt. And it's definitely not something I did while watching TV. I even judged people, like my sister who sobs every week while watching Grey's Anatomy and my high school friend who cries at Lifetime movies, because let's be real, it's just TV, people. Or so I thought. All of the judgment I reserved for those who couldn't control their emotions changed once I started watching This Is Us.
I've become invested in the Pearsons, and their complicated family makes me an emotional wreck.
I give my self credit for lasting as long as I did before the water works began. It was the sixteenth episode of the first season when — spoiler alert — Randall's biological father, William, dies. That final scene of Randall holding on to his dying father's face hit me right in the gut. I must have bawled for at least a good fifteen minutes before I got annoyed with myself. As someone who watches shows like The Walking Dead religiously, I know that at any minute someone could die on my favorite TV shows, and I've quickly learned not to get too attached to any character. But there's something different about This Is Us.
Maybe it's the genius minds of the writers who craft impeccable story lines around sensitive topics like adoption, addiction, and body image, or the incredible actors who bring it every week as flawed, yet endearing characters who I'm now consistently rooting for. Whatever the reason, I've become invested in the Pearsons and their complicated family makes me an emotional wreck.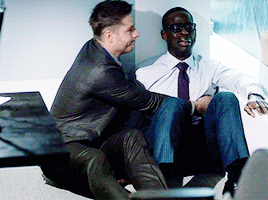 Thanks to the show — and the emotional reactions from other fans — I've realized that it's OK to shed tears in front of my TV screen. To know that I can be moved and feel passionately about fictional characters, and actually empathize with them, shows me that I'm not so cold after all. It also helps that the three lead men on the show aren't afraid to wear their hearts on their sleeves. Witnessing Randall (Sterling K. Brown), Kevin (Justin Hartley), and Jack (Milo Ventimiglia) being completely vulnerable with their family and loved ones chips away at the false notion that strong men don't cry. And that's a damn good thing, too.