Spider-Man: No Way Home's Postcredits Scenes Tease Even More Multiverse Madness
Get ready to swing into the Spider-Verse, because Spider-Man: No Way Home is finally here! Marvel fans suspected for months that Spider-Man: No Way Home would contain connections to the Sony Spider-Man franchises through the multiverse, and when the movie dropped on Dec. 17, they found out they were right. Both Andrew Garfield and Toby Maguire suit up as their versions of Peter Parker in the new movie. Plus, villains from Garfield and Maguire's movies like Dr. Otto Octavius (Alfred Molina), Sandman (Thomas Haden Church), Electro (Jamie Foxx), and the Green Goblin (Willem Dafoe) also had comeback roles in No Way Home.

Throughout Spider-Man: No Way Home, Peter Parker (Tom Holland) struggles against evil outside forces from other universes to save New York City, all while dealing with the angst of being a typical teenager. Unfortunately, to save his universe this time he has to let Dr. Stephen Strange (Benedict Cumberbatch) close the gigantic gaps in the multiverse by casting one final spell making everyone forget who Spider-Man is — including MJ, Ned, and Happy.
But before Peter is entirely alone and invisible to everyone after Strange's spell saves their world, Spiderman: No Way Home makes you laugh, cry, and even cry-laugh until the credits roll. Of course, with every MCU movie comes our beloved end-credits scenes, so let's get those Spidey-senses tingling and recap the midcredits and postcredits scenes that bring to light more storylines and promises for the future of the MCU.
What Happened in Spider-Man: No Way Home's Midcredits Scene?
The midcredits scene features Eddie Brock (Tom Hardy) and his good pal Venom, from Venom and Venom: Let There Be Carnage. Eddie and Venom (who's inside his head most of the time — until he feels like coming out to play, that is) are sitting in a dingy Mexican bar somewhere in New York drunk, confused, and rambling to an equally confused and angry bartender after a few too many fruity drinks.
They've somehow been transported into Peter Parker's universe after Strange's original spell at the beginning of Spider-Man: No Way Home. That spell was supposed to make everyone forget who Spider-Man is, but it got screwed up when Peter kept interrupting Strange's concentration and asking him to alter it mid-incantation. So the spell ends up allowing anyone from infinite universes who knows Peter Parker is Spider-Man to come through the tears in the multiverse like the old Spider-Man movie villains — and Eddie and Venom.
Now, Eddie Brock and Venom don't know what to do with themselves in a world with wild green superheroes who are actually intelligent scientists, like the Hulk, and the threat of giant, purple aliens who like collecting magic gemstones and snapping their fingers to make half of the population disappear, like Thanos.
All of a sudden, in mid-existential crisis, Eddie and Venom are magically transported back to their original universe. (Strange must have performed his final spell at the end of Spider-Man: No Way Home off screen.) As the bartender complains about the strange patron who just left without paying his bill, a small, gooey piece of a Venom symbiote crawls along the bar counter. It's an unfortunate reminder that Venom's offspring could now cause trouble in the universe he just left behind, but it also gives fans something to look forward to: the possibility of Venom joining the MCU Spider-Verse for another crossover in the future.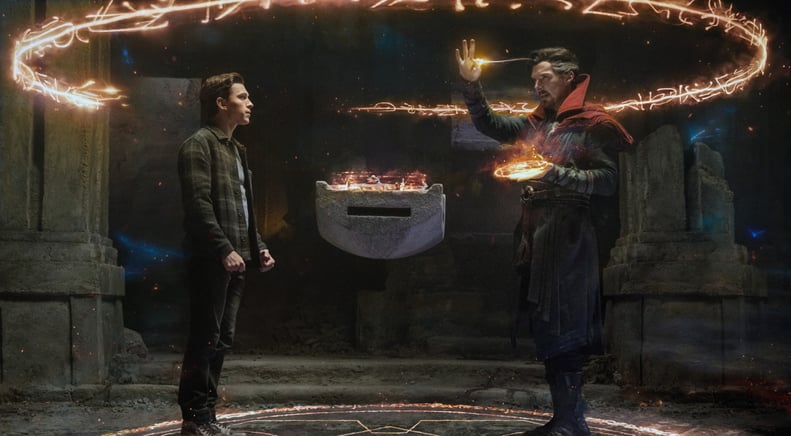 What Happened in Spider-Man: No Way Home's Postcredits Scene?
The scene at the very end of Spider-Man: No Way Home is actually a mini-trailer for the upcoming Doctor Strange in the Multiverse of Madness movie coming to theaters in May 2022. It shows us what happens after Strange casts Peter's spell in No Way Home and indicates he has more problems to solve after messing with the multiverse. The flashy, voiceover-filled trailer's most notable scenes tease some recognizable faces.
One scene shows Strange tracking down Wanda Maximoff (Elizabeth Olsen), who has apparently secluded herself from society after her experience in the Disney+ show WandaVision, to ask her what she knows about the multiverse, implying he'll need her help in the upcoming movie. The evil wizard from the original Doctor Strange, Baron Mordo (Chiwetel Ejiofor), Strange's love interest, Christine Palmer (Rachel McAdams), and the mysterious Strange Supreme — an alternate version of Strange from a universe where he's all-powerful, grief-stricken, and evil — appear as well.
Even though the scene doesn't have much connection to Spider-Man: No Way Home other than the complications plaguing the multiverse, it's still a perfect addition to the movie because it shows fans what Multiverse of Madness has in store: more mind-bending multiverse battles between Strange and his new (and apparently old) foes.