Steven Yeun Views Minari's Globes Snub as an Opportunity: "That's Why We Make This Stuff"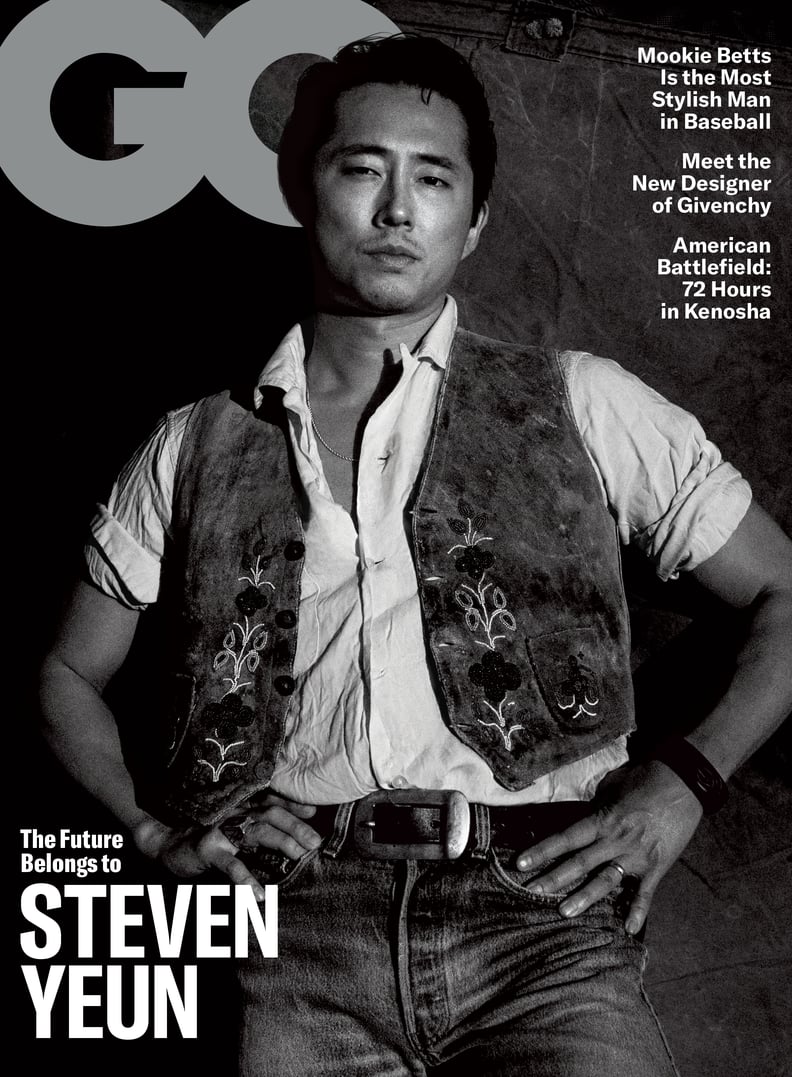 Diana Markosian | GQ
Diana Markosian | GQ
After an impressive performance in Minari, Steven Yeun is finally getting the attention he deserves. In his cover interview for GQ's April 2021 issue, the likely Oscar nominee opened up about his portrayal of Jacob Yi, the Golden Globes controversy over categorizing Minari as a foreign film, the pressure to authentically represent Korean culture, and the struggles behind a confusing immigrant identity. "That's really the core condition that I think we're always at tension with, which is when we're always stuck in this white gaze, there's also this expectation to service it," Yeun, whose family emigrated from Seoul when he was 4 years old, told GQ.
Following the success of his role as "the Asian guy on The Walking Dead," Glenn Rhee, Yeun discussed being ready to take on more complex, challenging roles in indie films like Okja, Burning, and most recently, Minari, which just won the Globes' foreign language film award. Ahead, check out his most notable quotes from his inspiring interview with the publication.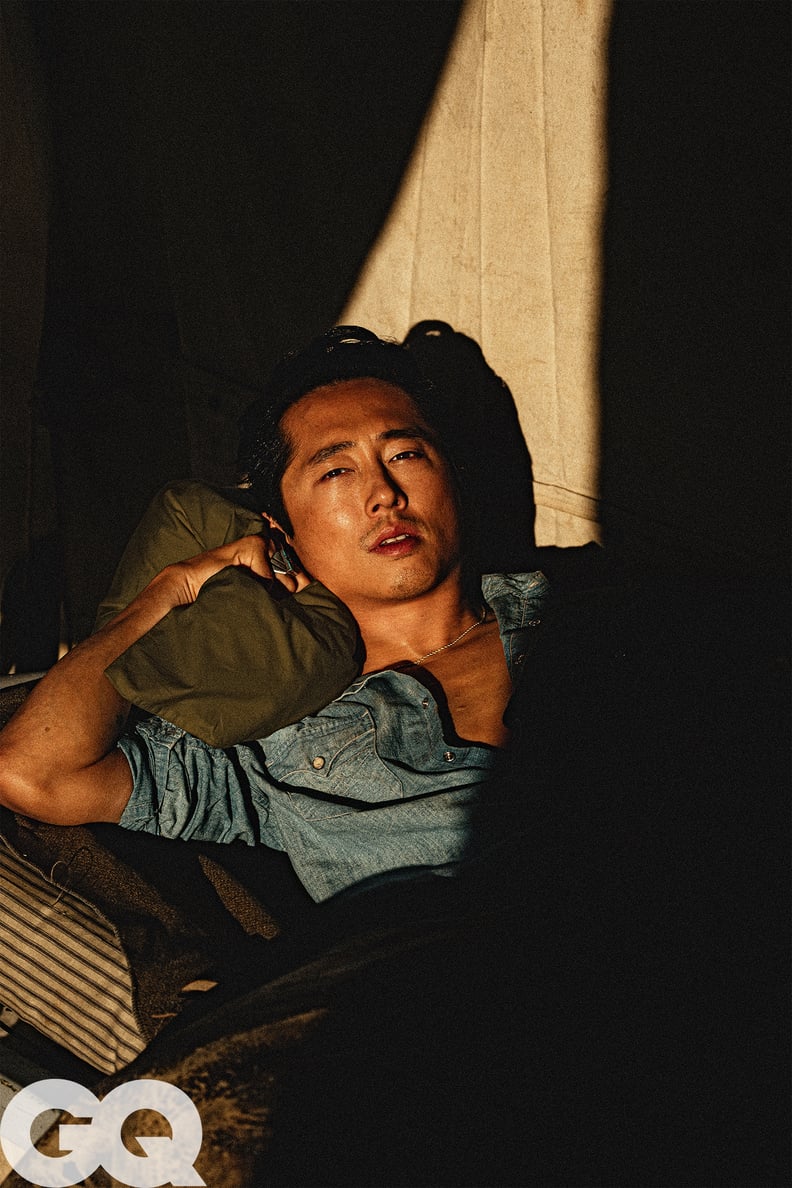 On the Golden Globes categorizing Minari as a foreign film: "I wasn't surprised. I have no desire to try to massage both sides in this situation, but it really just comes down to the idea that rules and institutions can never capture real life. And it can never really understand that what builds a place like America and what makes it great is all the people that are contributing to it . . . If this is the thing that helps to expand these institutions and rules? Cool. That's why we make this stuff."
On representing Korean culture with authenticity in Minari: "All these thoughts were racing through my mind, like, 'What do I do?' 'Do I play a caricature of our fathers?' 'Are people going to want me to play a larger, catchall idea of what a Korean ajusshi is?' . . . There's this built-in Voltron image of what an Asian dad is supposed to be, and to break through that is kind of difficult. To not just break through the expectations of others, but also to break through the gaze in your own mind."
On Asian Americans carving out their own space: "We profess that we're caught in the white American gaze, and that's true. But we forget that we are also that gaze. That gaze is encoded into us, and the last boss is yourself . . . When we're always stuck in this white gaze, there's also this expectation to service it . . . America is still not equipped to support the flyness of who we actually are. We're carving out our own space. It's frontier territory right now — still."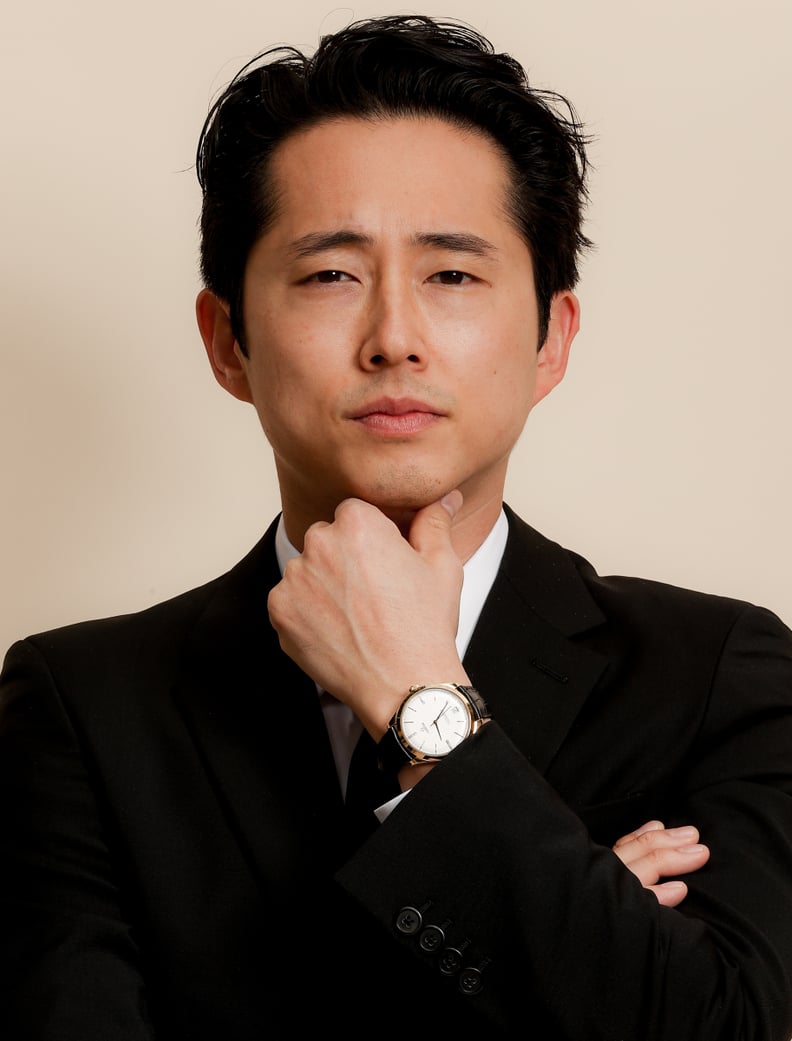 On campaigning for deeper storylines on The Walking Dead: "I was like, 'Yo! Give me a story line where I go to kill this guy.' (That didn't happen.) To be quite honest, as an Asian person, sometimes accessing your own humanity when you're outside in the world is not that easy. Because you're usually kind of just shrunken down into your label. To not have that in my real life and to not have that in my show life was frustrating. And so I think it just started this journey of just, like . . . dude, I can't. I've got to feel full. I've got to feel real."
On the constant struggle of code-switching: "I didn't know it while I was living through it, but you're constantly code-switching. You're constantly trying to fit into a situation so that you don't disturb it . . . But I think I was tired of not letting people know that I could have dark thoughts. That I could also have anger . . . And that's what I mean about my humanity. We all feel human. But I just wanted to feel all the feelings."