Tamera Mowry Talks About Valentine's Day and Sister, Sister
So, Is the Sister, Sister Reboot Still Happening? Tamera Mowry Shares an Update
Image Source: Getty / Paul Archuleta
It's been nearly 22 years since Sister, Sister went off the air, but the show still holds a very special place in my heart. I remember watching the '90s sitcom religiously every day after school and getting emotional every time I watched that episode where Tia (Tia Mowry) breaks up with Tyreke (RonReaco Lee) because she develops a crush on her calculus teacher Keith (Brian McKnight). Cue "The Only One For Me."
So, I'm sure you can imagine my excitement when I recently got to chat with Tamera Mowry all about the show and the status of the reboot. Since the revival was first announced in January 2018, there hasn't been a lot of news about where it currently stands, but according to Mowry, it all depends on timing. Mowry — who will be celebrating her 10-year wedding anniversary with Adam Housley in May — also shared her plans for Valentine's Day this year, including her partnership with Baileys around the holiday, and some important relationship advice, which I plan to take myself. Check out our fun conversation ahead.
POPSUGAR: Valentine's Day is coming up, and obviously, things are looking a little different this year. How do you plan on celebrating?
Tamera Mowry: My husband and I, we love to just watch movies together, cook a meal. We're all about quality time. Now more than ever, we realize the importance of staying connected and having that one-on-one face time with each other. I think he's a great chef and he tells me I'm a great chef. I would just love to cook a beautiful romantic meal, sit down with each other, and have an amazing Baileys cocktail. I love great conversation and then watch one of our favorite shows on Netflix, which is Yellowstone right now. Being a working mom, I craved that quality time with my husband and my kids. I'm happy we knew the importance of it before, but we really know the benefit of it now.
PS: Do you have any tips or ideas for people who are celebrating Valentine's Day at home this year?
TM: Quality time. I think you have to go back to the old school way of doing things, whether it's playing a game — I had so much fun playing Uno and Monopoly — watching some of your favorite movies, or learning a meal together. Cooking can actually can be very romantic and sexy.
PS: You and Adam are coming up on your 10-year wedding anniversary in May. Congratulations! How do you manage to keep your relationship fun and exciting?
TM: One, you have to start with respect and being honest with each other. We have these check-ins, which some may see as lame, but every once in a while, we check in with each other because sometimes you do get busy with the hustle and bustle, whether it be your job or just life in general, that you sometimes forget about your partner. It's natural, it's normal, but what's not normal is neglecting or staying there. I would say, be honest with each other and ask, "Hey, what are the things that I can do to keep you happy and fulfilled and vice versa?" Sometimes you'll be surprised with, "I'm truly happy. I'm OK." Or, you'll get, "Well, there's that time." You can start there, right? Really learning each other's love languages.
Once you have that information, then you can do the things that you truly want to do, whatever that is. My husband actually did something really beautiful. Restaurants are sometimes shut down. It depends on where you live right now, but we literally just got takeout and we sat outside. He picked a place with a beautiful view and we had a nice dinner. Just little things like that I love. It fulfills my love language. I love romance.
PS: I love that idea.
TM: I mean, 10 years, knock on wood. It's such a blessing. The other thing I would have to say is you have to make sure you truly like your spouse, too. Yes love them, but like them as a person. Do they inspire you to be a better person? Are you learning some amazing things? That's another thing, stay learning. I feel like when we're always learning, we don't have that perspective of pride and thinking you know everything. There's always room to grow for the both of you.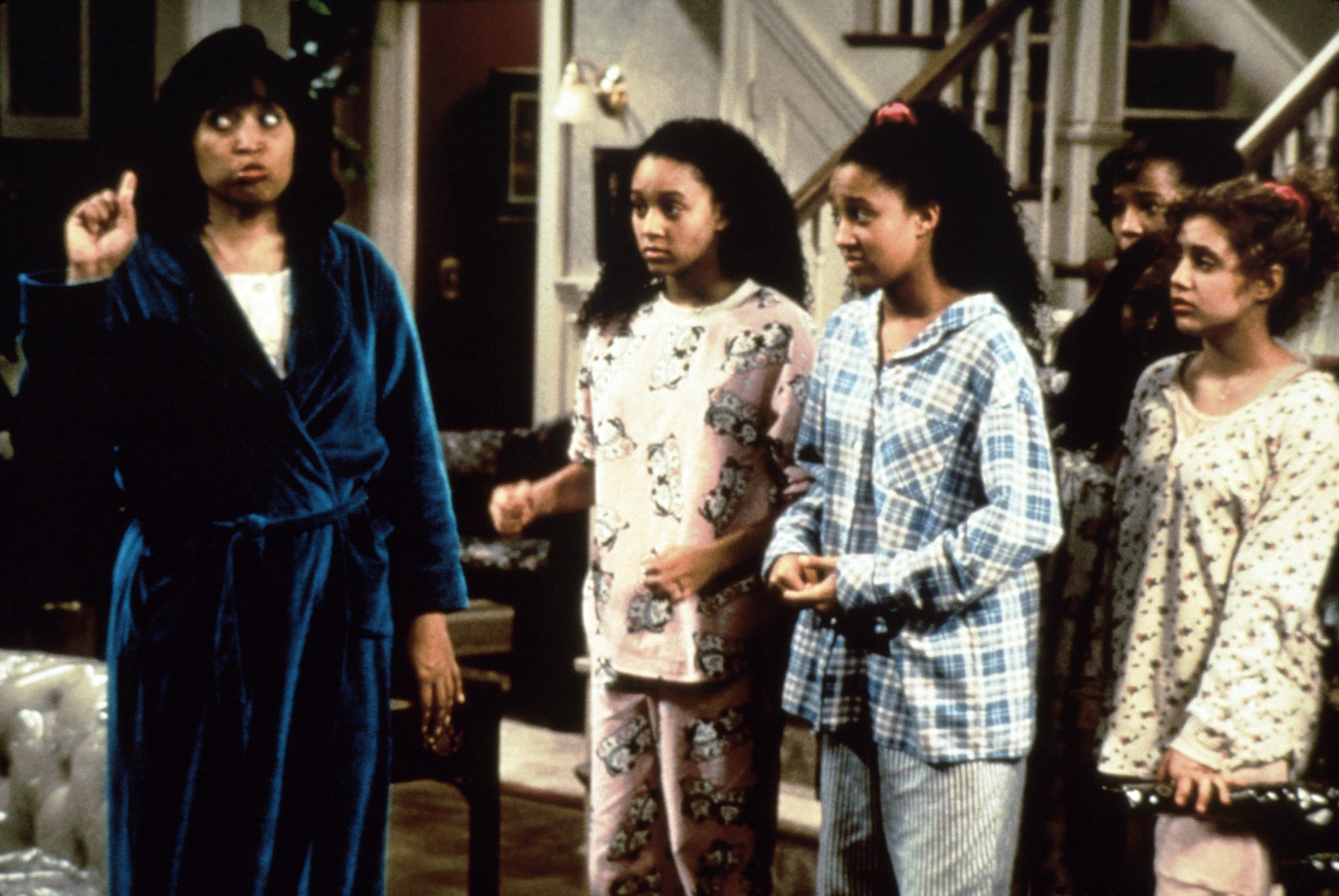 Image Source: Everett Collection
PS: Personally, I've been using this time at home to rewatch some of my favorite TV shows. I recently binge-watched Sister, Sister, and I know a lot of people have done the same. Can you give us an update on the reboot? Is it still happening?
TM: Honestly, I think Sex in the City gave me some hope, because I know that people wanted a Sex in the City reboot for years. It just depended on the timing, the availability of the girls, and the right material. I feel like that is what's happening here with Sister, Sister. It's crazy because my sister and I have developed these individual careers, but at the same time, people want to see us together and we want to do it. It just depends on the timing. She has two young kids, I have two young kids, she is working like crazy, and I'm working like crazy. Sister, Sister was such a classic, and I'm just so grateful. I want to make sure that when we come out, it's not anything that is truly rushed, but that it's really thought out and it's something that people are going to love just as much as the original.
PS: If it does happen, where would you like to see Tia Landry and Tamera Campbell now?
TM: I would obviously like to see them thriving in whatever they do. I would definitely like a plot twist, though. I'm sure people always thought Tamera Campbell was very independent, boy crazy. She was smart, but not really into schoolwork. I would love to see her, this is just an example, but solve something in medicine. I would like to see something unexpected of the girls. I always had this vision of them like the Sex in the City girls: sexy, smart, witty, [but] obviously still having an amazing sisterhood.
PS: There hasn't been any show like it since, so I'll definitely be rooting for it.
TM: You need to put those good vibes out there.
PS: What is one of your favorite memories from the show?
TM: I have a lot. We did it over six years, but the one memory that stands out is our first day of shooting. I can remember having this dream of being on a sitcom and working with my sister and actually sitting down at the table read, where you have a script, you have all the actors in front of you, and seeing our names and it saying Sister, Sister, opening up the script and beginning. It was like a moment in time, you're like, "Oh my gosh, a dream came true." To know that it has lasted this long, I'm just so grateful. Again, I feel very blessed.
Tamera Mowry has teamed up with Baileys to create a custom red velvet cocktail just in time for Valentine's Day. Mowry's Baileys Red Velvet cocktail is made with the limited-edition Baileys Red Velvet, which combines the iconic flavor of the Georgetown Cupcake's number one selling cupcake with Baileys Original Irish Cream, along with vodka, whipped cream, and sprinkles. The beautiful red color is perfect for the holiday of love! Check out the recipe ahead.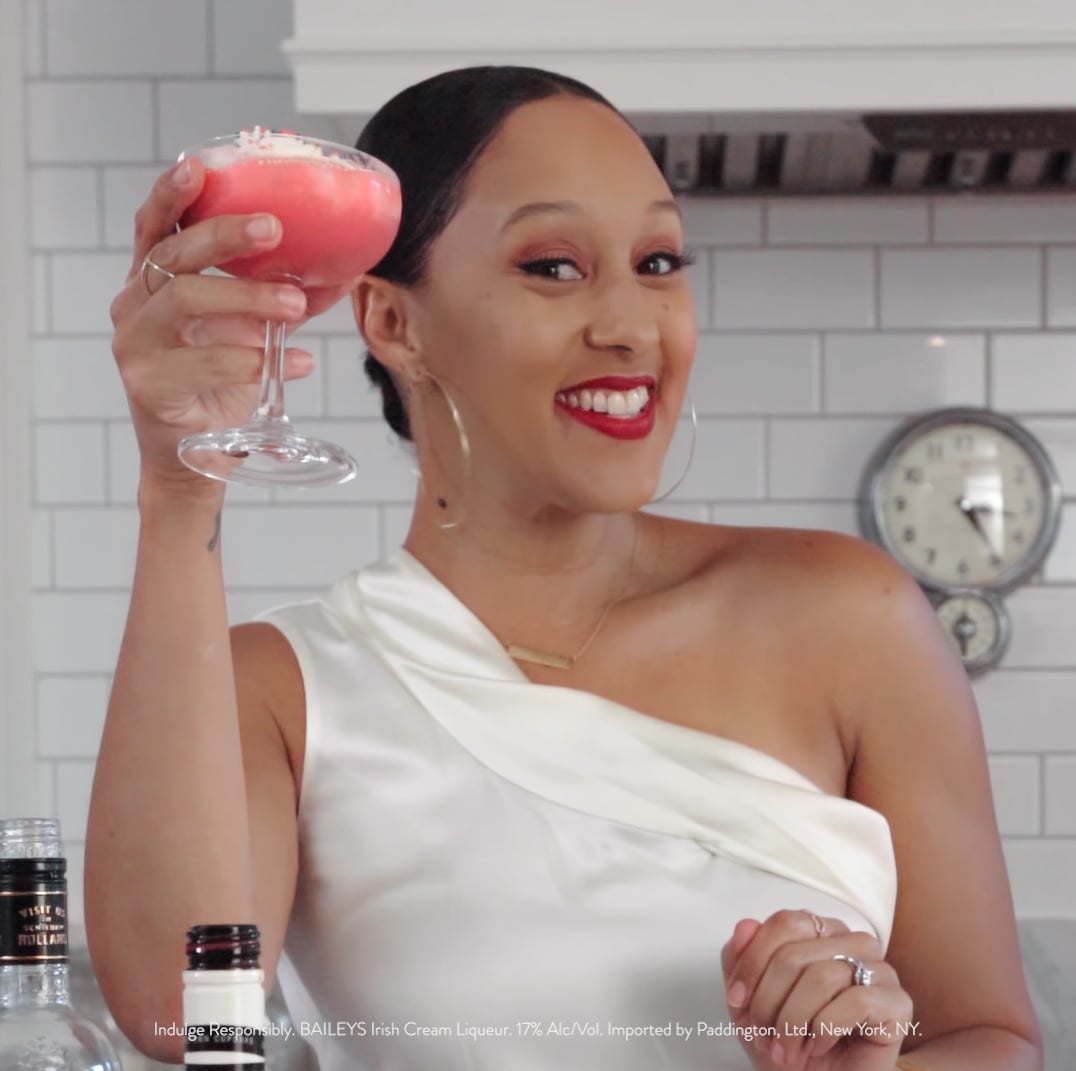 Image Source: Courtesy of Baileys
Tamera Mowry's Baileys Red Velvet Cocktail
Ingredients
1 1/2 oz Baileys Red Velvet
1/2 oz vodka
Whipped cream and confetti sprinkles for topping
Preparation
Combine Baileys Red Velvet and vodka into a cocktail shaker with ice and shake well.
Strain contents into a coupe glass.
Top with whipped cream and confetti sprinkles.
Enjoy!