The Sex Lives of College Girls Centers Women's Stories
The Sex Lives of College Girls Proves That Sex Can Actually Be About — Gasp! — Women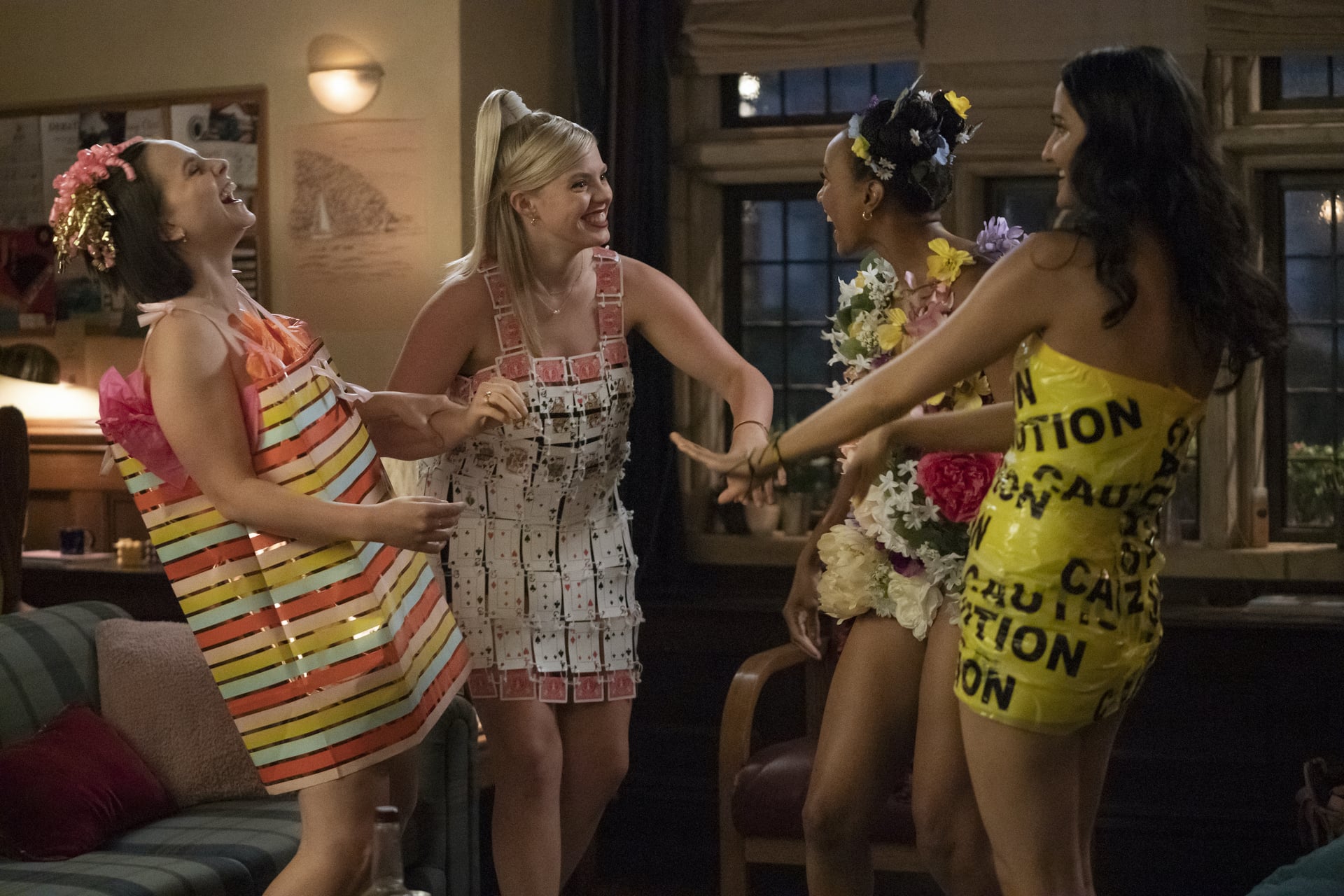 The Sex Lives of College Girls is accomplishing what we rarely get to see on television: young college women living authentically. For years, storylines about the college experience have often felt one-dimensional and hollow. Honestly, we can probably count on one hand the shows that truly capture women in their 20s in a real way.
I'm sure I wasn't the only one who raised an eyebrow at the show's title, which dares to depict the sex lives of college girls. But I was pleasantly surprised that the show explores so much more than sex. The hit HBO Max series also touches on race, discrimination, classism, identity, male privilege, family, friendship, and the importance of community. The show doesn't leave out some of college students' everyday problems — like stressing over deadlines and their social lives. The writers' room makes sure women always come first in every sense of the word, and that's something that immediately drew me in.
The show lends a new perspective to women's stories that doesn't always paint them as victims.
"I think our show is a little bit of a love letter to these young women who are going into college," writer/producer Justin Noble told POPSUGAR. "If you watch the show in its entirety, you find that the moments where the characters thrive are the moments where they feel comfortable, unabashedly being themselves." What sets The Sex Lives of College Girls apart from other college shows is the willingness to allow redemption. Even in their missteps, women are given grace to not only own their choices but also find unwavering support without question. Just look at how Bela's (Amrit Kaur) fellow Catullan members come to her defense when she reports her sexual assault to them. Or how Whitney's (Alyah Chanelle Scott) teammates don't criticize her for sleeping with their coach. Even Kimberly (Pauline Chalamet) and Leighton (Reneé Rapp) support one another through their own unlucky relationships. In these instances, the show lends a new perspective to women's stories that doesn't always paint them as victims. Instead, they have the autonomy to be the heroes of their stories.
Much credit for the show's authentic storytelling goes to the diverse, "almost entirely female" team of writers that consists of people of "all different ages" and "all different walks of life." Without the writing team's genuine input, the series wouldn't have the opportunity to speak to both the main and secondary characters' all-too-relatable experiences. More than that, it's clear a lot of love and care go into handling their narratives — something that honestly isn't done enough for young women on TV. "We approach all of our characters with an incredible amount of empathy," cocreator Mindy Kaling told POPSUGAR. "We really love them, and we never want to make caricatures of anything." The show's strong voice doesn't just provide viewers with a refreshing outlook, but some of the cast as well. "I never imagined being on a show that would be revolving around the sex lives of four women," Christopher Meyer (who plays Canaan) said to POPSUGAR. "It's really interesting and honestly such an amazing experience, in a way, being led by four women and it being a predominantly female show."
At a time when we're starting to see more shows lead with the premise of women's empowerment, The Sex Lives of College Girls fits right into that mold. We're now living in an era where women feel more confident vocalizing their sexual desires freely. Discussing sex in public isn't as taboo as it was two decades ago, and The Sex Lives of College Girls proves that women can lead that conversation. The show gives characters like Bela, Kimberly, Leighton, and Whitney the space to experiment with their sexual lifestyles for the first time in their lives, and at no point do the men on the show shame them for it. If anything, these women are largely in control — even when they have to lean on each other for help.
The Sex Lives of College Girls sends an unapologetic message about the complex reality of women's sexuality. Even in the title of the show, it forces people to face getting uncomfortable — there's no need to be embarrassed. Encouraging those uncomfortable conversations we're not used to having is how the show makes a difference on screen as well as off. "As a result of the show, we've been able to have very complex discussions about sexuality in our family, in our culture, which I am so grateful for because I would've never thought that I could have these conversations with my parents, especially Indian parents," Kaur told POPSUGAR. "I'm glad the show and Bela is opening up these types of conversations within family and friends."
It's comforting to see women my age feel secure enough to peel back the layers of their sex lives when society has taught us to be ashamed of them. The Sex Lives of College Girls breaks barriers in a way that explores uncharted territory for college women. The show is raunchy, audacious, and forward in its approach, but it's also fearless, gutsy, and firm in how it caters to women's issues. It's unfortunate how long it took for a show like this to make its way to TV without the fear of backlash. I can only hope The Sex Lives of College Girls opens doors for more like it to grace our screens in the near future.