Love Fun Romance Tropes? Jen DeLuca's New Book, Well Matched, Is For You
As POPSUGAR editors, we independently select and write about stuff we love and think you'll like too. If you buy a product we have recommended, we may receive affiliate commission, which in turn supports our work.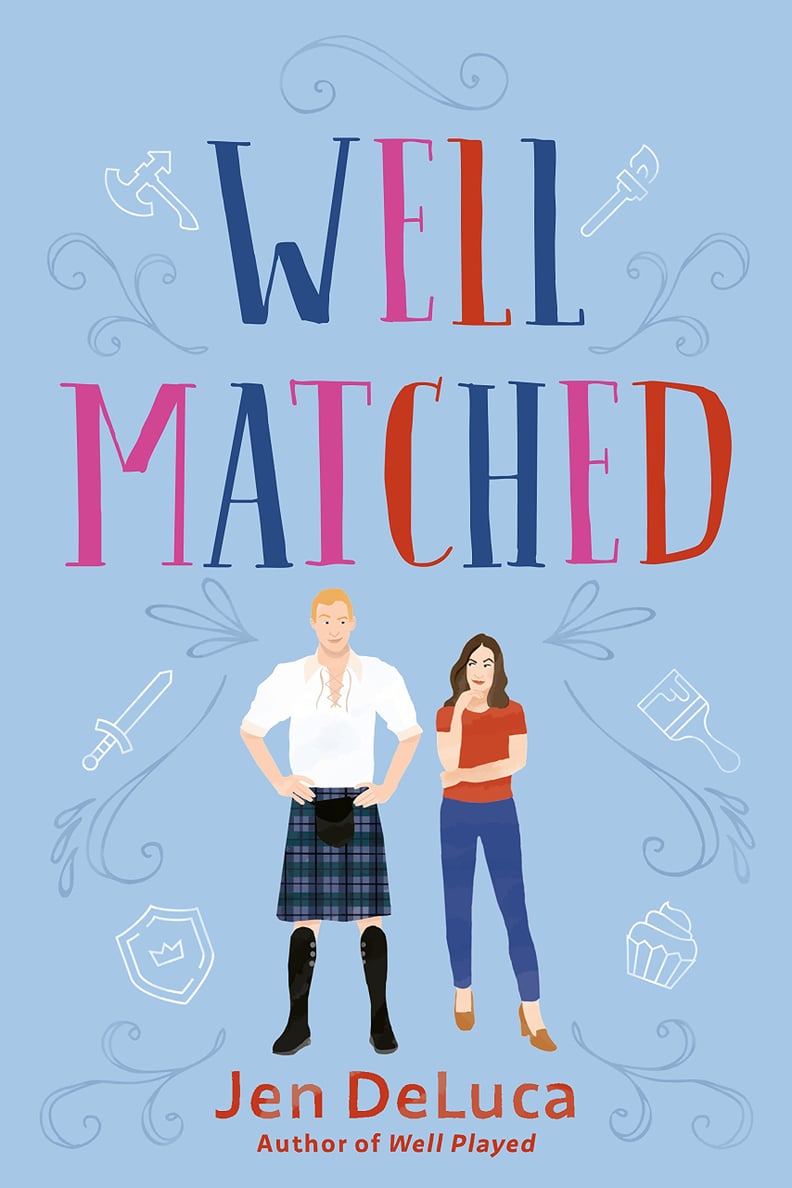 When I saw Jen DeLuca was coming out with a third book, I was instantly excited — I've been a fan of hers ever since I chose her first novel, Well Met, as my Book of the Month pick in August 2019 and read through it in one sitting. You don't have to have read her first two books to understand Well Matched, but it's more fun if you do, especially since the main characters in this book show up as side characters in her previous novels.
However, if you want to jump right into the trope-y fun (and I don't blame you!), here's the gist: single mother April Parker is struggling. She desperately wants to leave Willow Creek, the small town she's lived in for over 12 years. As her daughter prepares to leave for college, she decides to ask her friend Mitch to help her with a few home improvement projects to get her house ready to sell. But Mitch — who's known around town for his kilt (and abs) that he shows off at the yearly local Renaissance faire — has a proposition for her: in exchange for his handyman help, she'll pretend to be his girlfriend for an upcoming family dinner so he can avoid the "settling down" lecture. But as time passes, their "fake" relationship seems to feel more real . . . and she has to decide between her big city dreams or opening her heart to the kilt-wearing man she's been pretending to be in love with.
Even though I was sitting on my couch in pajamas, DeLuca's wit and prose made me feel like I was there, kicking up dust in my ruffled skirt and corset.
If that plot summary didn't hook you, maybe the promise of a few steamy romance tropes will — there's a fake relationship with an added setup of the "there's only one bed" trope, a friends-to-lovers gambit, and all within the added setting of a Renaissance faire. Even though I was sitting on my couch in pajamas, DeLuca's wit and prose made me feel like I was there, kicking up dust in my ruffled skirt and corset. It's a quick, light read, but I already miss April and Mitch — this book made me feel like I was their friend, rooting for them at every page turn.
Standout Quotes
"I was someone who got to sit here in the shade, nestled against Mitch's side, his heart beating in my ear and the rise and fall of his chest against my cheek. Yes, I could see the appeal of this. Being someone else. Because in this moment, all I wanted to be was this woman in his arms."
Mindset
This is a lighthearted read with the normal ups and downs of a romance novel, so read it if you're looking for an easy escape to a (realistic) fantasy world.
Read This If You Like . . .
If you like Renaissance faires or Jen DeLuca's other books, of course! Books like Evie Dunmore's Bringing Down the Duke, Emily Henry's People We Meet on Vacation, or Ali Hazelwood's The Love Hypothesis have a similar vibe to Well Matched. So if you're a fan of those, you'll love this book, too.
POPSUGAR Reading Challenge Prompt(s)
This novel can check off more than one 2021 POPSUGAR Reading Challenge prompt; just pick the one that fits best for you.
A book that's published in 2021
A book you think your best friend would like
A book by an author who shares your zodiac sign (DeLuca is a Virgo)
A book where the main character works at your current or dream job (working at a Renaissance faire)
How Long It Takes to Read
This book was hard to put down, and I found myself picking it up in between activities — while eating lunch at work, in a waiting room, on the train — and it took me under three days to complete. Clocking in at only 310 pages, this book is a breeze to read.
Give This Book to . . .
Your bestie that's been hounding you to dress up for your local Renaissance faire, or the friend who can't stop talking about her favorite romance tropes.
The Sweet-Spot Summary
Well Matched by Jen DeLuca ($14) is the perfect Renaissance romance to read if you're missing your real-life faire, complete with steamy scenes, realistic and engaging characters, and playfully fun dialogue and prose.
Emoji Rating
💖+🗡+😳