If You're Not a Fan of A Cappella, You Will Be After Attending a Pentatonix Concert
"We are only three songs in and I'm already obsessed with you," Scott Hoying told an arena filled with screaming fans at the Prudential Center in Newark, NJ. However, it's pretty clear that if anyone is to be obsessed over, it's him and the rest of the members of Pentatonix.
The a cappella group first rose to fame when they won the third season of the television competition series The Sing-Off in 2011, and their popularity has only skyrocketed since. Not only do they have a huge following on YouTube (over 11.5 million subscribers), but they also have not one, but two Grammys! And they aren't planning on stopping anytime soon. Aside from headlining their world tour, they are also set to host NBC's A Pentatonix Christmas Special on Dec. 14, where they will sing hits off their most recent album, A Pentatonix Christmas.
So, you're probably wondering, "how exactly does an a cappella concert work?" Well, if you've ever seen Pitch Perfect, think that — times 10. There's something for everyone: powerful voices, epic surprises, and nonstop energy. Even if you're not a fan of a cappella music, you will be after the show.

Before the group took to the stage, their opening act, Us The Duo, set the tone with their harmonizing vocals. Even though they're not an a cappella group like Pentatonix, they effortlessly intertwined their own original songs with catchy covers, but most importantly, they got to what the heart of the concert is all about: the music. From their notable hit "No Matter Where You Are," which they cowrote for their wedding, to their cover of Drake's "Hotline Bling," Michael and Carissa Alvarado slowly won the audience over with their raw talent and sweet love story.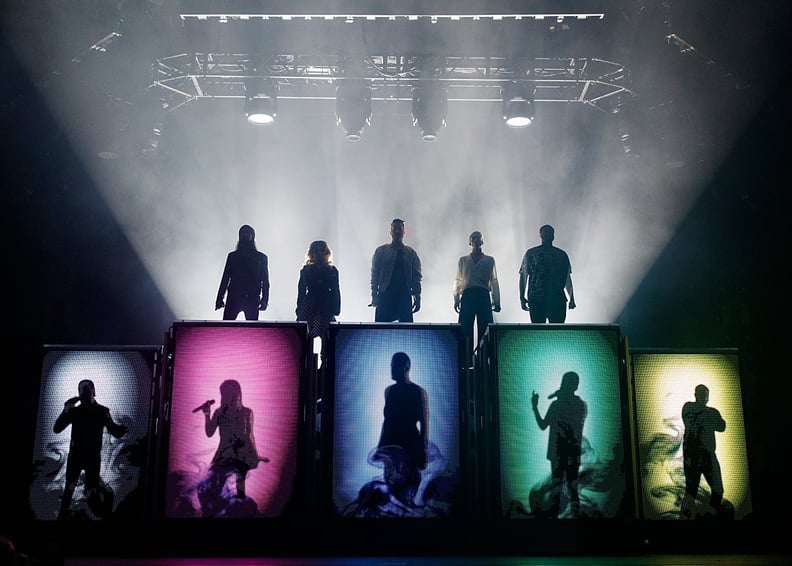 Once the main attraction finally came, I was totally unprepared. Not only did each member possess their own sense of star power, but every number was filled with a new surprise. While Mitch Grassi blew me away with his impressive notes, Kevin Olusola left my jaw on the floor with his incredible mix of beatboxing and playing the cello, an art deemed "celloboxing." As each person took a moment to address the crowd, you could tell they each had their own fan base within the fandom. Even though they are all impressive artists in their own right, they came together — much like the pentatonic scale that they're named after — to create one incredible melody.
Even with all the fame that has come their way within the past few years, Pentatonix still maintains a special connection with their fans. In the middle of their concert, the group set aside a special time to bond with their fans by bringing a few lucky audience members on stage to sing their hit "Misbehavin'" in — get this — beanbag chairs. As Hoying invited a few concert-goers up, he noticed that one of the girls was actually celebrating her birthday, and in what was probably the gift of a lifetime, he promptly serenaded her right there on stage. It's OK, you're allowed to swoon. I definitely did.
If we're being completely honest here, by the end of the night, I actually didn't want to leave. Thankfully, Pentantonix delivered by ending things on a high note. As the crowd called for an encore, the group surprised me yet again with a nontraditional number. They asked the audience to get completely quiet, dimmed the lights, and sang their calming melody "Light in the Hallway" using only one mic between the five of them. But of course, just one encore wasn't enough. They proceeding by cranking up the volume and appropriately performing their hit "Sing." Energy from the crowd was at all-time high as colorful confetti, one shade for each member of the group, filled the air and the group gave their final bows.
"We love you. We appreciate you," Grassi told the crowd. The rest of the group threw up heart-shaped hands as he took one last look at his fans before exiting the stage.