It's Time to Get to Know Singer Miles Hardamon
On Our Radar: If the Name Miles Hardamon Doesn't Ring a Bell, It Will Soon
It's time to familiarize yourself with the name Miles Hardamon. With 71 thousand followers on Instagram and over 200 thousand on TikTok, you may have stumbled across one of Hardamon's incredible music covers before, but now he's getting ready to release music of his own with his upcoming EP Spectrum. Kicking off with the single "Gone," Spectrum serves as Hardamon's formal introduction to the world.
"Miles isn't one genre of pop or R&B; he's more so a spectrum of all these kind of sounds."
"Miles isn't one genre of pop or R&B; he's more so a spectrum of all these kind of sounds," Hardamon told POPSUGAR. "I'm excited to be able to demonstrate my sound to the world." "Gone" is expected to drop very soon, and Hardamon said the song is about someone who is coping with the sadness of trying to get over someone while still remaining upbeat. "I feel like it's a different approach to a very familiar sound," he added. Hardamon teamed up with Ne-Yo to work on the EP after the two hit it off at an event. "I asked him kindly if I could perform for him," Hardamon recalled. "He lets me perform, and at the end of the song, he's like, 'Yeah, we got to talk.' And I'm like, 'Eh, whatever. He's just saying that.' But before I knew it, I was in the studio with Ne-Yo working with this genius of an artist."
Not only is Ne-Yo one of Hardamon's idols, but the Grammy winner has also served as his mentor. "To be able to learn and be put under the wing of somebody who just has such a high understanding and intellect of music and sound is helping me make my sound even stronger," Hardamon said. "[It's] helping me sculpt myself into the artist I've always wanted to be." In fact, one of the biggest lessons Hardamon has learned from Ne-Yo is that music takes time. "He'll say to not rush the process and to let the music take its time because it's important to let your music age," Hardamon added. "Long story short, he just wants me to not rush the creating process . . . sometimes you have to take a step back and really read and think about what the music actually needs and not just creating this cool banger of a song."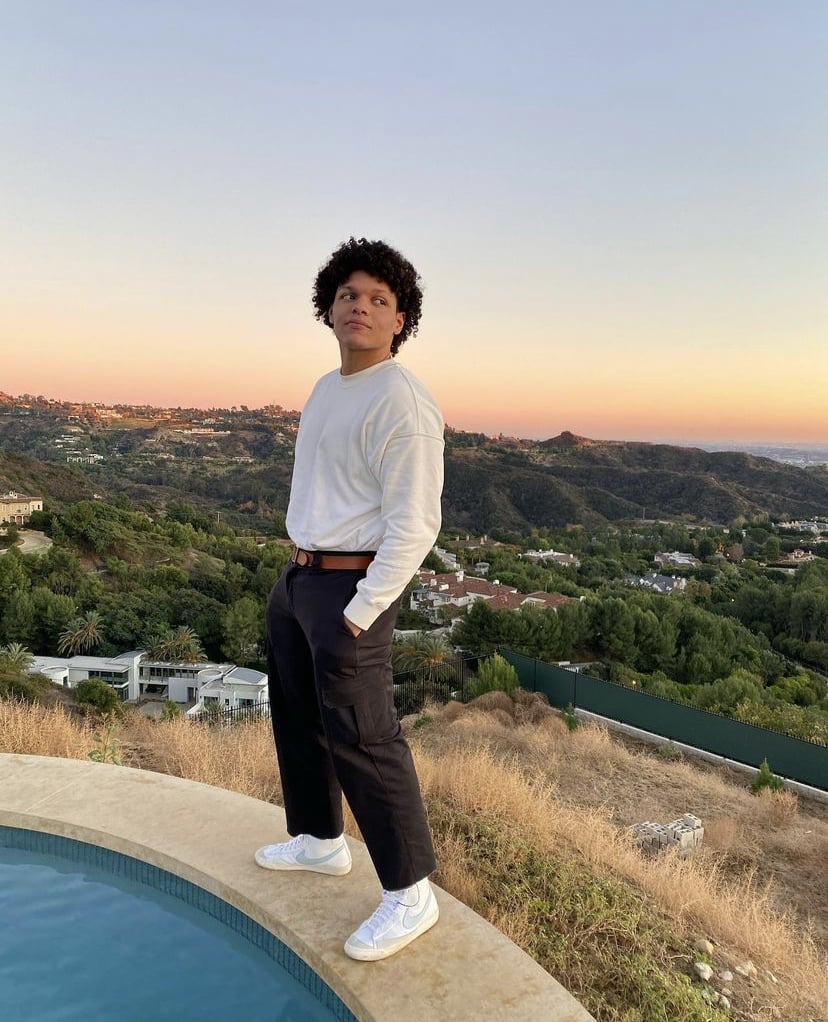 Image Source: Kallie Rock
Spectrum may be Hardamon's first official project, but his passion for music has always been present. At just 9 years old, Hardamon was performing in front of supermarkets after he taught himself how to play the guitar from watching YouTube videos. "I was always singing. That's just what I love to do," he said. "I couldn't be happier as an artist to be able to express myself with my music and get such great reactions out of people because my goal is always to try to just add a little ray of sunshine in a day that might've not been the best. [I'm] just trying my best to be that kind of hope in a world that has so much going on."
"[I'm] just trying my best to be that kind of hope in a world that has so much going on."
In 2020, Hardamon went viral after he performed a flawless rendition of Michael Jackson's "Dirty Diana" as part of the Wow Challenge on Tory Lanez's Instagram Live. "Since then, it's been pretty interesting," Hardamon noted. "It was just an experience within itself to have the opportunity to be on such a big platform and work my way into this social media world because I'm not really a huge part of that. I'm just a performer, someone that grew up busking in front of supermarkets and on trains."
Hardamon is known for covering everyone from Jackson to Trinidad Cardona to The Weeknd on TikTok. As for how he decides which songs to cover, it simply comes down to what he's feeling at the moment. "It's just being a fan of music because that's the only reason why I do it to begin with," Hardamon explained. "I'll rush into trying to learn the song and singing it, and eventually, I'm just like, 'Let me record a video and see how it goes.'" Unsurprisingly, a couple of artists have even personally reached out to Hardamon, including Janet Jackson. Yes, thee Janet Jackson actually reached out to Hardamon and asked him to do another cover of "Dirty Diana" mixed with one of her songs. "I was ecstatic," Hardamon recalled. "And then it's funny because I remember being told through her management that she was like, 'I thought that he was related to us. I wouldn't have been surprised.' So I thought that was pretty funny." Casual, right?
Ultimately, Hardamon's goal is to become "one of the greatest performers of all time," and with his Spectrum EP dropping soon, he's certainly on his way. Ahead, check out some of Hardamon's best covers on TikTok and stay tuned for the release of his upcoming single "Gone."