Ever Wonder Why the Bachelor Mansion Driveway Always Looks, Uh, Wet? There's a Reason
Each season of The Bachelor and The Bachelorette, we're introduced to new contestants, new extravagant dates, and a new nail-biting ending. What we can always count on, however, is it taking place at the Bachelor Mansion, and Chris Harrison leading the way. If there's anyone who knows the franchise inside and out, it's him. And there's one question that "is always one of the most asked questions I ever get via Twitter while the first episode airs," he wrote in his Entertainment Weekly blog a few years ago.
No, you're not the only person who has wondered why the Bachelor Mansion's driveway looks so . . . wet. It's located in Agoura Hills, CA, which is just over 40 minutes from Los Angeles, so how much could it possibly rain? And, what are the chances it happens on the first night of filming? Well, sorry to ruin the TV magic, but the driveway is purposely made wet for a vain reason.
In a Q&A with Chris on Entertainment Weekly, a viewer asked why the driveway always looks wet and he answered: "Television. There's no other reason than it looks pretty on TV. And now it's funny, cause I know people talk about it so much that every time they hose the driveway down, I just laugh cause I'm like oh, they're gonna be talking about this."
After the premiere of Ben Flajnik's season in 2012, like clockwork, viewers began asking about the driveway. Chris addressed it, yet again, in his second week blog post.
"Yes, the driveway is wet," Chris wrote in his blog. "We water it down so that it looks pretty on TV. The other reason we water the driveway is we hope that someday it will grow to be a beautiful, big superhighway."
That makes us wonder what the driveway would look like if it didn't have the power of a hose. Well, apparently, it's makes a big difference.
"If you just look at this dry, pick driveway and then if you hose it off a bit, it looks so much better," Chris said. "Several times it actually rained and it was legitimately wet."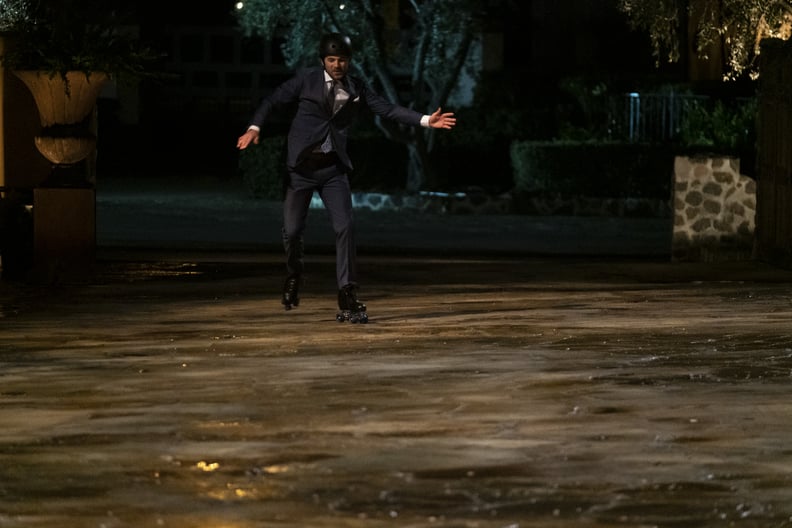 Each rose ceremony is reason enough to dress up, but many women go for gowns on the first night. Long dresses plus water on the ground don't mix. And high heels plus a wet surface don't mix. So it's a wonder how they've avoided so many topples over the years.
When asked if the gowns ever get wet, Chris confirmed: "Oh yeah, totally, and I feel so bad. I sit right next to the guy who helps with wardrobe, and these girls buy their own dresses, but if they have any train dragging on the floor, it's soaking wet by the time they get it."
Ali Fedotowsky knows this firsthand. She competed for Jake Pavelka's heart on season 14 of The Bachelor and then became the star of The Bachelorette on season six. On a blog for E! Online in 2013, she addressed those shiny driveways.
"The producers wet the pavement with a hose before the limos arrive," Ali said. "It makes it look shiny and pretty! But if you have a long gown on it gets soaked!"
So if you've been wanting to apply to be on The Bachelor or The Bachelorette, maybe rethink that long dress and opt for sturdy heels.