Adding New Baby to Insurance Plan
Why These Parents Are in Insurance Hell (and Owe $200,000) For Their Newborn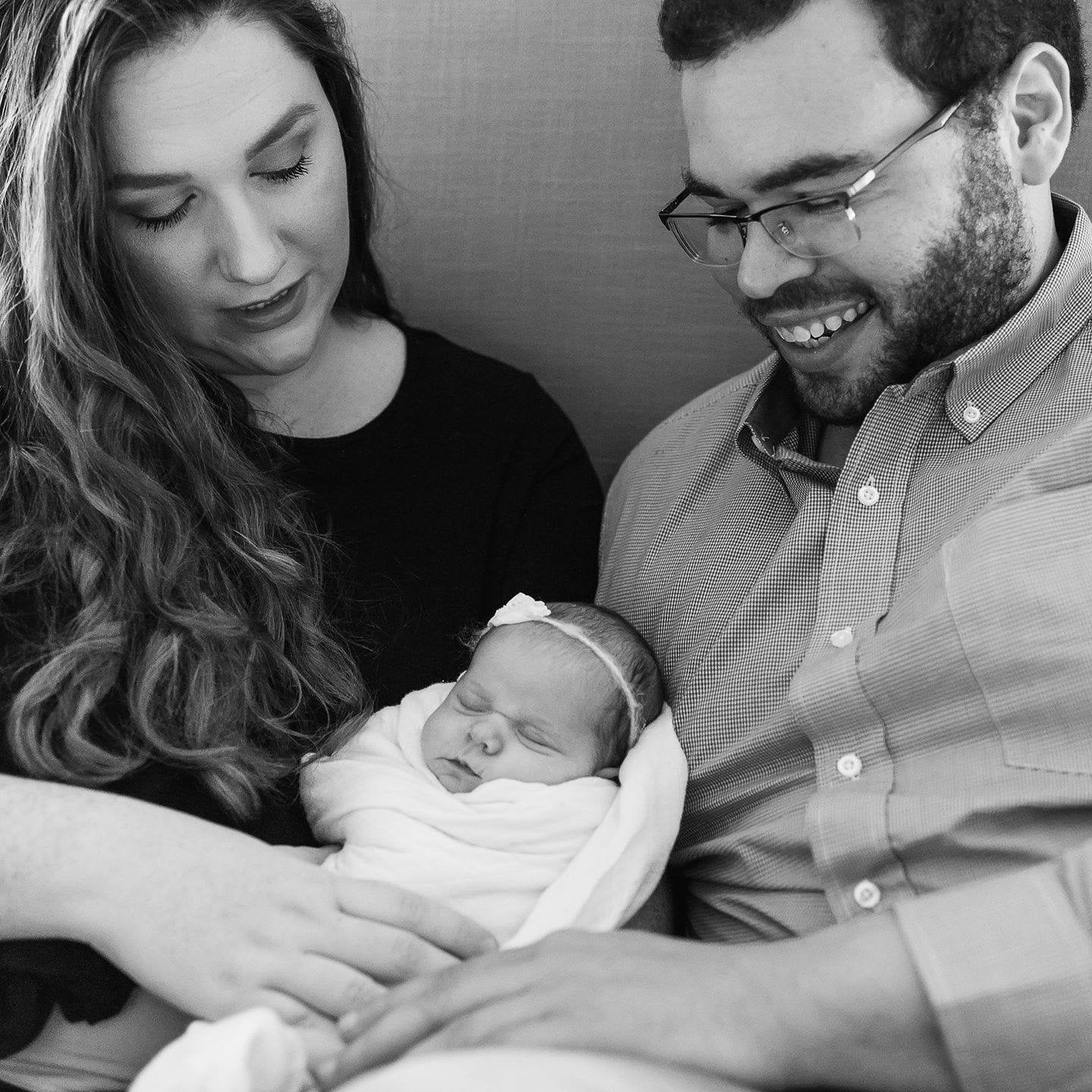 Considering that Amy Jay had a difficult pregnancy and that her baby girl struggled before, during, and after her birth, the fact that the 4-month-old is now thriving should make this an incredibly special time. However, in the months since Evelyn's birth, Amy and her husband, Mac, have been hit with nonstop bills, including a $173,000 hospital bill for their baby's birth in what can only be considered as insurance hell.
According to Amy, she had to undergo additional testing after conceiving Evie because of her history of miscarriages and infertility. "That meant taking a special type of blood test every other day to make sure that I hadn't miscarried and to confirm that things were going as they ought to," Amy told POPSUGAR. "I also was prescribed a special medication to keep me from miscarrying again."
When Amy went to the pharmacy to pick up her medication, she was told that it would cost her $200 a month and that none of it would be covered by insurance. "I had two choices: rack up debt on a credit card or risk losing another baby. Obviously we chose to do whatever was necessary to keep our growing baby safe," Amy said. "I only thought that was the worst part of the situation until I started receiving bills in the mail for that blood work. I received a nearly $200 bill for every single lab that was done to make sure that our baby had not died."
At this point, the growing family had full medical coverage through Mac's job, but according to Amy, that insurance company deemed the medicine and blood work "unnecessary." It refused to pay for any of it and things only got worse from there. Even though Mac loved his job, the couple realized that he would need to find a position at a company that offered better health benefits — and fast. They quickly packed up their life in North Carolina and moved before Christmas for a job offer in Alabama.
"Because the new, amazing insurance with the new company wouldn't kick in until Feb. 1, we had to make sure we were signed up for COBRA, a continuation of coverage," Amy explained. "This meant that we had to pay over $1,500 to ensure that we would be covered during the transitional period, though the coverage would be through the old and inadequate plan."
Even though Evie's due date was in February, they still confirmed with the insurance company that both their doctor and hospital in Alabama would be covered. But it turns out that none of that mattered.
Unexpectedly, Evie was delivered at 36 weeks via C-section. "Some babies do just fine at 36 weeks, but she was not one of those babies," Amy said. "Evie's lungs were extremely immature and were failing to produce an important substance called surfactant. She suffered a collapsed lung, and required intubation, sedation, tons of respiratory therapy, cardiology visits and testing, and around-the-clock care by incredible nurses and physicians. Finally, after a couple of weeks of incredible ups and downs, and moments of wondering if our child would be coming home with us at all, she was discharged from the hospital."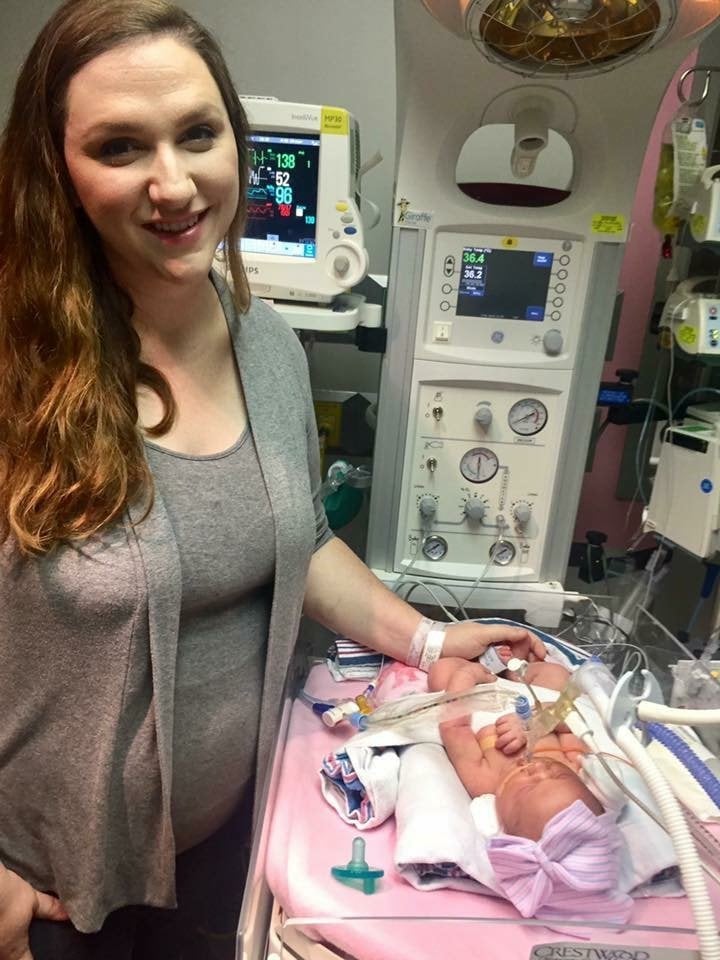 At the same time, Amy was struggling to recover from her C-section. She developed a severe postpartum infection and was spiking regular fevers that required powerful antibiotics for a month. "Needless to say, we were exhausted out of our minds and overwhelmed with all of the stress and responsibilities facing us every moment," she said. "We never heard anything from anyone with the insurance company or Mac's old company, and therefore we assumed that everything was covered and that we would soon be receiving a bill for our portion of the entire ordeal. We were very, very wrong."
When Amy was checking the mail for a birthday card from her mom weeks later, she saw a letter from the hospital — not the insurance company. "I didn't think much of it at first, but I opened the envelope and felt like my world stopped. The bill was for $173,000," she said. "But I stopped myself from panicking. I knew something was wrong. There'd been some mistake. We had been assured that nothing like this would happen."
It turns out that Evie had never actually been added to their insurance plan and the family was informed that initiating the paperwork was their responsibility. "We received no reminder or warning, and because our first child was born under Tricare during my husband's Active Duty time in the Army, we had NO experience with this kind of thing," Amy said. "We never learned in school anything about health insurance. We were totally uninformed."
The reason for Amy's bill was because the hospital claimed that it was out-of-network, so all of Evie's bills, including the NICU stay, respiratory therapy, and the cardiologists, were all sent directly to the family. "We asked to IMMEDIATELY add Evie to the plan so that we wouldn't have to pay the entirety of this bill, but we were informed that we were past the 30-day window (that we didn't know existed) and would be unable to add her to the plan," Amy said.
The family's appeal was denied and they were told that their only realistic option is to file bankruptcy. "During the most tumultuous, terrifying, physically and emotionally painful time of our lives, we were expected to have known to do something that no one ever told us we had to do," Amy said. "And because we didn't do it, we would be responsible for over $200,000 in medical bills."
In order to avoid bankruptcy, the couple was given an option to pay significantly less and has set up a GoFundMe account to try to meet that amount. "If we achieve our goal, it is likely that we will not have to file bankruptcy — we will not have to face financial ruin for the birth of our baby girl," Amy said.
Image Source: Amy Jay