Andre Johnson Buys Toys For Children
Houston Texans' Andre Johnson Goes on the Sweetest Shopping Spree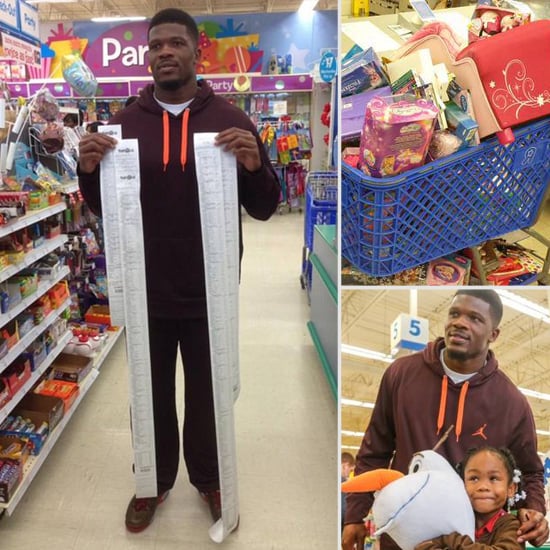 Most NFL players would sleep in on their day off. But that wasn't an option for Houston Texans wide receiver Andre Johnson, who woke early Tuesday morning to treat a group of children to a shopping spree at Toys"R"Us. In an eight-year tradition, Johnson and children from the Harris County Department of Family Protective Services huddled outside the toy store at 8:30 a.m. and anxiously awaited their holiday treat.
"You can go through the store and get whatever you want," Johnson told the kids, whose ages ranged from 8 to 16 years old. There was only one rule: the kids had to scour the store and get to the register in 80 seconds, a time determined by Johnson's jersey number. As soon as the doors opened, the children began racing down the aisles, filling their carts with everything from Frozen paraphernalia to video-game systems. The idea for this Santa-like gesture came to Johnson almost a decade ago, when his uncle suggested he do something to give back during the holiday season.
"He was just like, 'Have you ever thought about having kids go through Toys"R"Us and get what they want?' and I was just like, 'No, I never really thought about that,'" Johnson told the Houston Chronicle. "So we did it the first year, and when the kids came back, I was like, 'Wow, I didn't think they could grab that much stuff in that amount of time.' So we just rolled with it from there, and we just kept doing it every year."
As the 80 seconds dwindled down on Tuesday, children began to line up with their overflowing carts. Johnson quickly bounced between registers, swiping his card as he went. At the end of the shopping adventure, Johnson was left with a $16,266 bill and a group of grateful, smiling children. Knowing that each child has been exposed to parental abuse makes the day that much more rewarding for Johnson.
"I always said if I ever made it, if I was blessed to make a lot of money, I always wanted to give back and do things for kids and just help people out," he said. "That's why I do it."