Bartender Closes Tab of Breastfeeding Mom
Breastfeeding Mother Fights Back Against Bartender Who Closed Her Tab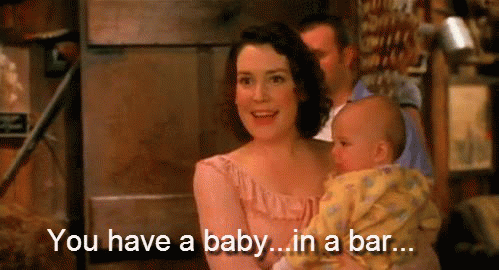 "You have a baby . . . in a bar," may be one of the best lines out of Sweet Home Alabama, but it was no laughing matter for a Virginia mom who was asked to stop breastfeeding at a local bar. Before you think this is just another case of a breastfeeding mom being asked to cover up, you have to hear the whole story.
Crystal McCullough was sipping a beer at Big Woody's Bar in Chesapeake, VA, while she was nursing her 11-month-old daughter. She was there to celebrate closing on her new home. But when she ordered a Fireball shot (typically a mix of cinnamon schnapps and hot sauce), the bartender closed her bar tab.
"I said there is no law that says I can't breastfeed and drink," says McCullough. "I'm not doing anything wrong, and he then proceeded to say, 'You know what it's also my right to refuse service. I'm going to be cashing you guys out, you can leave.'"
McCullough says she had no intention of doing the Fireball shot while she was nursing, and that she wasn't breaking any laws. She says she was knowingly sipping her beer and drinking a large glass of water and that the bartender asked her to stop because her breastfeeding was bothering other customers. The bar's owners disagree:
"Our concern was for the child, really that's what it is," bar owner Craig Davis says. "[The manager] kind of said the breastfeeding is kind of bothering a few customers. He didn't want to say bad mom, didn't want to judge anybody."
Who was in the right here? The bartender who was supposedly looking out for the child's welfare or the child's mother who says she knew what she was doing? Weigh in below.
Front Page