Ben Adelman Interview About Working With Cerebral Palsy
How 1 Man With Cerebral Palsy Landed His Dream Job as an Ambulance Dispatcher: "There's No Such Word as 'No'"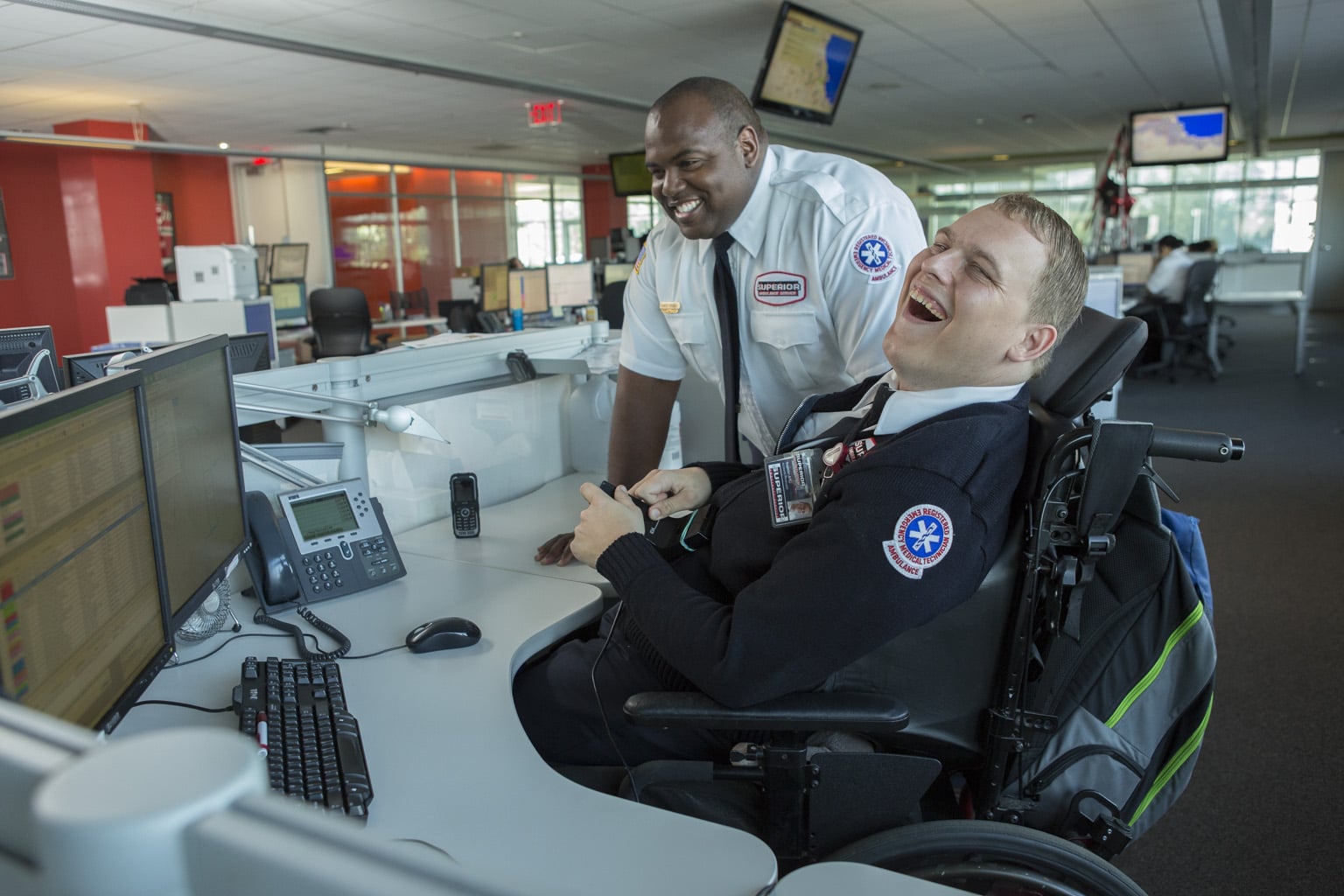 When Ben Adelman was growing up, he had one major dream: to be a school bus driver. And despite being born with cerebral palsy, the Oak Park, IL, native never doubted he could get there. While his dream eventually changed thanks to one standout moment in high school, he was always determined to succeed. And he's had a great support system to lean on over the years, including his family and the people at Aspire, the nonprofit organization that's helped him learn social and professional skills since he was young. But it's been Ben and Ben alone who's made things happen.
The 36-year-old works as a dispatcher at Superior Ambulance Services, is a volunteer firefighter in his spare time, and lives independently in his community. He also founded Ben-A-Fit, an annual charitable event that raises money for Aspire, because he wanted to give back to the organization for all the help and support they've given him over the years.
And it seems like the sky's the limit for Ben, who still has the same mentality that no dream is too big for people with disabilities: "I basically just prove people wrong. Sometimes, I shock people with the way I do things." To learn more about what made his career goals change and his advice for employers when hiring people with disabilities, keep reading.
POPSUGAR: When you were younger, what did you want to be when you grew up?
Ben Adelman: I wanted to be everything, but the main thing I wanted to be was a school bus driver.
PS: Can you tell me about your journey to Superior Ambulance Service and how you came to want that job?
BA: When I was in high school, they thought I had seizures, so they put me in a class with a similar group of kids. We got transported to and from school in a medi-car, and that's when I found out they had an ambulance. We saw one at a stoplight, and I said to my friend next to me, "What's that service called?" It was Superior Ambulance. I asked him, "How would I apply? How would I go about getting a job at Superior Ambulance?" And you know what he said to me? He said, "What are you going to do at Superior Ambulance in a wheelchair? You can't pick people up, and you can't use a computer." And so when I got out of high school, I came to Aspire, and I was looking for a job. I was going to apply for student bus companies and be a dispatcher there, but then my case manager at the time got me an application for Superior. My dad and I went on the interview, and I got hired that same day!
PS: Can you tell me about what you do there?
BA: I started out as a customer service representative. Then I wanted to become a dispatcher real bad, so they moved me down to dispatch. And now I'm one of the head dispatchers over there.
PS: What's your favorite part about your job?
BA: Seeing all the different crews and listening to what they have to say. And if I'm not there, they get really mad, and they say, "Where's Ben? We want Ben!"
PS: I know you're also a volunteer firefighter. Can you tell me what that's like?
BA: It's fun! Not only do I like it as a hobby, but I treat it as a job. It's really exciting. I mainly stay around the fire station, but it's still fun being there and being able to do things similar to what an actual paid firefighter does.
PS: How has Aspire helped you achieve some of your career goals?
BA: I have volunteer jobs, and the staff at Aspire has been helping me a lot. When I first came here, they partnered me with a job coach, and that really helped me. Then a couple of years after that, I was able to work on my own.
PS: What does a typical workday look like for you?
BA: I take two buses to get to work. And when I get to work, I punch in and get my assignments for the day. For a while, I was a floater and went wherever they needed me. We have different sides that we dispatch on, and right now, I'm on the west side.
PS: Is there one obstacle that you've overcome in your career that you're really proud of?
BA: I've had two really tough problems that I've overcome. When I was in customer service, I sometimes had trouble getting my words out on the phone. So they had to work with me a little bit on that. And they also helped me try and understand the company a little better. I have help with that right now. I get really upset sometimes about things that happen at work, and I'm getting help to overcome that.
PS: When you have those moments when you're not sure you can do it, how do push through?
BA: I basically just prove people wrong. Sometimes, I shock people with the way I do things.
PS: Do you have any advice for someone else who is differently abled who wants to have a career and chase their dreams?
BA: I go out to schools and I talk to people about what it's like to have a job and a disability and live on your own, and my theory is this: no matter what disability you have, you can do it. Anybody that's blind, deaf, can't talk, or can talk, there's no such word as "no."
PS: What advice would you give to your younger self when you were just starting out in your career?
BA: Don't be afraid.
PS: What do you want other employers to know about hiring differently abled people?
BA: I want them to know that they shouldn't be afraid to hire us because we're just people. No matter what disability we have, we're just people.
PS: Who's your biggest role model?
BA: My mom, my dad, and my brother. My family.