Best Friends Keep Getting Pregnant at the Same Time
Meet the Adorable Best Friends Who Keep Getting Pregnant at the Exact Same Time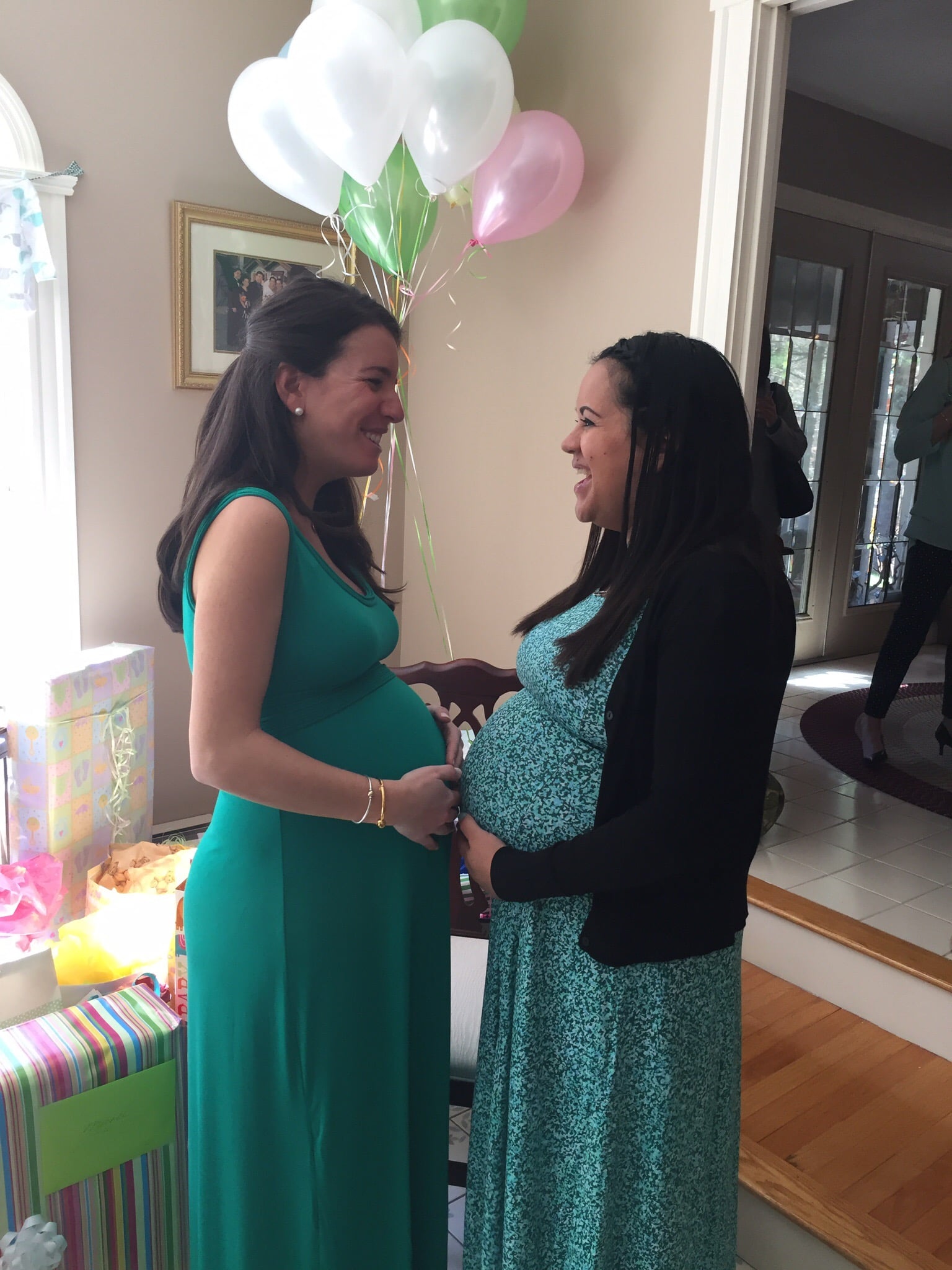 Alicia Renna and Nicole Shaw have been friends since meeting in kindergarten outside of Boston 26 years ago, and like many childhood best friends, they fantasized about growing up and starting families together — but unlike most, they actually did it. At literally the exact same time. After about a year of marriage, both knew they would be ready to start a family, but they never had a formal conversation to let the other know they were trying to conceive. So when Alicia called Nicole to tell her she had just found out she was pregnant, Nicole was giggling to herself on the other end of the line because she had also just taken a test and was pregnant too. A nervous first-time mom, she waited until she was 10 weeks along to reveal the news to Alicia.

"I won't forget that phone call. I was driving home from work when she told me. I was so excited when she told me her due date, which was the same due date as me, that I had to pull over. I started crying with excitement!" Alicia exclaimed to POPSUGAR.
As their pregnancies progressed, these besties and first-time moms took solace in going through the experience at the exact same time together, from celebrating the joys of pregnancy to encouraging each other through what Nicole describes as "the longest week of our lives," when they both went past their due dates. Both women wound up being induced, but a day apart in different hospitals located in different states, as Alicia lives in Massachusetts and Nicole in New Hampshire. While they knew there was still a chance their babies could be born the same day, it seemed unlikely. But alas, Nicole ended up delivering her daughter Charlotte a mere five hours before Alicia gave birth to her son Anthony John ("AJ").
Alicia tells POPSUGAR, "I remember texting her during labor being like, 'I can't believe this is happening!' At one point she texted me [a picture of] her baby girl Charlotte and I remember saying congrats and then my doctor said, 'It's time to start pushing!' About five hours later, I got to finally show her AJ!"


Having their babies the same day was not only an incredible coincidence, but also created an indelible bond between the friends and their little ones, who turned 1 year old in May. Alicia jokes, "AJ and Charlotte are always going to be friends, they don't have a choice!" And during the difficult early days of new parenthood, the two women were able to support each other in special ways, calling with tips and texting words of encouragement late at night to entertain and keep each other going through those 2 a.m. feedings. "I really think having her to fall back on during those first few weeks is what kept me sane," Nicole says.
This Fall, just when the story couldn't get any sweeter, the two friends surprised each other by discovering they both — yet again — were pregnant with babies due on the exact same day! This time, Nicole was the first one to divulge the news to Alicia. It had been a hard Summer for Alicia, who had suffered a devastating miscarriage. "Nicole was there for me the entire time. Again, she was my first friend I told when I was pregnant and my first phone call when I lost the baby." Unsure when or if she could start trying again, Alicia had no expectations about conceiving in September, but decided to go for it. When Nicole called to tell her Charlotte was going to be a big sister, all she could say was, "I think AJ might be too." Alicia revealed to Nicole that she suspected she was also pregnant, but was too scared to take a test.
"I insisted she take a test while I was on the phone with her, and sure enough it was positive!" Nicole says. "We were in hysterics thinking it was the funniest thing." They then used date calculators to determine they were due a day apart, and their doctors later confirmed through dating ultrasounds that they were actually due the exact same day again! "We both laughed so hard talking about how we couldn't have planned this if we tried, which we 100 percent did not plan at all!" said Nicole, and Alicia added, "That's how I knew everything truly happens for a reason!"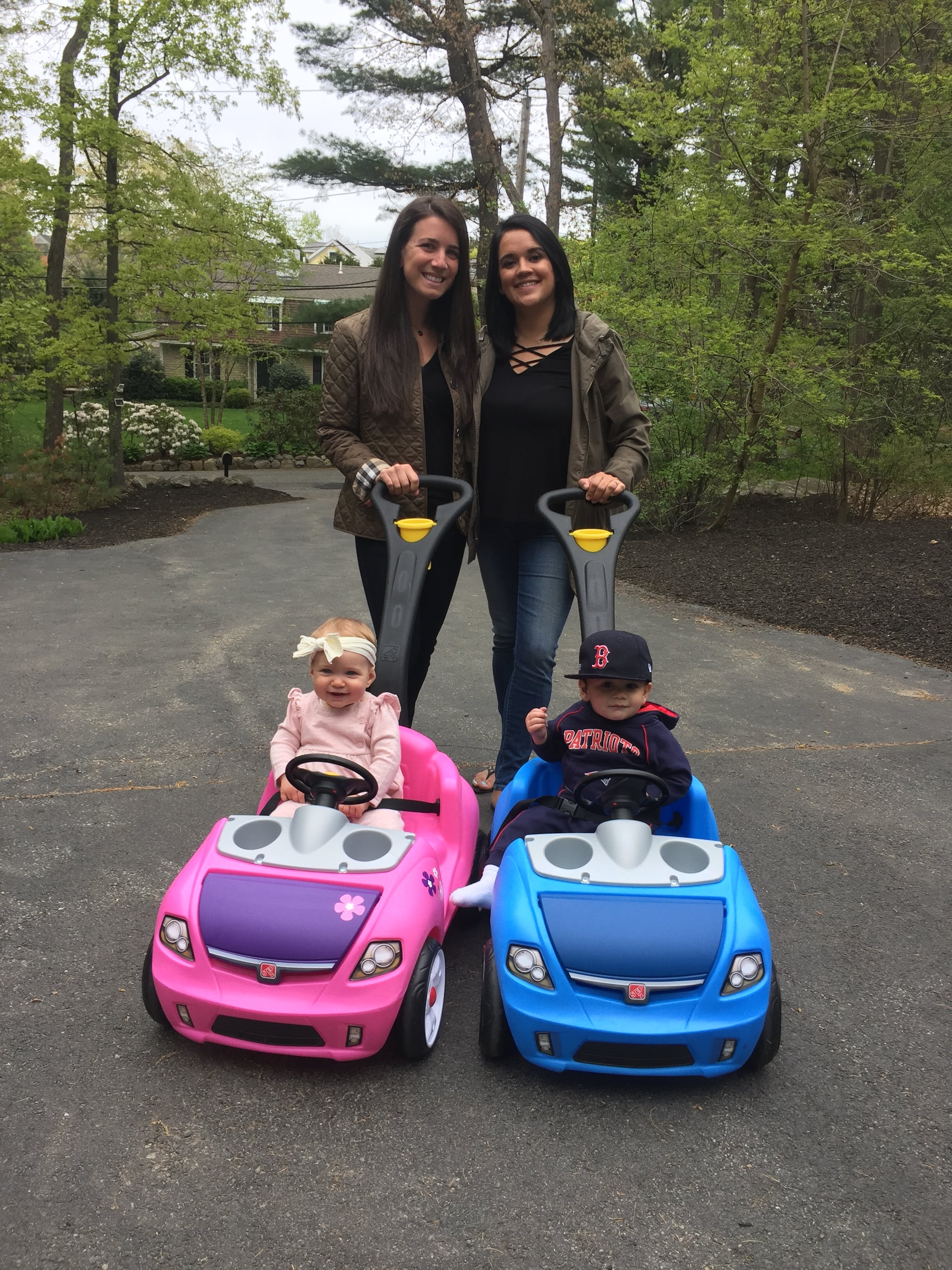 While these two mamas are busy planning for baby number two, they're still in awe at the coincidence. And their friends and family are, too. During the first time around, people mostly couldn't believe it was an unplanned coincidence, but this time, reactions have ranged from "you two are soul sisters" to "it's just weird!" Meanwhile, we can't wait to see if these bestie babies end up with the same birthday as well.
Image Source: Courtesy of Alicia Renna and Nicole Shaw