The Better (and Better For You!) Breaded Chicken
Source: Lindsey Foutch
Shake 'n Bake Parmesan Chicken
Amanda Haas
Notes
My mom always cooked from scratch when I was a child, so boxed Shake 'n Bake that my friends' parents served was out of the question. Instead, she'd make this crunchy chicken with parmesan cheese and bread crumbs. It seemed to do the trick. Just baking it today brought back a flood of memories. It's better than any fried chicken, chicken finger/tender, or fast food out there, and so much better for you. My version uses gluten-free bread, but feel free to substitute regular bread if you'd prefer.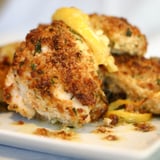 Ingredients
4 slices gluten-free sandwich bread, such as Udi's
1 cup parmesan, grated
2 tablespoon flat-leaf parsley, finely chopped
1/2 teaspoon garlic powder
1/4 teaspoon onion powder
Kosher salt
Pepper, freshly ground
4 tablespoons butter
1/4 cup olive oil
1 whole chicken, about 4 pounds, cut into 8 pieces
1 lemon, cut into very thin slices
Splash of white wine
Directions
To make bread crumbs, place the slices out on the counter the night before using so they get a little stale, then pulse them in a food processor. Alternately, lightly toast the slices and then pulse them. You should have 1 cup of bread crumbs.
Preheat the oven to 375°F. Combine the bread crumbs, parmesan, parsley, garlic powder, onion powder, 1/4 teaspoon salt, and a generous grinding of pepper in a shallow dish. Toss with a fork.
In a separate bowl, melt the butter and olive oil.
Dip each piece of dry chicken in the oil and butter mixture, then coat each piece in the bread crumb and parmesan mixture on all sides. Shake off any excess and place each piece in a roasting pan. Scatter the lemon slices around the pan. Bake for 20 minutes, then add a splash of wine to the pan if desired. Bake an additional 5-15 minutes or until the juices run clear from the chicken pieces when pierced with a skewer. Serve hot or at room temperature.
Amanda Haas is a cookbook author, cooking video host, and the founder of One Family One Meal, a website that helps families menu plan, grocery shop, and cook on a budget. Her cookbook, Real Family Food, features this and other delicious family-friendly recipes, as well as simple tips for bringing your family together around the table and a strategy for meal planning, budgeting, and shopping.
Information
Category

Main Dishes

Cuisine

North American

Yield

4-6 servings