Birth Photograph Removed From Facebook
See the NSFW Birth Photo That Got a Photographer Kicked Off Facebook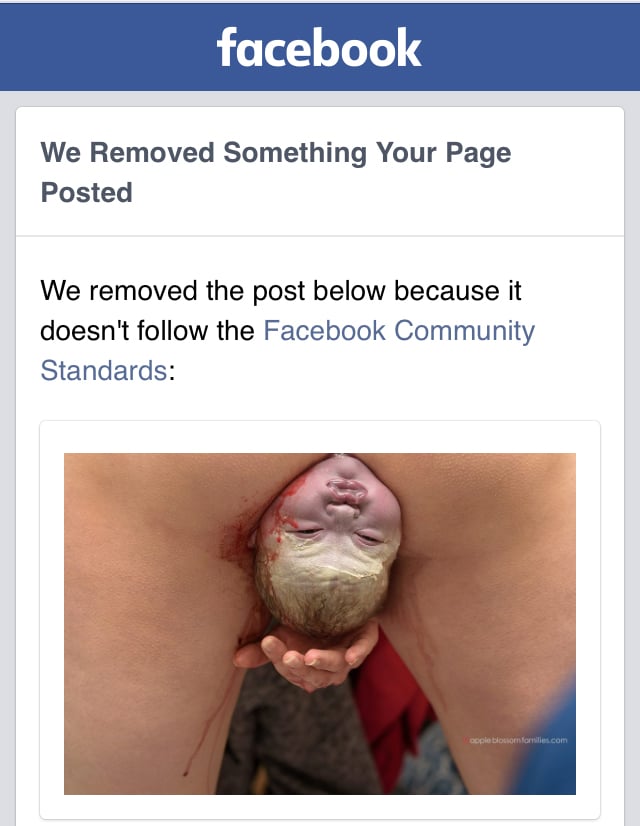 When Morag Hastings first shared a raw photo of a new mom catching her own baby during birth, the powerful image was shared over 2,000 times and was viewed by more than half a million people. Amongst the messages pouring in from women who felt inspired to try standing during their own deliveries, one note stood out. Two weeks after the photo was posted, Facebook informed Morag that she is banned for 30 days and that her business page, Apple Blossom Families, would be unpublished.
According to the message that Morag received, Facebook said the photo violates their guidelines in regard to nudity. Facebook's community standards state, "We remove photographs of people displaying genitals or focusing in on fully exposed buttocks …. Explicit images of sexual intercourse are prohibited." Not only does Morag disagree that her image breaks their rules since it doesn't show full buttocks and isn't overtly sexual, she finds it ironic that Kim Kardashian's photo can "break the internet" for its sexual and butt-bearing nature, yet the celebrity's page remains untouched. "I wish my clients and other women could feel #liberated and have #confidence with their unsexual birth images," Morag told POPSUGAR. "My business page, with 22,000 followers that I worked really hard to acquire, is going to be unpublished because I posted an educational image of a baby being born."
The mother from the controversial shot, who asked not to be named, completely understands that a photo of her child's birth might make some people uncomfortable. However, she wants to know how society can possibly become more comfortable with birth if we don't see photos of it and are told that these images are too disgusting to be shared. "Birth is not comfortable. It's difficult, challenging, messy, and sometimes painful. It's also a transformative, beautiful, and powerful experience that should be celebrated, not censored," she told POPSUGAR.
The mom explained that she spent most of her pregnancy looking at birth photos, watching birth videos, and reading birth stories. "I would cry through them all, overcome by a mix of emotions: fear, what-ifs, anticipation, and excitement. When I thought I couldn't possibly do it, those images and stories helped me believe I could," she added. "We shared our photos and story with the belief that if we inspired or empowered even one person that it would be worth it."
Even though Morag feels strongly that the posted photos were fully within the guidelines, it doesn't matter because she can't dispute Facebook's decision — and doesn't even have a contact that she can try reaching out to in defense of the image. "Seeing other people having babies helps us understand and normalize the process. It also makes room for questions to be asked," added Morag. "Women are way more than sexual objects, we are amazing creatures that create life and we want to freely share it with each other so we can learn about birth in a healthy way."