Boy Reacts to Getting Fake Parking Ticket
A Boy Gets a Parking Ticket and His Reaction Is Exactly What You'd Expect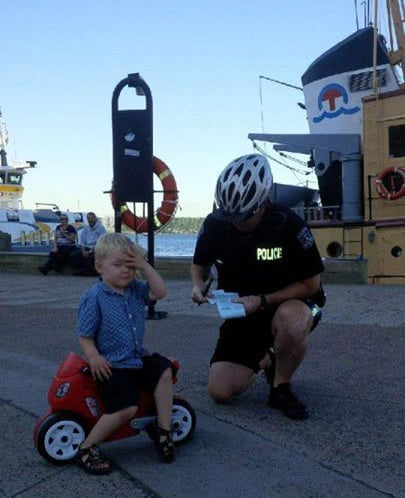 Motorcyclists, man. They think they just rule the road! One such rider was 3-year-old Declan Tramley, who was caught by a cop after he left his red plastic toy motorcycle in a no-parking zone in Nova Scotia, Canada.
Thankfully, the ticket issued by police officer Shawn Currie was a fake one, and young Declan was let go with just a warning . . . and a hilarious photo that's currently making the rounds on Facebook after it was shared by the Halifax Regional Police page.
"Remember, you cannot park your motorcycle in the circle by the ferry terminal," the caption of the photo, which has more than 12,000 "likes," said jokingly. "We caught this ruthless biker there yesterday."
For his part, Currie hopes the photo will show a softer side to the police force: "We're not always making arrests and hauling people away. We like to have fun."