Boy's Viral Love Letter
4-Year-Old Boy Knows the Way to a Woman's Heart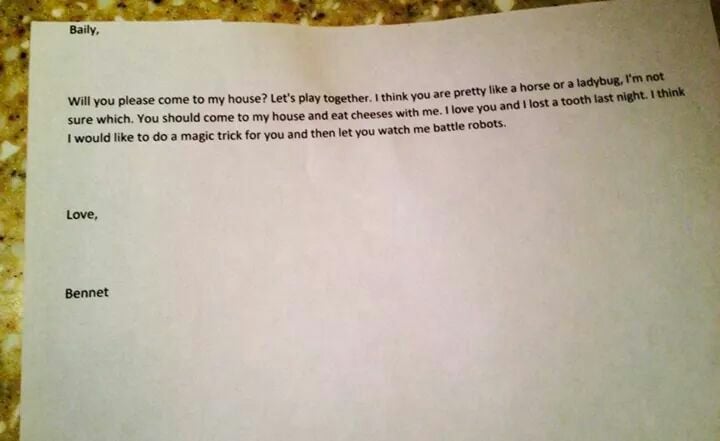 It takes some men years to learn what women want (heck, Jeopardy is still trying to figure that out), but a 4-year-old boy may have the answers. When young Bennet wanted to express his feelings to his preschool crush, Baily, he did what any Casanova would do: write a love letter. The note, which was transcribed word for word by Bennet's mother, Jennifer, reads:
Will you please come to my house? Let's play together. I think you are pretty like a horse or a ladybug. I'm not sure which. You should come to my house and eat cheeses with me. I love you and I lost a tooth last night. I think I would like to do a magic trick for you and then let you watch me battle robots.
Can any woman say no to cheese and magic? We don't think so! Though Baily has yet to respond to Bennet's romantic gesture, his mother isn't surprised that millions of others have fallen for her son's charm.
"This letter was one of a million funny things I encounter on a daily basis," Jennifer tells Today.com. She adds that the attention has lifted Bennet's spirits, especially given some of the challenges he has faced in his young life. He was diagnosed with cancer at 6 months old, but his family hopes his upcoming checkup will have him declared cancer-free. Here's wishing Bennet health and luck in the love department.
Source: Reddit user Stran_the_Barbarian; Front Page