Breastfeeding Mom Goodwill
New Mom Receives Online Backlash After Breastfeeding in a Goodwill Store
A new mother is facing major backlash online after she breastfed her baby in line at a Goodwill store in McMinnville, OR. Emma Ingram didn't expect her trip to Goodwill to be controversial, but she soon became the subject of what some are calling a cyberbullying campaign after a cashier spotted her nursing her baby while waiting in line at the store. The cashier took to Twitter — on her now-private account — to express her feelings on what she thought should only take place "in a strip joint."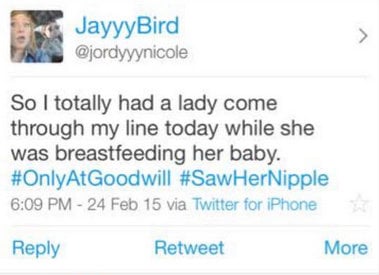 Ingram defended herself by saying, "Would you rather see a screaming baby? It's not like I whipped my nipple out for everyone to see. I think people are offended because breasts are sexualized in our society."
The next morning, a Goodwill employee tweeted from the store's official Twitter account and voiced distaste for Ingram's actions.

Goodwill has since deleted the tweets and released an official statement apologizing for the way its employees publicly handled the situation and noting that the experience "has become a teachable moment to remind and reeducate all of our employees about the rights of nursing moms." Watch the video to see the full story and hear other mothers' support of Ingram's choice. What do you think?