Chad Carr Dies
Why This Little Boy's Tragic Diagnosis Put an End to an Age-Old Rivalry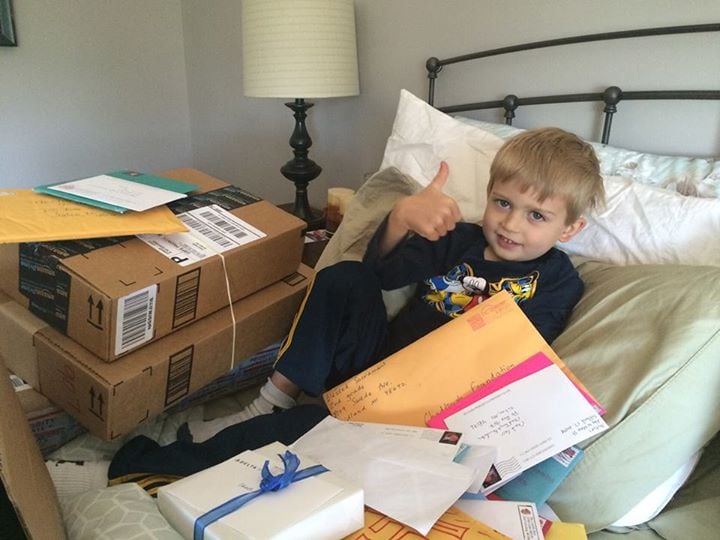 Three months ago, my 9-year-old son came home from his first week at school and excitedly told me that the class spent a portion of their day writing letters to a little boy with a rare brain tumor.
"Mom, he's only 4 years old and his mom says he loves getting letters, so we wrote him letters of encouragement."
"Mom, his dad played football for Michigan and his grandfather was the Michigan coach!"
"Mom, I told him you and Dad went to Michigan and we love to watch Michigan games too. Maybe that will help him feel better."
"Mom, he was treated at Sloan Kettering Cancer Center, right down the street from us! They know how to cure cancer!
As he started to tell me more, I knew exactly who he was talking about. Chad Carr, the 5-year-old son of former University of Michigan quarterback Jason Carr and the grandson of Michigan coaching legend Lloyd Carr, had been fighting a yearlong battle against Diffuse Intrinsic Pontine Glioma (DIPG), an inoperable tumor in the brainstem near the top of the spinal cord. Images of the little blond boy with the contagious smile had filled my Facebook feed as his mother chronicled the highs and lows of his journey and raised awareness of childhood cancers. As a Michigan alumnus, Chad's journey — with #ChadTough — was frequently shared among my friends. I also knew that fewer than 10 percent of children who receive a DIPG diagnosis survive two years.
"Mom, the doctors said he would only live a few months, but it's been almost a year! I bet he can beat this."
My son's words were filled with hope and optimism. But sadly, three months later, they were met with the heartbreaking news that Chad couldn't beat DIPG. Two weeks ago, his mother, Tammi, announced that they decided to start hospice care for Chad.

And yesterday, 15 months after receiving his diagnosis, Tammi shared the devastating news that Chad's fight was over.


After his class wrote their letters, my son took a more active interest in Chad's journey than I ever thought possible. An avid sports nut, he was drawn to the news that fans and athletes at Michigan's biggest rivals — Ohio State — were rallying around Chad. They sent signed footballs and flags, their marching bands joined together to form #ChadTough on the football field, and after Tammi shared the news that Chad had entered hospice care on Nov. 11, the basketball teams from the rival schools visited the Carrs to transform their home into a Christmas wonderland.


Sharing the news with him last night was heartbreaking. Though I'd explained hospice care to him earlier, he had been hoping for a miracle. We all were. But we talked about how Chad touched our lives and the lives of so many people that he never met. How his mother, who was a fundraiser for Mott Children's Hospital at the University of Michigan, will continue the fight. How his two older brothers will continue to keep his memory alive. And how this little boy brought together the bitterest of rivals in the most miraculous way. He left the conversation with tears in his eyes, but a bit more hopeful than when we started.