Source: POPSUGAR Photography / Sarah Lipoff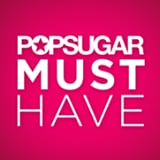 Bath time should be enjoyable for everyone involved. That's why we partnered with POPSUGAR Must Have for this post.
I have a confession. We do bath time three days a week at our house. A nightly bath never really worked with our bedtime routine, and when we did try to make it happen, things got crazy stressful. She didn't want to get in the bath, we had dry skin issues, and her hair wasn't having it. The battle became one that left us all tired, her locks frazzled, and her body itchy. Luckily, we found a few ways to make everything better.
Talk With Your Pediatrician
After enduring days of bumpy, dry skin, even when using bath products that were as natural as possible, we scheduled a visit with our pediatrician. He suggested skipping the nightly bath and ditching all bath products. Soap is drying to the skin, so go with a gentle one for sudsing up then rinsing off before stepping out of the bath. Our pediatrician also suggested lowering the water temperature to right around 100 degrees, which keeps bath time at a comfortable level without drying out hair and skin.
Find Products You Love
Now that we had her skin figured out, dealing with her hair was a whole other story. Even as a little tot, she wasn't into letting us do her hair or spend time brushing it because it was so dry and knotted. Once we found the right products, life did get easier. A brush that detangled without tears, like the Wet Brush, skims through hair. A leave-in hair treatment that you can apply after getting out of the bath, like It's a 10, which was included in a recent POPSUGAR Must Have box, cut the dramatics and left her hair looking wonderful.
Our pediatrician also suggested following baths with a gentle lotion, which really helped her skin's texture. And once you find one that works, stick with it. Just like when you switch up your skin care routine, changing products every time a bottle runs out can cause rashes, dry spots, and bumps.
Make Bath Time Fun
Since you're skipping the bubbles, you have to up the fun factor. Squeeze toys, floating boats, and sponges make it more interesting while your child is soaking. We sometimes turn bath time into a water bakery, filling the tub with whisks, baking tins, and measuring cups. Make a bath time playlist, read stories, or simply talk through big wins during the day. Get creative and everyone will look forward to bath time.