Color-Coded Photo of Family's Grandchildren
This Color-Coded Photo of Grandkids Shows How 1 Family Can Grow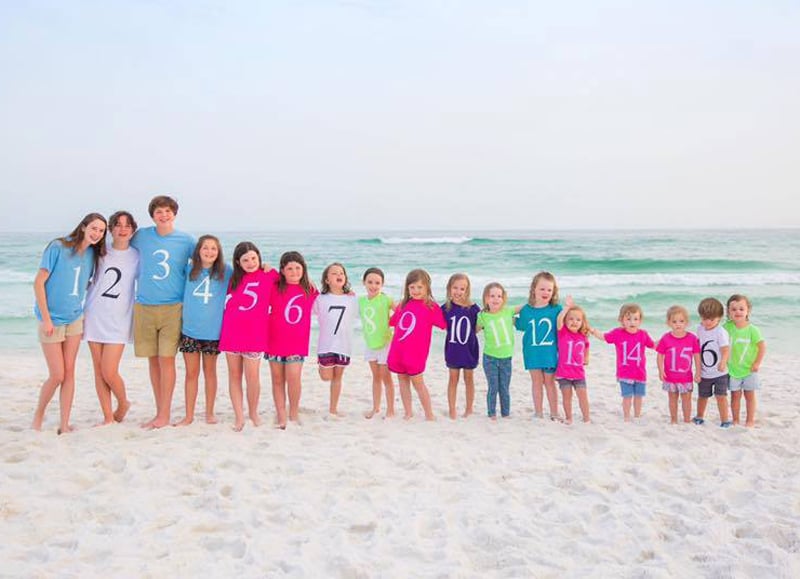 Big families are a sight to be seen, and no image captures that quite as creatively as this one.
Shared by Chrissy Roussel, the photo shows all 17 of her parents' grandchildren. They are standing in birth order and wearing t-shirts that not only say as such but are also color-coordinated by sibling sets to denote all six families.
"The photo was my sister's idea," Chrissy, who has three brothers and two sisters, told POPSUGAR. "Having a big family means lots of noise, laughter, and, most importantly, love. Between the 17 cousins, there's always someone to play with and have fun with. They have a ball together. I loved having a big family growing up, and I'm so happy that my kids have the same experience."
Chrissy's kids — the six girls in the hot-pink t-shirts — include spontaneous triplets (hello, 13, 14, and 15!). She had discovered she was pregnant three years ago, shortly after her father's death, and she notes that all five of the youngest children in the photo "brought so much joy in the months and years after my dad passed away." In fact, all 17 kids did:
"I also reflect on how those 17 kind, thoughtful, funny kids are my dad's greatest legacy," she said. "A beautiful legacy of love, indeed. We miss him so much, but we feel his presence every day through the love and joy of all these kids."