DIY WALL-E Costume For Kids
Wait Until You Read the Sweet Story Behind This Dad-Made WALL-E Costume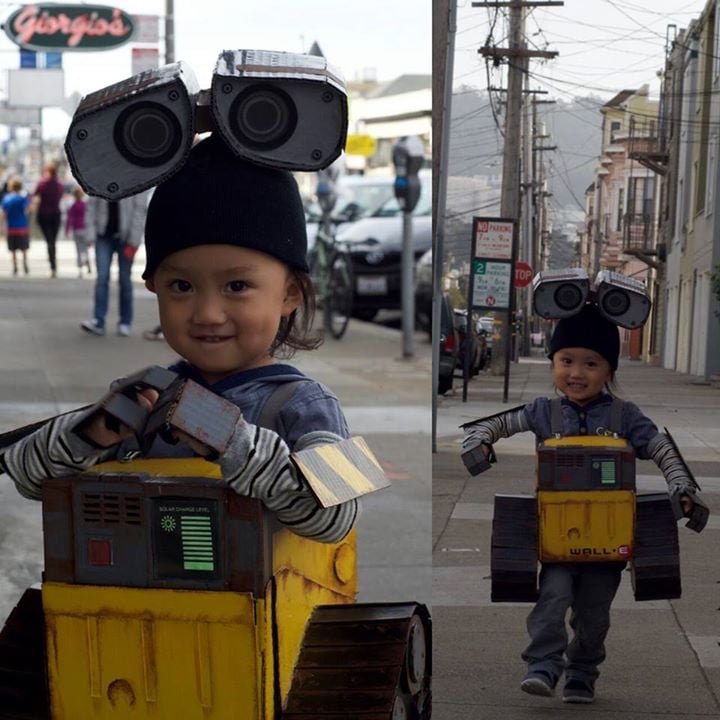 The most precious commodity we can give our kids is our time. Louie Ejanda learned this firsthand this month as he prepared his son's elaborate Halloween costume. The San Francisco-based illustrator was laid off from his job and transitioned into a stay-at-home father. One day, the two watched WALL-E and his son, Charlie, was smitten. Charlie wanted to be WALL-E for Halloween and Louie knew what he had to do.
He detailed every step of the process on his Facebook page along with some witty commentary about his love for his son and the amount of free time he had on his hands. But it is his commentary that accompanies his images of the final product that will touch you the most.
Ever since I started my life as a stay at home dad, I've had my struggles with no longer being creatively and productively employed. I had to learn to be a provider in a way that didn't call for me to earn a paycheck. I learned to provide just my self. My time. My patience. My attention. My honesty. My contrition. My all.

Even on my worst days (of which there are quite a bit lol), I love my situation. I am blessed to have this time with him. I thank God for the challenge of making that time count.
While the costume has garnered the attention of everyone from the local news to Andrew Stanton, the man behind WALL-E, we think the smile on his son's face is all the validation he needs!
Read on to see the posts Louie posted along the way — they're sure to put a smile on your face too!