Dad Makes Reindeer Drone For Worried Son
This Dad Saved Christmas For His Worried Son by Making a Reindeer Drone
After this little boy moved to a new neighborhood in London, he had a major worry — how will Santa be able to find their new apartment?!
To ease his child's concerns, his creative father, Jonathan Silman, set up a "Santa stop here!" sign in their yard. However, that wasn't enough to convince 8-year-old Hamza that Santa wouldn't have a hard time finding them this year. To ensure that their move wouldn't ruin the holiday, this 28-year-old father came up with a foolproof plan to prevent Santa from getting lost on Christmas Eve.
The clever dad flew a drone to their new home, recording a reindeer's-eye view as he mapped out the best route for Santa and his crew to take so that they won't run into any issues finding the Silman family's chimney-free flat. To familiarize Santa with the view, Jonathan also attached a reindeer to the top of the drone and sent the custom video to Mr. Claus. The "Santa Nav," as Jonathan calls it, shows what it would be like for Rudolph to fly over London's East Village and lets the gang know exactly where the family lives.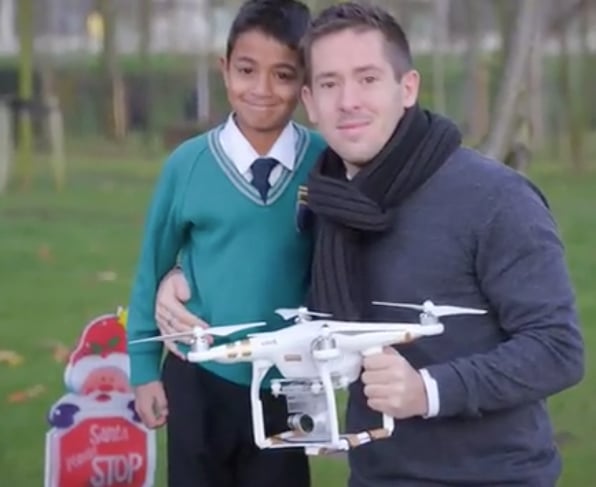 "Hamza was really worried that Santa and his reindeers wouldn't be able to find his way to East Village as it's such a new neighborhood. He asked me difficult questions like how will Santa find his way to our new home, especially as we haven't lived here long," Jonathan said. "He believes Santa uses chimneys as a guiding point to find the good children, this broke my heart so I decided to take matters into my own hands. I hope this video inspires children not only in East Village but also in new neighborhoods up and down the country, especially those living in houses and flats which don't have chimneys."
With a clever dad like this, Santa won't have to waste any time stopping to check Google maps!