Dad Turns Backyard Into Luge
This Dad Earned a Gold Medal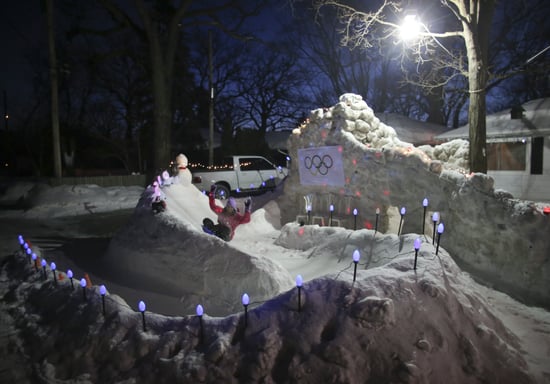 While most Winter sports fans spent last Friday at an Olympic viewing party, one Minnesota family decided to throw their own Olympics. Days before the opening ceremonies, Tim Smith turned a pile of snow into a 12-foot-tall luge for his three children. After a few days of sliding down the slope, Smith decided to turn this fun activity into a neighborhood-wide competition. Children competed in three events: speed, distance, and, what was voted the most fun, style.
"It was freestyle, so the kids could do whatever they want, like putting their hands up or really getting creative," Smith told Good Morning America.
As kids stepped up to the starting line, Smith introduced them on a cordless sound system. "The sound was bouncing off the houses, and it was just so powerful." Of course, no Olympics would be complete without medals. Smith had purchased actual medals and placed stickers over them that said, "Smith Olympics," the name of his games.
"Everybody totally appreciated it," Smith said of the event. "With the huge fire and sounds of the Olympic song playing, just everything lit and in full working mode. It was incredible for kids and adults alike."