Does Pregnancy Make You Stronger?
Becoming a Mom and Doing Things Better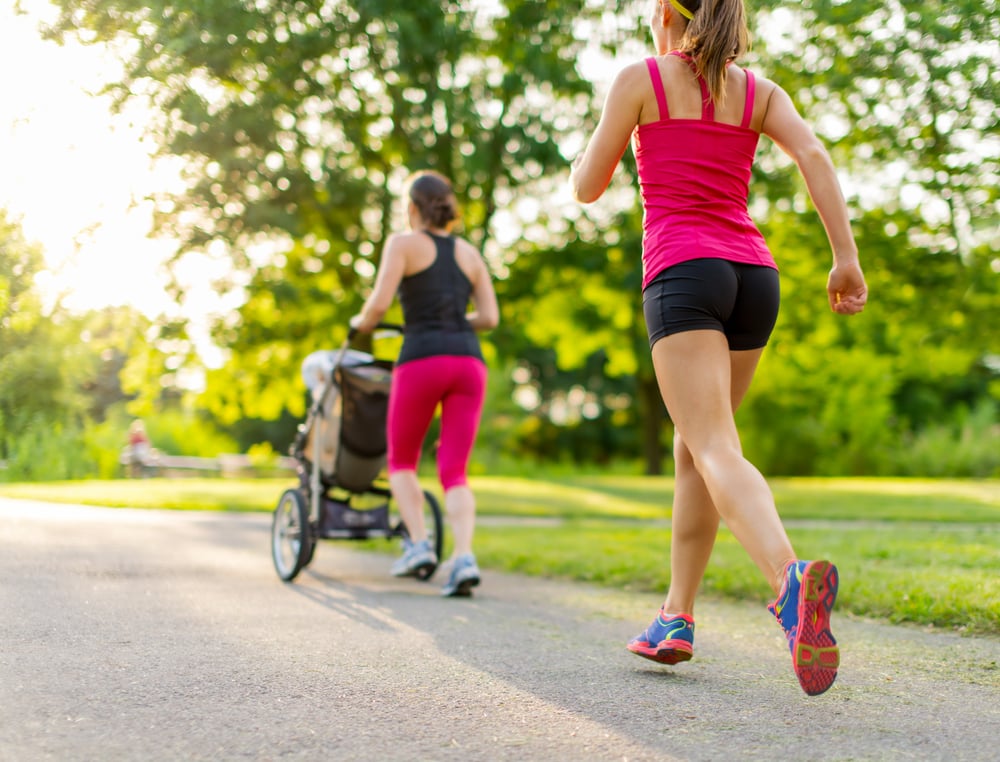 Does becoming a mom make you stronger? It's a theory that hasn't been well studied in exercise science, but plenty of moms will say it. Some runners call it the pregnancy boost. During the World Cup, there was great media coverage about women on the team who have "come back" from pregnancy to be professional athletes. This article in the Atlantic pointed out that the oldest player in Women's World Cup history, Christie Rampone, is still one of the fastest and fittest on the entire team. She is a mother to two girls, ages 9 and 5. Forward Amy Rodriguez gave birth in 2013, and four months after she was cleared to train again, she clocked one of the fastest 40-meter sprints at the team training camp. In 2011, runner Kara Goucher set a personal best in the Boston Marathon seven months after giving birth, placing fifth overall.
But mothers who are professional athletes are still in the vast minority. It's a huge challenge to compete at the highest level while growing a family, because your body is your work and its performance success, and female athletes aren't as highly compensated as men. For example, the minimum salary in the MLS is 60K, while the minimum in the NWSL is 6K. (A national team player can make millions in salary, whereas Abby Wambach's salary in 2014 was 190K.) It's laughable they call it a professional salary when it's below the poverty line, but whatever.
Sobering pay-gap issues aside, it's fun to think about what other boosts pregnancy and mothering might give you as a human, whether it changes how you approach life, or how you treat your career, or what you decide to do after having kids. When I think about my role as a parent, I tend to think about how different my life is with children rather than how I have grown or changed as an individual. But I know I've grown mentally stronger, and there are a lot of ways that having kids has helped me. I'm more courageous, more resilient, more aware of other's feelings, less sensitive, and definitely less afraid of pain. I take less time to make everyday decisions, such as what to eat or feed the others. But I'm more careful of my time, even as time with kids seems to blur and warp in very strange ways. I'm more apt to take the long view rather than stress over the short term, because so much with kids is so very short term.
Here, the boosts I received from my pregnancies, now that I'm five years postpartum.
Recognizing the value of intrinsic rewards. You don't get bonuses for being a good parent (oh wait, Wife Bonus), and as boring as it sounds to enjoy the "job well done" line, when it comes to my children and my relationship with them, I couldn't be happier and more satisfied just living it. Having kids makes you feel lucky, over and over and over. Having kids makes you feel strong. Someone once told me that kids require patience, and the reward for patience is more patience. I think about that one a lot.
Knowing myself. I'm better at articulating what I need to be healthy. Being around people such as your own children — nearly all the time — gives you a better sense of who you are and what you need to cultivate healthy relationships.
I'm an expert in feelings. Having kids is an intense study in the power and the pain of feelings. Because you birthed them, you will never be more emotional than when around your kids, or thinking about your kids, or suffering for your kids. Also, kids are feeling first, language later. So you have to become the interpreter of feelings. It's a whole new language. I'm also much better at controlling my temper and being patient with small folk.
I know when to go to bed. I know when to take a nap.
I can say no to people without guilt. Before kids, my mode was to say yes to everything and then figure out how to make it work. If you do this with your own family, it can cause stress, fatigue, and chaos. Now I focus on what's important, and I choose.
I accept the power of mindset and perspective. One of the first newborn mantras you learn is "This Shall Pass." You look ahead to six weeks, or 12. As a parent, perspective really matters. Whether it's taking the long view in terms of growth or considering lives and others outside of your own small world, kids have helped me understand time, appreciate both routines and change, and learn that how I approach the days will affect how enjoyable they are.
And the days, with kids, are just packed. In the best possible way.