Easy Chocolate Cake Recipe
The Easiest, Best-Ever Dark Chocolate Cake to Make With Your Kids
Dinner without dessert is like peanut butter without jelly in my home. Sometimes I think my kids don't even taste the dinner they are wolfing down just so they can get to the prize at the end of the meal — their precious dessert. And while fruit and homemade popsicles are often the only options offered up, on days when cookies or cake are on the menu, my kids race through their meal even faster. While baking a cake from scratch isn't impossible, it's time consuming and something that I just can't figure out how to do on a weeknight — that is until Patricia Wong from Farm to Table Baby Mama simplified the process.
Wong says, "Cake-baking is a bit of a dying art. Back in the day, it was a common occurrence to end a family meal with a homey layer cake, piled high with swirly frosting. These days, the idea of tackling a layer cake can be a bit daunting, but I promise it's so worth it and a lot easier than you'd imagine!" And she's right! "[This] chocolate cake is indulgently dark, rich, and moist. Bonus, it's also incredibly easy to make. It's a one-bowl, one-whisk recipe that's practically foolproof. There's no monkeying with alternating between wet and dry ingredients, but no sacrifices are made as far as taste or texture," she adds, meaning it just may be the perfect way to top off your family dinner. Or, in Patricia's words, it may be the perfect recipe for your kids to make for "*cough* Mother's Day *cough*!"
Watch her demonstrate her easy technique above, and see the recipe below — then tell us just how much your kids love it!
Easy, Best-Ever Dark Chocolate Cake With Orange-Infused Mascarpone Frosting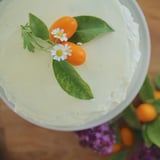 Ingredients
For the Cake
1 3/4 cups all-purpose flour
1 cup granulated sugar
3/4 cup unsweetened cocoa powder
2 teaspoons baking soda
1 teaspoon baking powder
1 teaspoon salt
2 eggs
1 cup hot chocolate
1 cup buttermilk
1/2 cup vegetable oil
1 teaspoon vanilla extract
For the Frosting
Peel of 1 orange
1 cup heavy cream
8 ounces mascarpone cheese, at room temperature
1/2 cup confectioners' sugar, sifted (more or less, to taste)
Directions
For the Cake:
Preheat oven to 350°F. Butter two 8-inch round cake pans (preferably springform for easy removal later), and dust with cocoa powder.
In a large bowl, whisk together flour, sugar, cocoa powder, baking soda, baking powder, and salt.
Make a well in the center of the dry ingredients. Pour in eggs, hot chocolate, buttermilk, vegetable oil, and vanilla extract. Whisk together until combined. Divide evenly between prepared cake pans.
Bake for 30-40 minutes until a toothpick inserted into the center of the cake comes out clean. Cool on a wire rack.
For the Frosting:
Infuse orange peel into cream (optional):
Place cream in a saucepan over medium-low heat. Add orange zest to the cream and simmer for 2-3 minutes, until the cream has taken on some orange flavor.
Take cream off the heat. Remove zest with tongs or by straining the cream. Discard zest. Allow cream to cool a bit before placing in the refrigerator until completely chilled.
Mascarpone Frosting:
With an electric mixer on medium speed, beat cream just until very soft peaks form.
In a second bowl, beat together mascarpone and confectioners' sugar until smooth and creamy. Fold orange-scented cream into the mascarpone mixture until incorporated. Frost cake as desired.
Information
Category

Desserts, Cake

Cuisine

North American