Holderness Family Funny Tee Ball Game
This Candid Analysis of a Youth Tee Ball Game Will Crack You Up
Every parent has been there — a youth sporting event first thing on a weekend morning chock full of tots aimlessly staring off into the distance in tiny athletic gear, and chaotic, unsynchronized running to the ball. The Raleigh Express tee ball team is a prime example of the hilarity and innocence of youth sports, and Penn Holderness uses his effortless comedic abilities to narrate his son's epic game, while really conveying that the best part of early weekend games is just seeing your kid have fun.
The video follows a one-inning tee ball game in which the young boys talk about Star Wars, pick their noses, lie in the grass, and occasionally engage in athletics. The team's coach says, "Nobody has ever successfully taken the ball from a glove, to the hand, to any base — at all," but surprisingly, a "Babe-Ruthian wallop" is made by the coach's son, and he scores an infield grand slam.
But the score isn't kept — that's not what's important. What's important is that the boys make "best friendsies" with each other and the other team's players, and the parents get to watch their joy and excitement from the sidelines — everybody wins.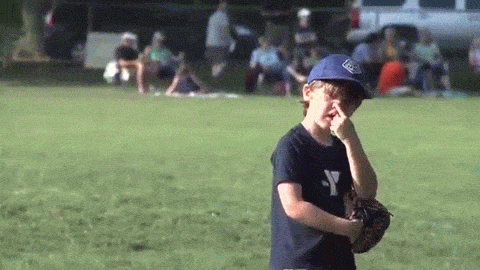 Especially this kid.