How Christmas Card Pictures Are Really Made
The Real Story Behind Our Cute Christmas Card Isn't So Pretty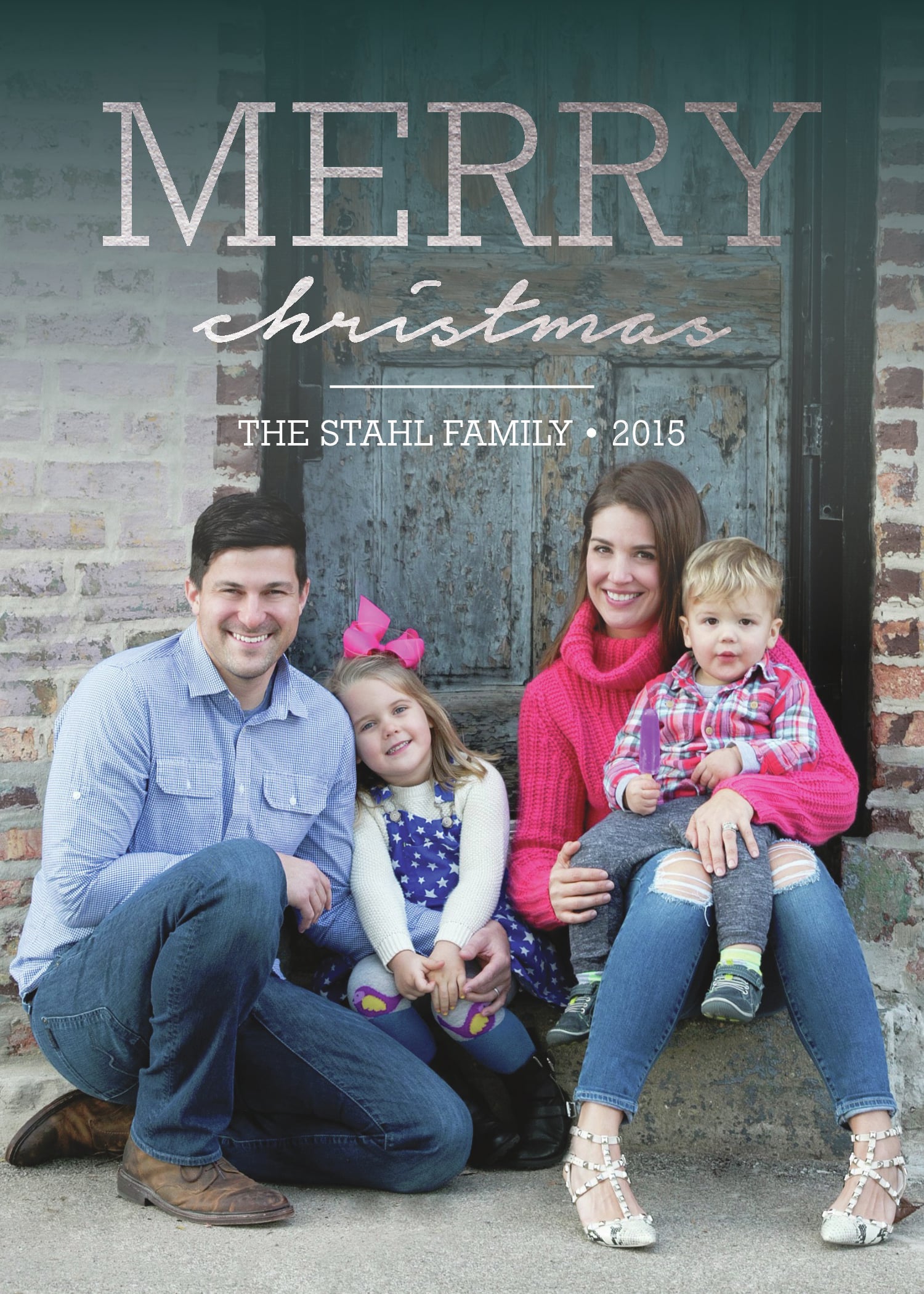 It's my favorite time of year . . . to check my mailbox. Adorable, silly, and charming Christmas cards, most of which feature my friends' sweet little offspring, are rolling in daily, and while I love each and every one, I am quite certain each of those beautiful images is a lie. One perfect moment captured in overwhelming chaos. That's the goal of hiring a professional photographer, to record that one fraction of a second when each of your family members looks merry and bright, but let me be the first to tell you the real story. Here's the Christmas card from Minted that I sent to my nearest and dearest this year. Thanks to an uncooperative toddler and a sick preschooler, it's not the best we've ever had, but I'm pretty pleased with it. Getting that one beautiful shot, however, wasn't pretty. Here's the real story.
Mid October: I'm chatting with one of my closest girlfriends, who also happens to be an amazing photographer. She mentions that her Fall weekends are already booking up with family photo shoots. "It's Christmas card season," she explains. I ask her if she has time to squeeze us in, and we book a Saturday morning in early November.
Late October: Begin planning our photo shoot outfits, which I like to keep coordinated but not too matchy-matchy. Since our photo shoots are the only time my 4.5-year-old daughter will agree to wear anything I pick out, I start with a blue, starred Mini Boden dress that she's owned for almost a year and hasn't conceded to wear even once.
The big day, 7:45 a.m.: My dear husband lets me sleep in. I wake up happy until my daughter comes in crying hysterically that her ear hurts. Call her doctor, who says she can sneak us in at 9. Guess I won't be washing my hair. Give thanks that I recently upped my supply of dry shampoo and frantically dress everyone in comfy clothes while I pack our photo-worthy outfits in a bag (toddler can't be trusted to keep anything clean for longer than 15 minutes). Throw my makeup in the car, to be applied on the drive to our shoot.
9 a.m.: Hubby drops daughter and me off at doctor while circling the block with iPad-watching toddler. Forty minutes later, yep, it's an ear infection. No time to get antibiotics now. We start the hour-long drive to my friend's studio, which gives me enough time to apply makeup and brush my hair while dealing with the never-ending requests for snacks, drinks, and iPad adjustments from the back seat.
10:45 a.m.: Arrive at studio, fashionably late. Start changing kids into first outfit option. Toddler spots the studio cat and instantly can't be bothered with anything but catching it. Cat smartly wants nothing to do with him. Toddler wedges himself behind a large box trying to reach cat and has to be bribed out with Lucky Charms' marshmallows and a Dora the Explorer ball.
11 a.m.: Looks like we're going to have Lucky Charms marshmallows or a Dora the Explorer ball in our photo this year. Take a break to give the toddler a moment to get some energy out and hopefully forget about that damn ball. Preschooler is just fine having the stage all to herself. Where did she learn how to do Blue Steel?
11:15 a.m.: Make one last attempt to get everyone in a group shot, but nope, toddler still isn't into taking photos. Decide it's time to change up our outfits and the scenery. Head outside and make the mistake of telling the kids they can have popsicles after the shoot is over. Delayed gratification is not their thing. Decide colorful popsicles will look just fine in our colorful second setup.
11:30 a.m.: Thanks to those popsicles and the fact that the El (Chicago's elevated train) is practically overhead for entertainment, toddler starts cooperating. Manage to get a run of decent photos of the whole family in the two minutes toddler agrees to sit still. That's good enough for me, so we take a few more of the kids for fun, then call it a wrap.
12 p.m.: Go inside to see photographer friend's daughter and husband, who recognizes the stress on my face and offers me a glass of Rosé. Let's make it two!
One week postshoot: Get email from photographer friend with the proofs and this disclaimer: "pretty sure we're going to have to photoshop some photos together to make one work." Um, ya, among those "good" photos we got sitting down outside, there's not one where everyone's eyes are open. Luckily, she's a magician and so, among the photos of us sitting outside, I pick one picture that's decent of me and my son and another that's good of my husband and daughter, and she fuses them together. Voilà: the story of the perfect Christmas card. Wasn't that simple?