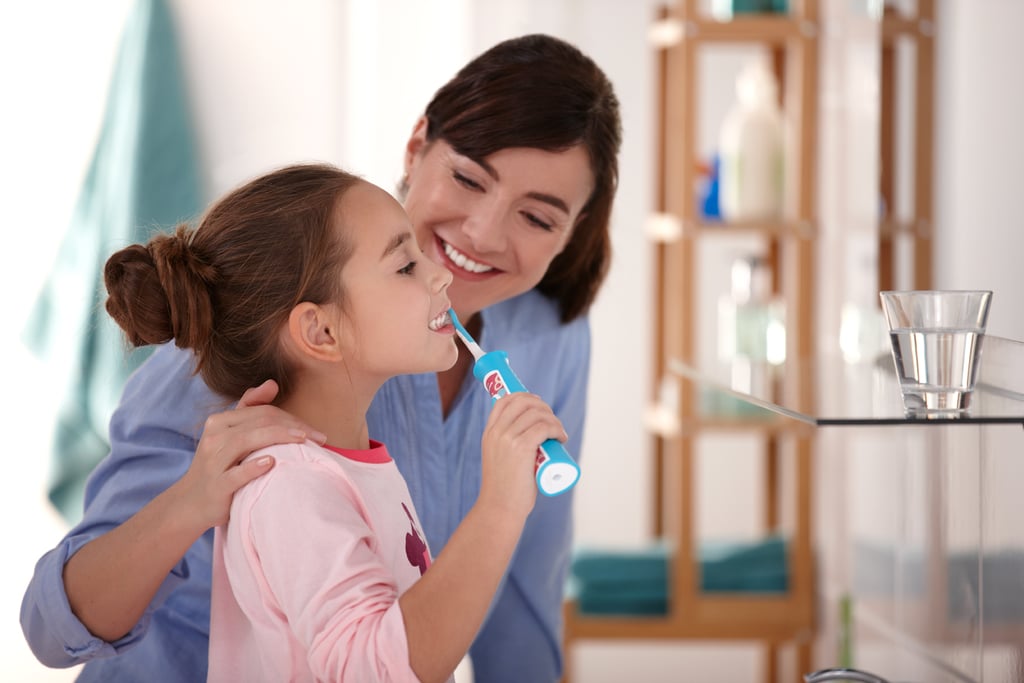 There's a reason using reverse psychology is one of the oldest tricks in the parenting book. It's because you can put them in time-out, take away their dessert, and — yes — maybe even yell all you want, but when it comes to really getting through to your kids, outsmarting them tends to be the smartest method of all.
Looking for a few wily ways to teach some major life lessons? Consider these ingenious ideas.
The Goal: Good Manners
The Method: "Officer Etiquette"
Nothing gives kids more pleasure than letting them feel like they're in charge for a change. Let them take turns wearing a toy police badge and acting as "Officer Etiquette" for the day, writing tickets to Mom, Dad, and anyone in the household who forgets to say "please," talks with their mouth full, or interrupts a conversation. The person with the least tickets gets a simple reward like an extra 15 minutes of screen time.
The Goal: Proper Hygiene
The Method: Good, Clean Fun
With the right toys and stickers and a little music, dreaded tasks like washing hands, taking a bath, and brushing teeth can actually muster a smile — and even a few laughs — from your child. Kids crave independence, and parents can feel confident about letting little ones brush on their own with a brush like Philips Sonicare For Kids. With customizable stickers and features like the KidTimer and KidPacer that slowly increase brushing time and make sure all four quadrants of the mouth are cleaned, kids can have a little fun brushing on their own, and parents can rest easy knowing that they're doing a good job.
Get even more tips and info on how to maximize your child's brushing routine here!
The Goal: Smart Money Management
The Method: Game Night
Playing board games as a family is a great way to spend fun quality time together. And with a little extra strategy on your part, the activity can be a learning exercise, too. Classic games like Monopoly and Life are built around financial concepts — buying, selling, renting, paying taxes, donating to charity, and saving in case your luck turns. Keep the mood lighthearted, but look for opportunities to show and tell kids how to be penny-wise in the real world.
The Goal: Eating Healthy Foods
The Method: Fine-Tune a Favorite
This one can be tricky, especially if you have a fussy eater in the house. But there's a whole world of delicious, nutritious food out there, and they'll never know what they like until they try it. Instead of making them sit down to something totally new, why not use the latest superfood as a complementary ingredient in a dish they already love? Add some quinoa to Grandma's chicken soup. Try a layer of spinach in the lasagna or cauliflower in the mac 'n' cheese. Toss some blueberries into the banana bread. If you can pull this one off, you earn bonus points for encouraging another valuable life skill: trying new things.
The Goal: Being Physically Active
The Method: Hire a Mother's Helper
You may be having trouble getting your child off the computer to shoot hoops or play catch, but he or she will likely jump at the chance to do so with your 16-year-old neighbor. Look around for a positive preteen or teen influence in need of some extra pocket money (or volunteer hours for an honor society or college application). Work with his or her parents to make sure the job doesn't conflict with school or extracurricular activities, and be clear about your goals to ensure you don't end up with another video gamer on your couch after school. Otherwise, it's a surefire way to inspire kids to get moving.