Interview With Adam Mansbach of You Have to Fucking Eat
An Uncensored Take on Parenting From the Dad Behind You Have to F*cking Eat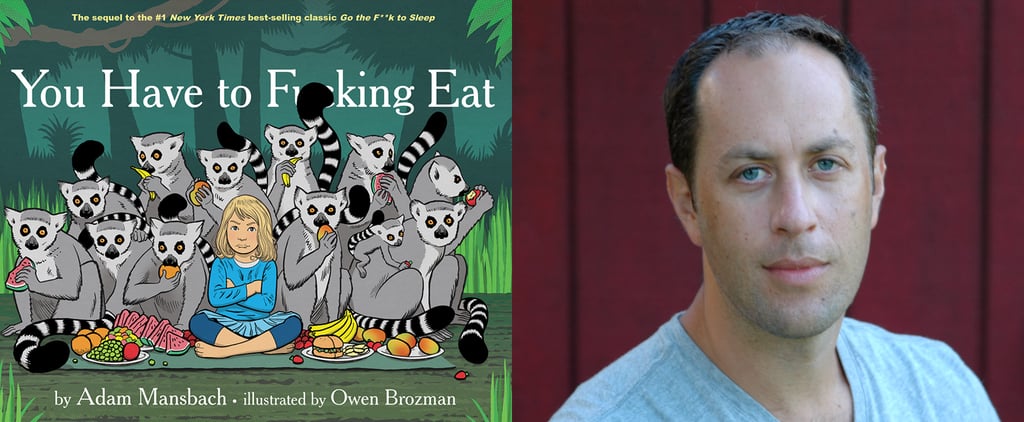 In 2011, Adam Mansbach released a "parenting book" with a title that was equal parts honest and obscene. Inspired by his then 2-year-old daughter Vivien, Go the F*ck to Sleep ($11) captured the struggles every parent faces come bedtime — and with rhymes, no less. The book became an overnight success, putting Mansbach on par with writers like Dr. Seuss and Shel Silverstein. Parents and publishers immediately began hounding the author for a sequel. And three years later, they are finally getting one.
Today, Mansbach returns to bookshelves with You Have to F*cking Eat ($11), a poetic overview of the drama that tots tend to stir up at mealtime. Already garnering an outpouring of attention and praise, the book is bound to gain more popularity when fans get ahold of the audio version starring Bryan Cranston (if it's half as entertaining as LeVar Burton's reading of Go the F*ck to Sleep, then we'll be pleased). We had the chance to talk to Mansbach about his beloved books. See what the author had to say on his inspiration, his writing process, and the possibility of a third installment.
The Story Behind the (Original) Story
"I wrote Go the F*ck to Sleep without any particular ambition. At the time I wrote it, there was no such thing as a fake children's book. I wrote it to try and riff off the existing canon of bedtime literature. I came up with the title and then I joked I would write a book with that title, not intending to do so. But as the weeks passed and I continued to make the joke, it occurred to me that I knew how that book would sound and how it would interweave the parental monologue with the conventional rhymes of typical children's books. So I sat down one afternoon and wrote it.
"Six months before it was supposed to come out, which was October 2011, I gave a reading of the book in Philadelphia to a couple of hundred people. They responded incredibly well, and I guess they went home and ordered the book. The next morning — the day after the book's Amazon page went up — the book was number 125 on Amazon. By the end of the week it was number one.
"Shortly after that, a PDF leaked, so we were off to the races. We rushed the book out in time for Father's Day, about four months earlier than we had intended to publish it. From there, all this crazy stuff happened."
The Much-Anticipated Sequel
"I didn't want to rush anything out. I said to myself if I do another book of this nature, I want to have the same resonance of Go the F*ck to Sleep. I don't want it to feel like a knockoff or some attempt to milk it. It had to hit something that feels as universal and do it in a way that feels honest and on point. As time went on, eating became the obvious thing to focus on. It's the other universal parental frustration. It lends itself to a lot of different themes — there's the breakfast table before school, the lunch you pack to send to school, the lunch that comes back from school uneaten, the dinner, the restaurant, and eating out. There's a lot to it. I realized there was ample material, and it felt as big and as primal as sleep."
The Books Aren't Just For Parents
"I remember being shocked getting all these initial reports that kids really dug it. A friend of mine was teaching at a Summer camp for high school kids and found all of them gathered around a laptop watching Samuel L. Jackson read the book on YouTube."
The Beauty of Being a Trailblazer
"It's nice to have done something first and put an idea together that resonated. In terms of other people trying to do the same thing, the flattery is cool. I get people sending me their ideas and publishers trying to get me to write a lot of those books, but I'm generally not impressed with most of it. That's probably not surprising, but it's certainly cool to feel like you did something that had that kind of resonance that people want to imitate it."
The Future of His F*cking Series
"I think I'm just going to let it come to me. I'm in no rush, so we'll wait and see what my daughter is doing in a couple of years."
Bryan Cranston: The Voice Behind the Book
"As soon as we were talking about the audio book, he was the first person to come to mind. It was either Sam does it again or Bryan Cranston. Having someone at this caliber do it is flattering and exciting."
Check out a clip of Cranston's reading below, and if you like what you hear, then download a free version.
Source: Matthew Kaplan; Front Page