Julie Bowen Talks About Modern Family
Lessons For Your Own Modern Family From Julie Bowen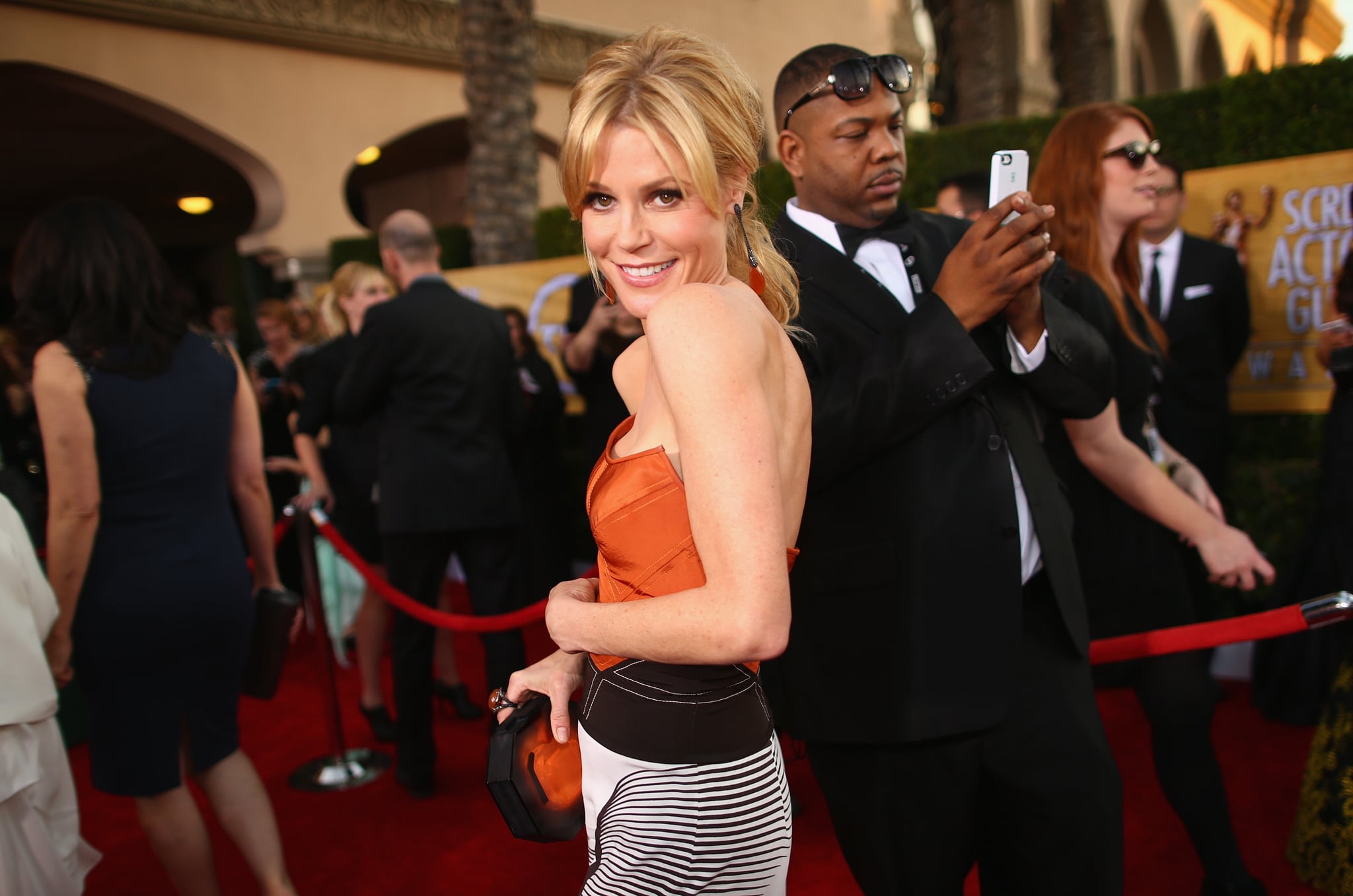 These days, she's best known for playing the part of Claire Dunphy on ABC's Modern Family. But after chatting with Julie Bowen, we're convinced that her real-life role as mom to Oliver, 6, and 4 1/2-year-old twins John and Gustav, is equally impressive. As the new face of Neutrogena, the actress was quick to get candid with us about her busy mom beauty tricks, juggling motherhood and her career, and what it's like to raise a trio of boys. Here, a few of our favorite tidbits that we took away from our chat with the very talented, very funny Julie Bowen.
The Reality (and Eventual Reward) of New Motherhood
"The first few years were really, really hard. Oliver was 2 when the twins were born, and I just felt like I couldn't spend enough time with any one of them. And there was so little return on investment. You're just loving and feeding and hugging and changing diapers, and it's as if they don't care. And then it turns, and they're people, and they're magnificent."
The Value of a Hard Day's Work
"I don't know what I did in a past life, because I got Modern Family when I was pregnant with the twins. It's in town, it's here in Los Angeles. The hours are completely humane. I work with lovely, lovely people that I consider to be close, close friends. So the idea of going to Louisiana for 6 weeks for an independent film that doesn't pay much but might be artistically fulfilling, it's hard in this moment to say 'yes' to that, because it means so much disruption for my family.
However, I'm going to try to get back to it, because I like my job, too, and I want my kids to see that they have a mom who likes her job. And they say to me all the time, 'Do you have to go? Or do you want to go?' And I say, 'Both. I hope one day you get to have a job that you like as much as I do.' I don't want them to think that all work is just something where you punch a clock, nor do I want them to think it's a barrel of monkeys. It's somewhere in the middle."
Find a Balance When It Comes to Taking Care of Yourself
"You know, when you have children, time loses all meaning. There was a period when I was working and getting lots and lots of free stuff sent to the house, and it was pretty fun to try every single sample that promises to make you glow and whatnot. I had drawers and drawers of stuff, but nothing was really working. But Neutrogena did. I don't have time put on a full face of makeup every day . . . my kids barely let me go to the bathroom. The Neutrogena line allows me to wash my face, use some day cream, some eye cream from the wrinkle repair line, throw on my clothes, my sunscreen, and I'm out the door."
Motherhood Is Well Worth a Few Sacrifices
"Once the kids were born, 'me time' went away. But I have years and years of me time ahead of me. I didn't really do anything that valuable with it. I did not cure cancer, I did not write the great American novel in blood on a stone. I volunteered, I took up different forms of exercise, I traveled. But ultimately, not having that same me time and giving those extra minutes to my kids is — right now — much more rewarding."
Rules Are Meant to Be Followed
While Julie's definitely got a sense of humor when it comes to parenting, that doesn't mean that anything goes in her house. "They've got a little chart, and I'm constantly updating the chart. They have certain chores they have to do that are about learning to be independent — like getting themselves dressed. I don't care what they wear. It has to be that they got themselves dressed.
They also have to leave their rooms in a state of order. And if stuff's on the floor, I take it and put it somewhere, like on a chair or in a basket or whatever, and I'm like, 'These are the things that were on the floor that I don't think you guys are really caring about, and I would love to give them to somebody who does care about them.' Then they're all like, 'No, no, I do care, I do care, I do care!"
On What Playing Claire Has Taught Julie
"Claire is years ahead of me, as her kids are a little older. And I've actually learned a lot from her and playing her. She's the amalgamation of writers and writers' wives and sisters, and I'm getting this parenting crash course via all these people. One of the things that playing her has taught me is be comfortable not being your kids' best friend.
I've actually learned a lot from the [Modern Family] kids themselves, too. Ariel, Nolan, and Rico were, you know, 11 when we started. And now they're all getting their licenses this year. Adolescence is a big time, and I've watched them go through phases that I found delightful, frustrating, confusing, charming, and seeing all of these go by rather quickly. You realize, 'Oh wow, that period is tumultuous, but it doesn't last forever. And it's a nice lesson for me to learn with someone else's kids instead of my own."